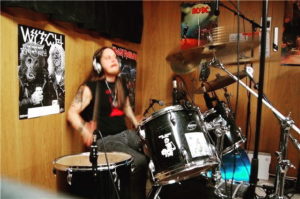 The blast beat has had a very unlikely journey through its relatively young lifespan in music.  Rooted in a jazz technique of an alternating bass drum/hi-hat and snare 16th note pattern (though played at much slower tempo in jazz music), it found a unique identity in the early 1980s when underground hardcore punk bands like Siege and Asocial began using it at aggressive speeds to enhance their violent bursts of rebellion.  This made it a close friend of metal when the middle of the decade saw a fledgling death metal movement getting its hands dirty with hardcore punk speed and sound in an effort to push its own extremity.  Over the next 15 years, several drummers would rise to prominence with their clever use of the blast beat to either push these combinations to extreme speeds or to utilize them enduringly for an effect similar to trance music.  Suddenly, every metal band that wanted to play fast or play simplistically HAD to play blast beats, and we eventually reached a point where blast beats were the most dominant part of every death and black metal song's drum composition.
For the future of death and black metal to establish themselves distinctively, they must abandon what has become routine and keep only what is necessary to preserve their underlying spirit.  And with this understanding comes an unfortunate truth- the beloved blast beat must be laid to rest, so that new life in metal can grow.

Blast beats first found their way into metal in the mid 80's as proto-death/black metal bands like Hellhammer and Sepultura were using punk rock drumming to blend with the atnoal/minor power chord-heavy guitar riffs.  The first metal band to utilize it was probably Repulsion, who's use of the technique on the band's Slaughter of the Innocent demo (above, blast beats at 1 minute in) set the standard for the speed it would be used on in the 80s.  It was with repulsion that we saw it as a common technique that could replace the common thrash kick+snare+kick+snare that was being played on 8th notes rather than 16th notes.  Now having been decisively claimed by death metal and grindcore, a number of bands would interpret different uses of the blast beat.  Cannibal Corpse's Paul Mazurkiewicz would place the snare drum selectively while hitting the 16th notes consistently on the kick and hi-hat, Morbid Angel's Pete Sandoval would use craftier footwork while maintaining the tempo with the hands, and gore/brutal death metal bands introduced more nimble 16th note count of the snare (in place of or in conjunction with the hi-hat) via the "gravity blast" technique.
Meanwhile in Norway, a completely new and different use of the blast beat emerged.  While bands such as Mayhem and Burzum used a very basic blast beat mixed with tom fills and other change ups, Darkthrone's Fenriz made a bold and creative new use for the technique- by slowing down its tempo slightly, removing all fills and variation, and allowing a minimalist variant to carry the drumming of the entire song.  This was no accident- Fenriz, an admitted fan of techno and electronic music– had cleverly devised a way to replicate trance music's transcendental properties in metal by using a similar formula:  basic and repetitive drum beat, textures of ambient melody (in this case, played entirely on guitars), and minimal variation of movements.  The drum beat Fenriz would use is a blast beat played between 140 and 170 beats per minute with little or no fills.  Though the untrained ear would see no difference, as trance and metal cultures were greatly alienated from one and other (despite Mayhem, Burzum, and Emperor members all being great fans of electronic music and techno nightclubs), Darkthrone's minimalist Transilvanian hunger was essentially a trance album played on guitars, with the kick snare quarter notes of trance music being replaced by Fenriz's minimalist blast beats.  Legions of Darkthrone clones would follow suit, having no idea they were playing what was (in spirit) trance drumming, but effectively laying a drum foundation that supported their minimal riffing capacity.
By the late 90's and early 2000's, bands of both black and death metal were ramping up the intensity of the blast beat.  It was getting more and more extreme, with tempos now often reaching tempos of over 200 beats per minute.  There was even new genre term called "Norsecore" for Nordic bands with a blizzard of power chords and blasts were esentially playing hardcore punk in double time (e.g., Marduk's Panzer division Marduk).  There were all kinds of blast beat variants, more bands were using them, it was vicious and assaulting and savage and bands were doing it everywhere.  What could possibly go wrong?
Blast beats went mainstream.  And not Whitechapel or Deafheaven mainstream (though that's pretty mainstream by metal standards and both those bands use blast beats exclusively) no- I'm talking System of a Down and Slipknot mainstream.  Every drummer in metal was playing them.  It was no longer an impressive feat of drumming mastery to hear at a climactic moment in a song- no, it was the WHOLE SONG, EVERY SONG, EVERY BAND.  It surpassed being trendy- it became systematic conditioning enslaving the heart, spirit, and soul of every metal drummer to ever pick up a pair of sticks in the last decade.  They were everything everywhere, they replaced drums, they replaced music, most metal shows I went to in the mid 2000s had only blast beats in the mix, only blast, blast, blast, blast, blast, blast, blast…….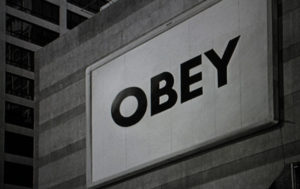 I'm old enough to remember (though I am barely older than this site itself) a time when hearing blast beats would be exciting and refreshing.  I recall my teenage years when one of my drummer friend told me that he would go see bands he didn't like just to hear them play blast beats (e.g. Nile or The Black Dahlia Murder).  I remember when it was a challenge to find a drummer who could play blast beats at metal tempos.
But those days are far behind us, and blast beats have since lost their purpose.  Originally owned by death/black metal, and grindcore as something that separated them from thrash and nu metal and all of the popular metal genres of that age, blast beats are now in ALL modern metal genres- underground or not.  They are no longer the statement they used to be, and instead are a routine pill that we take over and over again without questioning what is in it.
The next great movement in metal will have to break the shackles of the last twenty years.  It will have shed the chains that have enslaved underground metal to mediocrity for decades.  To do this, and do this effectively, the next generation must leave blast beats behind.  I recognize their impact in metal and appreciate the role they served as a best friend to metal music for many years.  But sometimes that best friend gets ill, can't function, doesn't remember who it is, and loses it's whole personality and identity.  And sometimes that day comes, where one has to man up and to take that friend to the barn, load up his trusty rifle, and do what hast to be done.
Blast beats, you'll never be forgotten, but it's time to put you down.
Tags: Black Metal, blast beats, cannibal corpse, conditioning, darkthrone, death metal, fenriz, metal, metal drumming, mind control, repulsion, sepultura, Trendkillers, trends