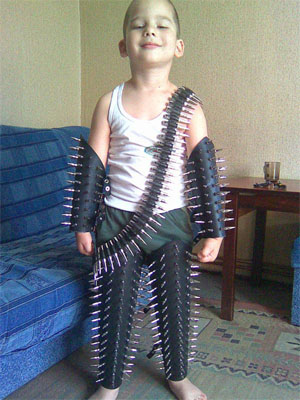 Metal is not dead, but very ill.  In an age of ironic corpsepaint and essentially overdriven indie rock, it's understandably difficult to find any one source of this stagnation. Young Hessians such as myself must accept that a finger will naturally be pointed at our generation by those who have performed and contributed during Metal's greater years. Like it or not, this is a valid concern.
However, we are not our generation. At not one point has Metal ever truly adhered itself to one generation's ways and trends. There are many trying to assimilate our culture into mainstream acceptance, only to be abandoned and further ridiculed like any passing fad. There have been people like this since the beginning — let's not lie to ourselves: they are posers.
Yes, you could simply ignore those ironically attending hipsters firmly planted in the back of your local concert venue of choice, faces buried in their iPhones, only moving to order the cheapest canned lager possible ("it adds to the novelty of this angry music!") or casually bantering with less threatening concert-goers about some acoustic black metal project which "you've probably never heard of." Furthermore, we could shrug off the kids in their Immortal costumes from Halloween, forming grossly intricate mosh pits at Black Metal shows – chalk it up to ignorance? Or you could fight back, starting with the essential actions: distance and better yourself!
This is a call to arms for the youth of Metal. The merciless, yet ultimately heroic art of this music is our culture. We walk alongside the Hessians who formed such a legacy over the past four decades. Any contribution will prove to be more than what is given by the casual and mainstream. Do you enjoy Speed Metal? Start buying those T-shirts and logo patches in bulk, because you're starting a mail order list. Maybe your town has a history of Crossover, and some open-minded Punks may be willing to help set up D.I.Y. shows for Metal bands. There are many options, and it's up to you to find your calling.
Many of us were born during the fading times of Death Metal. Give or take a few years, and we are now old as the entirety of Heavy Metal was when we were infants. We cannot let that cycle of decay repeat itself. This our time to pave the way, and if we can set the right conditions? Well, a select few of us are bound to start putting together some strange riffs that sound heavy, yet unfamiliar – exploring new themes of existence, always in a brutally honest light. Next thing you know, Metal has returned.
Jay Cochran is a 21-year-old Hessian insurgent who believes the salvation of metal is not past-worship nor future-worship, but quality-worship. He is in the process of moving to become a fisherman, and draws lyrical inspiration from the terrors of the sea. Jay is a strict and devout Motörhead fanatic, and would love to take a few minutes of your time to talk to you about Lemmy Kilmister.
4 Comments
Tags: hessian