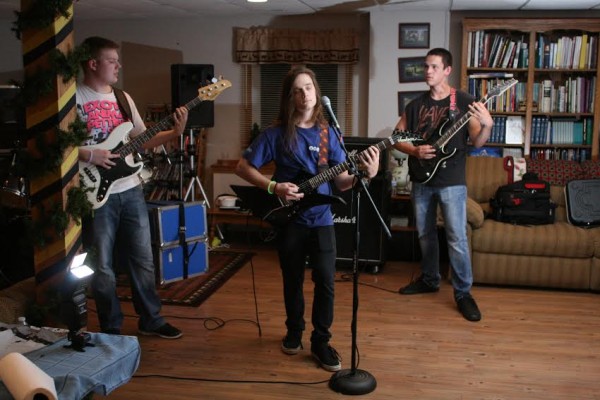 Not so long ago, we reviewed Triguna's Embryonic Forms and found their music to be an interesting progressive-oriented speed metal outfit that is interesting in the way that amateur musicians with spirits can be: shielded from cliches and driven by their gut feeling their compositions are coarse and may fall to apparently rudimentary technique but are powerful in feeling and achieve clear communication.  The band have agreed to answer some questions regarding the nature of their music and Triguna's artistic vision.
1. How did Triguna first come into being?
Jeremy (lead guitarist) and Bird (vocalist) met in high school and found that they both loved metal and wanted to be in a band together. They then formed the band with other local musicians they knew or met through mutual friends.
2. Why did you choose "Triguna" as a name for your band? Does it have any special meaning on a personal level to you?
We chose it because we one liked how it sounds and two liked its meaning as it's similar to how we view that band as a bunch of distinct elements coming together to form the whole as each member has their own music tastes that influence how we write our songs.
3. Earlier, I described your music as an intersection of styles that ultimately veers towards a progressive speed metal. How would you describe your music?
Yeah that's pretty accurate! It really is just the combination of a bunch of different styles which does tend to move stuff towards a more progressive style.
4. What is the reason, if any in particular, for you to choose to play in this style? Does it align itself with some motive outside the artistic?
We just try to write songs that come to us naturally, so we can make sure that we enjoy playing them.
5. What are Triguna's main influences?
Any and all good music! It's really difficult to be much more specific than that because each member has different tastes across a variety of genres and there really aren't any bands that we all try to emulate in writing.
6. How does the band go about writing music? Do you prefer the rehearsal-room jam approach or is a more thought-out process favored?
We use tux guitar, which is basically guitar pro but free to work on our songs as we generally like to take a longer, more thought-out approach to our songs. We generally begin with one member getting and tabbing out as much of a song as they can in tux. Then they send it to rest of the band who will suggest or make changes, or continue the song with new parts until we're happy with it. Once it's done every one learns their parts and we begin rehearsing it.
7. Each of the songs in Embryonic Forms follow very distinct patterns, and no clear template is found, is this intentional or just the result of an organic process in the band's collaboration with each other?
Yeah, because each member has a wide variety of influences each song can come from an entirely different place from the last leading to a lot of distinct songs. Within each song we tend to stick to a generally idea but that has been changing as of late.
8. Would you define your music as having an objective of any kind?
Yes! We write for our music to be the best we can make and to have the most fun with what we write.
9. Do you have a direction for future development of the band's style or is this it?
We are trying to make our music more complex so we can incorporate more styles within an individual song, and to grow to make music that we feel is better than our older songs.
10. What is the best way for the audience who is interested in your music to reach you?
If it is fan mail:
Trigunafanmail@gmail.com
If it is a buisness inquiry:
Trigunaband@gmail.com
More info can be found at
Tags: Embryonic Forms, interview, Triguna