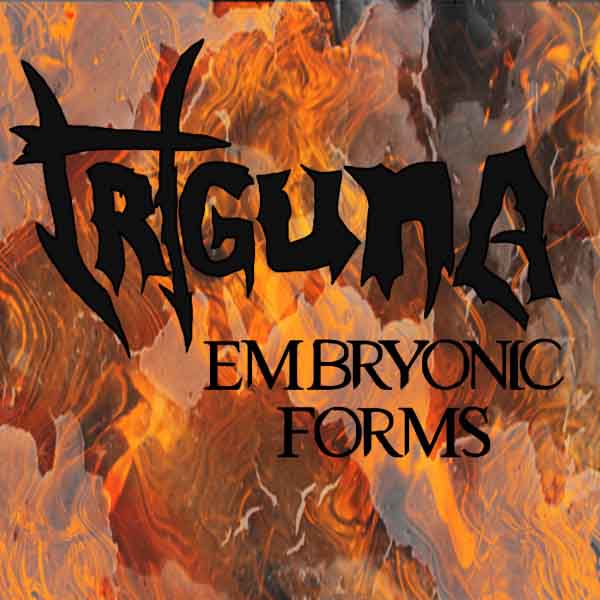 Triguna is a band that plays underground metal in that vague intersection between death metal, black metal and the phrasal speed metal of Slayer. Their independently-released Embryonic Forms is both an honest and musically-aware artistic offering that falls short for technical reasons. "Technical reasons" here should not be underestimated. The band's instrumental skills are just enough to play he music they wrote, but it is the technical side of composition that is loose.
Technique in composition is believed by the populace to mean how many chord progressions and scale names you have memorized or how many contrasting sections you can pair up. In truth, what technical composition ideally affords is an experience and insight into musical forms, elements and their relations and effects along with historical reference points that help the composer distill the purest elements of music. Surely this can be derived by talented and innately perceptive musicians, but they are still building most things from the ground up.
To be fair, given Triguna's apparent technical level, their decision to make varied yet deliberately dirty, simple and straightforward passages was a realistic one that allowed them to concentrate on the coherence of the pieces as wholes. So while individual sections, riffs or solos are not altogether overwhelming, the songs are solid, enjoyable and meaningful. Creating fulfilling whole music that is not minimalist, Embryonic Forms is a perfect example of the extreme case of a vision superseding technique to achieve a musical triumph. The album garners at least honourable mentions alongside the likes of Manilla Road or early The Chasm (not that I am equating them, just classifying them), and is very much recommended on my part.
Tags: 2015, Embryonic Forms, manilla road, the chasm, Triguna, underground metal