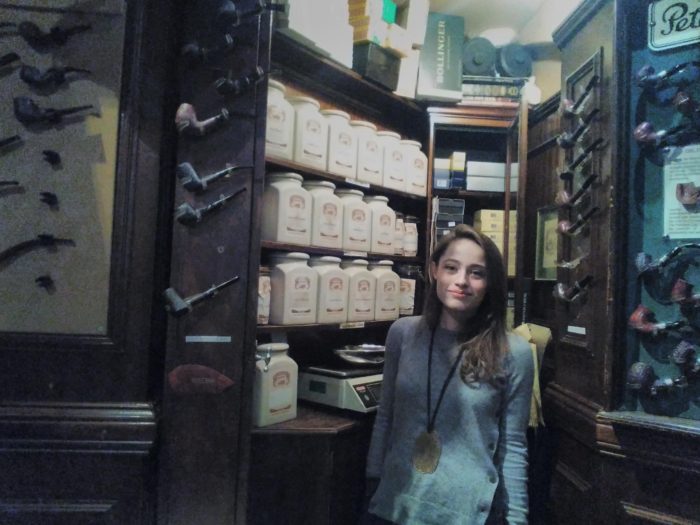 Our world has submerged itself in functionalism because it fears the inequality involved when some people enjoy themselves and others have to work or suffer the consequences of their abilities or decisions. This has created a kind of totalitarian worker's commune where pleasure is demonized, except for certain forms which help people go back to work, and work is praised as a type of new religion. As part of this ascetic dogmatism, pipes and cigars have been hunted to near-extinction by regulators, complainers, private businesses and whiny NGOs. A London woman named Shorty, one of the rare breed of independent tobacconists still extant as an endangered species in the modern world, agreed to answer some of our questions about her world of pipes, tobacco and Brexit…
You are a tobacconist in a world where this is a rare thing. How did you end up in this line of work?
I've worked as assistant manager at a small independent pipe & cigar shop for almost a year now; I needed a part-time job to supplement my income as a freelancer and thanks to a good word from my other half (a long time pipe smoker) got a job at the local tobacconist. The shop has been running for about 45 years, but I'm the only woman that's ever even asked to work there!
What types of pipes do you sell?
We sell several types of briar pipes, from our own range and from popular European brands (like Peterson of Dublin, or White Spot by Dunhill) in most classic shapes and finishes, plus some more unusual & rare carved and raw briars, and a large range of hand-carved meerschaum pipes from Turkey. Occasionally we also have some clay pipes, corncobs, or pre-drilled blanks to carve yourself.
I think I see tobacco there — what blends do you sell?
The pipe tobaccos we sell are made for us, to our own blends; we have just over 20 different types, 11 traditional styles and 11 aromatics. With changing tobacco laws coming into force in the UK by May this year, we'll unfortunately have to cut out the least popular from the ranges to stay cost effective.
We sell tobacco by weight, stored in jars and packaged individually for each customer, the old fashioned way. It's nice to spend time chatting and getting to know the regular customers, and brings a friendly community feeling to the shop, which is hard to find in central London! I'm lucky that we sell to a broad range of people — hippies and military, artists and scientists, lawyers, politicians and even the landed gentry — and I get to converse on a broad range of topics outside of tobacco as I serve them.
Have you noticed any changes in what people want from pipes/tobacco?
Unfortunately, pipe smokers are becoming rarer and rarer; new ones often don't realise the expense of a good quality pipe, and the length of time they take to 'smoke in' and millennials tend to want a cheap, quick fix, and I can't help with that. A good quality pipe can last for years, but requires care, attention and patience; these virtues seem to be rapidly dying out.
Fully handmade briar pipes start from £300 ($370), whilst machine made ones start from £50 ($60), as they are hard to produce, and for an ever smaller market. Learning to pack the bowl and allowing the build-up of a 'mother' (a carbon deposit inside the bowl that improves the smoke and flavour) can take several months but is very much worth it for anyone with the patience.
Often people are just looking for a bargain – in cigars or in pipes – and will buy whatever they think is the best value for money. For pipes, you can just about get away with this by spending £60-£70 ($75-$85) if you get a good quality briar and look after it; long term it will be cheaper, as pipe tobacco costs less than cigarettes. When it comes to cigars, with UK taxes being so high, cheap cigars don't exist & cheaper cigars taste shite so don't bother – save up for a really nice one on special occasions if you're poor.
The younger, regular, pipe smokers appreciate the ritual of pipe smoking, and enjoy the traditional approach we offer. I find pipe smokers tend to be polite, intelligent and witty, although there are still a few who don't know where to look or what to say when they first find a woman running the shop!
What surprised me most is that the most common new young pipe smokers are also a new fathers (often unmarried, unfortunately), looking to start pipe smoking in place of cigarettes, partially to look (and presumably feel) more mature, confident and authoritative. Others start because they think it will get them laid — and it's probably true. Pipes are a great conversation starter, the smoke (particularly from aromatic tobaccos) is much more pleasant than cigar or cigarette smoke, and the patience it entails signals other virtuous traits.
Do you smoke a pipe yourself, and if so, what pipes and blends?
I occasionally smoke a pipe, although I usually smoke cigars at work; Hoyo de Monterrey, Por Larranaga or the Cohiba Maduro 5 range are my favourites. I prefer aromatic pipe tobaccos, like our Cherry Vanilla (sweet and fruity) or Highlander's Choice (whiskey flavoured), and own several different briar pipes. I've also been building up a half-decent cigar collection in my home humidor, with some nice limited and regional editions plus a few of my favourites, for special occasions.
You seem to have ended up a bit alienated by mainstream politics. How has our political system failed, and what is the way back to health and sanity?
I think our political system has failed because our education system has been failing for years and it's been far too long since children were taught good moral character or even that an importance was put on raising a good family. For now, it would be useful to keep having elections and replace corrupt MPs with independent candidates who actually represent their communities. Long term, I think we need wide reforms of the whole political system to promote the voice of the people, rather than the voice of political parties, in the halls of Westminster… As far as 'murica goes? Good luck.
Have the recent political changes impacted what you do for a living or enjoy in your time off?
Outside shop work, I still do odd jobs — but my desire to ever return to a 'proper office job' has only decreased with current politics. I go out to the local pubs and cafes to chat with my neighbours and enjoy nice food, either cooked by me, my mates or in decent restaurants. Pretty boring to be honest!
I find it difficult to go to political events, as whilst I am right-leaning, I am neither far-right nor far-left, get pissed off by moderates and (no offence lads) by so many people wanting to hit on me rather than hear my opinion, but have been to the occasional pro-Brexit protest. I prefer to talk politics online & over the next few months, I intend to start doing this more; I'll be posting more to my blog and maybe starting to do videos too.
In London, it has been pretty difficult to be an out-and-proud Brexiteer, as my other-half, a lot of my friends and most of the people I see daily are European – some can be pretty hostile, and even now they are still upset, and won't listen to my 'I don't necessarily want to deport you' explanation, so it's easier to keep my mouth shut. By now, most people have come to an understanding that we'll never actually leave the EU (fortunately for them, unfortunately for me) – and I try to treat politics as comedy to avoid arguments.
Do people work too much? Is there a solution for that? How much is paperwork implicated, especially in running a shop?
I think people, particularly young women, often put work and career before relationships and family – one doesn't have to work too much if one learns to live reasonably sensibly, and work smart. There's no point selling your soul to big corporate these days, unless you are willing to work stupid hours and be treated like a slave for the first few years to have a chance of getting to a decent position. Working for small independent companies, and having enjoyable projects on the side to make a little extra income (with the aim of growing to making these your main income), seems to me to be a much more reasonable way of living.
Oh and fuck paperwork. Fuck tax deadlines too. There's pretty decent software to take out most of the pain these days, but it's still a bitch. Pay an accountant, and make friends with a good lawyer who will help you little bits of paperwork whilst you cook them dinner.
Have you experienced any censorship or pushback for your political, social and cultural critique and speech?
I'm not sure; usually I distance myself from people if they seem like they'd be an arsehole if we disagreed about politics. With some people, on some subjects, I keep my mouth shut and my answers ambiguous more out of politeness and an 'I can't be bothered to argue' attitude than anything else. I'm lucky that my IRL friends have diverse political opinions (although increasingly right leaning) but we can discuss them and pick each other's ideas apart without offence being taken or arguments being started. Sure I have to occasionally keep my mouth shut about Brexit, or end up in a 6 hour discussion about the minutia of Common Agricultural Policy — but I can understand why Europeans living in the UK are worried and upset about it; they feel like we want to kick them out, although this is rarely the case. Mostly, we just want the gypsies and the carwash slaves out.
I was once asked to remove my Make America Great Britain Again hat in a local pub, because the bar girl was triggered; she tried to ban me from the pub, but luckily the landlord has taken far too much money off me to allow me to be kicked out :)
Do you think that a more conservative society would have a different attitude toward pipes and cigars?
I hope society's attitude to cigars and pipe smoking improves – in the UK we have a nanny state, which is currently fucking us over by changing most of the product licensing regulations, removing flavourings, and dictating packaging changes; the new rules will have little impact on big tobacco, but will be very difficult for us small retailers. Tobacco regulation has never been the will of the people, only ever the will of the liberal elites. Unfortunately, they've been doing this for years, the benefit to us being that we're damn good at adapting. In the US, the FDA will begin to charge registration fees (upto $200,000) for new cigar shapes and brands, so good luck to you guys too! We can hope one day for a government that allows people to do what they want without taxing the fuck out of it, but whilst the UN is at war with tobacco I'm not very optimistic.
Thank you for your time answering this, and smoke 'em if you've got 'em.
Tags: cigars, pipe smokers, pipe tobacco, pipes, shorty, tobacco