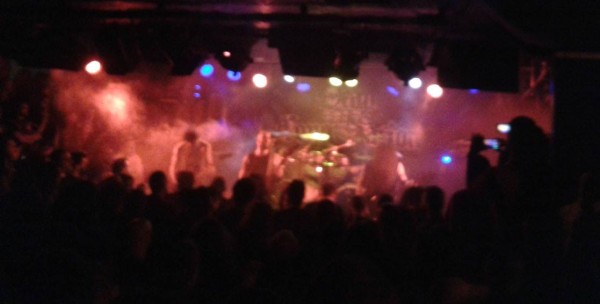 Back in 2012, I conducted an interview with one of the new "morbid wave" death/black metal bands who focus on atmosphere instead of pure riff acrobatics and internal contrast. These bands, borrowing widely from Incantation and Blasphemy, create a rushing wave of darkness that drones into extended mood pieces immersing the listener in a hopeless morbidity. Guitarist A.V. answered my questions…
What was your primary goal since the beginning that you set out to emanate with Dead Congregation and how do you think the band stands compared to other contemporaries of this style? Do you think Dead Congregation has carved its mark in the underground as an entity to be reckoned with?
Our time has been extremely limited in the past couple of years so we don't really do interviews anymore, this one is of the new exceptions. Our goal was will always be to feed the fire of creation we have in us as artists and channel all that inspiration in the shape of compositions and ultimately recordings. Once our songs are recorded the way we have conceived them then it's out of our hands. We're not after world domination and other vanity-driven goals. We're not the ones who should say what makes us different from our peers but it definitely seems that we have a stronger following than most.
Your debut album Grave of the Archangels received quite a bit of attention from the underground/extreme metal community when it was released in 2008; how important was the distribution of the album and what are your thoughts on all the constructive feedback concerning it? I gather you must be more than content with the good promotion endowed by NWN?
In reality there was no promotion at all from either the band or the label. NWN has a strong name in the underground and many people follow what that label does but none of us have ever sent out any promos or placed adds on related press and such. Apart from some selective gigs that we do most of the attention we've received is gained by 'word of mouth' in the underground. I guess when the material is strong it will find its way to surface sooner or later. Although we were extremely confident about the quality of our recording we didn't really expect to receive so much feedback and sell so many copies.
Before the debut, you released the mini-album called Purifying Consecrated Ground which was released under Konqueror Records. What can you tell us about this rather obscure label and how you got in contact with them? How many copies and formats were printed of this release and what are your feelings regarding it on the present day? Has the style changed much at all between the two releases?
Konqueror Records got in touch with us in regards to our previous band Nuclear Winter and they wanted to sign us for an album. We explained that Nuclear Winter was laid to rest and we had a new band working on new material and they trusted us enough to offer a deal without listening a demo from Dead Congregation. We will always be grateful to them for releasing the first ever Dead Congregation recording and meeting all our demands with success. After that initial version there have been a lot of re-releases: CASSETTE version (Nuclear Winter Records, 515 copies and counting), 10"MLP (Necrocosm Records, 666 copies), MCD Digipack (Enucleation Records, 1000 copies), 12"MLP (NWN!, 1000 copies), 12"MLP (NWN! tour edition, 250 copies), 12"MLP Picture Disc (NWN!, 200 copies), MCD re-release with altered design (Nuclear Winter Records, 500 copies). We're still proud of it as a recording, looking back you always find things you could have done differently/better yet it still represents the band at that time and some of the compositions in there are of the strongest we've done, in my opinion. The style is the same, yet we took it a few steps further for the album in the sense that we have a more personal sound on the full length.
Music-wise, what are to you the most essential aspects for a death metal band? Some say it's the rhythm of the guitars, some say it's the drum beat, and others say it's the vocals… Maybe it's a bit of everything? How do you manage do create such a morose atmosphere with your music?
I think it's the feeling and atmosphere above all. The same riff can sound completely different if you alter important factors such us sound, drumming, the way you hit the chords on the guitar and many more. But in the end it's all about the atmosphere a recording creates, if it doesn't ooze of death and morbidity then it shouldn't be labeled as Death Metal simply because the vocals are distorted and the drums are fast.
Many say that black and death metal must remain as subversive as possible or else it loses touch with its primary essence; what are your thoughts on that? Would you consider a band a sellout if they signed to a big label like Nuclear Blast?
It's hard to say because in the old days all bands were on major labels without compromising their integrity and some bands still manage to do it. It has to do with how focused you are and what your goals have been from the beginning as spoken earlier. If a band feels like a label is trying to make them deviate from their initial goal then it's up to the band to decide if they want to stick with that label or not. Truth is that on big labels you get to have less artistic freedom and it's one of the reasons why we've rejected all offers from big labels but I'll never judge another band for wanting to get 'big' and sign to a big label. If that's what they want it's fine by me, they do their thing, we do our thing.
What inspired the name DEAD CONGREGATION? I think it articulates your music rather well.
Thank you, we think so too. It's a song title from our previous band Nuclear Winter and it seemed very appropriate as the moniker of the new incarnation.
Just how important is artistic appeal for you? Does aesthetics play a big role in your music? If Black and Death Metal doesn't classify as art, then what is it?
Aesthetics are very important as long as they serve a purpose. If they complement the album as a whole and work hand in hand with the music and lyrics then I'm definitely all for good artwork and design. The problem is that many bands focus on that too much and forget the essence which is music above all. They try to hide their mediocre albums behind fancy illustrations and 20-page booklets for the vinyl edition. Same goes for 'die hard' versions of albums by bands that can barely sell 300 copies of a release. So yes, in some cases it is important when it's done by bands who actually have to offer something substantial but a dirty whore will always remain one even if you dress her up in the most expensive clothes if you know what I mean.
As a counterpoint to great aesthetics I have to mention albums like Deicide's debut that were badly designed, yet that eliminated none of the greatness of the album after all.
What would be the perfect depiction for your sound and what would you like for the listener to feel while he/she is listening to your music?
There are no fancy terms to describe our music, it's just darkened Death Metal the way we perceive it as true.
I'm curious about the split you did with Germany's Hatespawn and how you got in contact with the band. What do you think about their demo, "Ascent From The Kingdom Below"?
Hmm, can't remember if it was us who asked them to join us for the split release or the other way around. We definitely admire Hatespawn's body of work collectively otherwise we'd never have agreed to do a split release with them.
How important is it for a band like yourself to do a split with bands with whom you share a common vision? I personally don't think it would suite your band very well to do a split with an ordinary thrash or punk act. I mean, your music is dark and evokes an atmosphere of pure morbidity, thus I think its obligatory for a band of your nature to do a split with bands, who, more-or-less, have the same ideals as you; do you agree? I guess it's a controversial subject to dive into.
As I said above, we do find it important that bands who are featured in split releases share common grounds in vision, ideology, aesthetics, etc. Diversity is definitely accepted on music itself, as long as there's similar ideals behind both bands. For example we don't sound anything like Teitanblood or Katharsis but we'd gladly do a split with those bands because we know they're like-minded people and our general perception of death/black metal is very similar. The same goes for gigs, when we are asked to play live we always check if the other bands on the billing have similar values as us, at least the majority of them.
How has the current economic climate in your Country affected you personally and what do you think are the possibilities of the situation improving soon?
It affects everyone in Greece more or less but I can't complain, I'm a fighter and I'll always find a way to get by even under harder circumstances. I'm not too optimistic about the economy improving soon since we're governed by idiots and incompetent politicians who don't care about the country's prosperity.
What would it really take for human beings to change or do you think we are incapable of such?
The human race is the definition of a parasite, especially in these days of materialistic values. The majority of people's actions are driven by selfish intentions and very few see the big picture and how every action has a consequence that might back fire on you in the end. It will take some very dramatic change in our lives before we have our wake-up call and then it will be too late.
From one point of view that's good because the weak will be weeded out, however leeches and parasites always have a way of surviving also so there's no hope for mankind after all.
Which 5 albums would you consider as the pinnacle of death metal and why?
That's very hard to limit to only 5 albums but some of the most important in the sense that they shaped entire scenes are:
Morbid Angel – Abominations of Desolation / Altars of Madness
Immolation – Dawn of Possession
Death – Scream Bloody Gore
Entombed / Nihilist – early material
Malevolent Creation – The Ten Commandments (because it's one of my fave albums of all time regardless of genres)
With which bands have you played live with, and what would you consider as one of your most worthwhile moments as far as playing live? Are there any interesting stories you can perhaps share with us? What about alcohol, does that play a factor at your shows or do you try to keep things as professional and tight as possible?
We have shared the stage with too many bands to be mentioned here but the truth is that personally I always enjoy it more when we play with buddies and allies of ours such as Grave Miasma, Cruciamentum, Drowned, Archgoat, Kaamos, Antaeus etc, than playing with bigger bands and/or big festivals. The atmosphere and vibes are a lot better when you play with like minded people as said before. A recent gig that was very close to perfect from all aspects was when we played with Sadistic Intent and Nocturnal Vomit some months ago.
We're not heavy drinkers at all, we always have a few drinks but never to the point of being drunk out of our minds. It's how we are as people and it doesn't have to do with wanting to be 'professional' or 'tight'.
Is there anything else you'd like to disclose before we close this interrogation? Maybe you can tell us what to expect from your death-coven in the future?
Our next album is entirely composed and we hope to record it on the early months of 2013, we just need to find some time between gigs and focus on that. We already recorded a 3-song demo in August and it sounds pretty massive without even mixing it so we'll have a similar recording approach for the album which is basically: record everything as good as you can without correcting mistakes because you're only human and you can't fake to be something better than you are and most importantly IGNORE everything that the sound engineer says because he's just a tool and his recommendations just slow you down and make you go in circles before you'll end up in your initial approach anyway, haha.
All Hails, see you on the road sometime!
Tags: dead congregation, death metal, morbid wave