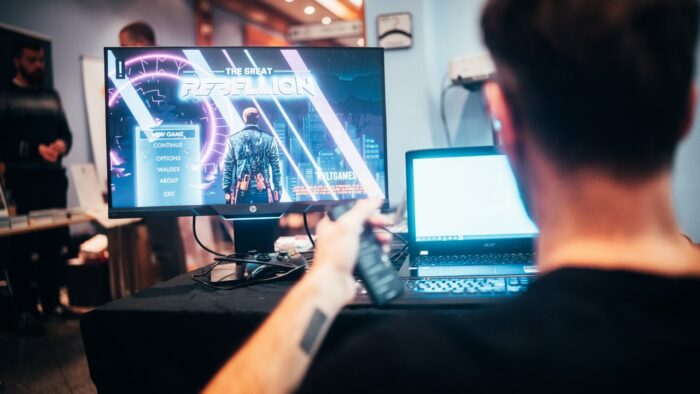 Gaming took a central role in the culture war against the culture war. At some point, gamers simply wanted to be free of outside manipulations, a point that became especially touchy since video games often involve the scary stuff like war, conspiracy, pandemic, and violence.
Launching into the lacuna formed between observable reality and the peer pressure echo chamber caused when all public figures must knuckle under the dominant ideological and commercial Narrative, Kvlt Games has made a name for itself with irreverent off-Narrative games.
Luckily founder Roland was able to take some time out to answer a few of our idiotic questions (but declined our request for a deathmatch in Red Alert 2).
What prompted you to start Kvltgames, and who is your intended audience?
I have been interested in game development since I was a teenager. Particularly the development of "independent" games made by creative individuals. I have also spent many years as a an identitarian political activist and at some point, these two fields of activity came together naturally.
My audience are young europeans/white americans who are fed up with the politically correct mainstream entertainment media and want to play something that actually speaks to them and articulates their worldview. On a different level, my audience is any developer with "dissident" views, be it as a coder, designer or artist. I want to draw these people to us, like a beacon, and foster the creation of a dissident gamedev scene. I do not want us to be the only ones anymore.
To this end, we also host so-called "Game Jams", events where people create small minigames over a short time to experiment and get to know each other. You can find those games on our website under "Heimat Jam".
With heavy signaling like early 90s graphics, vaporwave music, and using terms like "poz" and "Globohomo," you are sure to provoke. What result do you hope will come about from this?
Provocation was a big element of our first game, "Heimat Defender: Rebellion". And it worked: the game was well received by our audience and the outrage of the "powers that be" got us a great marketing campaign for free. But we do not want to be known for pure provocation with nothing behind it, we want to improve quality with every game.
Our team has grown, we are more experienced now and our next title will first and foremost focus on being the best game we can make. Of course there will be plenty of political messaging in it, but you should be able to ignore all that, if you choose so, and still have a great experience.
As of now, you have two games, "Heimat Defender" and "The Great Rebellion." Do you use a framework/SDK/API or write your own graphics systems? How long does it take to develop a game?
"The Great Rebellion" is currently still in development and will be released in 2023. You will be able to buy it from our website. We currently use the Unity3D Engine for development. Developing a game can take anywhere from weeks to years; in our case, we are close to having worked two years on this title by now. It is very hard to give an exact release date at the moment, but progress is good. It will be considerably more complex than the first game. But if there is one general rule, it is this: It always takes longer than you expect! I still keep being surprised just how much bloody effort it is to polish even a very simple game to a state where it is truly fun.
What has feedback been from the lugenpresse? It seems that YouTube has deplatformed you and some bloggers are writing amusingly nasty things.
We have been defamed and deplatformed a lot, yes. Famously, "Heimat Defender" got put on a list of "youth-endangering media" in Germany, essentially banning it. We also got thrown off the distribution platform "Steam," which is quite an achievement considering almost nothing gets deleted there. The literal mass shooting simulator "Hatred" for instance is still on there (as it should be).
I think one reason for the over the top reaction was however that we did not just make pure propaganda, but delivered an actual quality product that entertained people, and most importantly, made them laugh. Even our enemies found some of that stuff funny, they won't admit it, but I know. Anyway, deplatforming and censorship is very annoying, but they are par for the course, it is to be expected from the left wing hegemony. It forces us to be clever and find other ways.
What the presstitutes and bloggers write is indeed quite amusing and I don't take it seriously, I even put a selection of the best quotes from then on on our website as "endorsement" haha.
The term "kvlt" came out of the black metal underground in the early 2ks. Was there any influence on your work from death metal (Morgoth, Fleshcrawl, Torchure, Atrocity) or black metal bands (Ungod, Absurd)?
The term "kvlt" in "Kvltgames" has been chosen because it just looks and sounds cool, but as a black metal fan I always liked the additional connotation. I cannot cite any direct influences on my work, but metal (and especially black metal) has definitely influenced who I am as a person. I like both classic BM as well as some new bands like Baise Ma Hache or Mgla. In fact, younger me found quite some of my favorite bands like Summoning or Sacramentum on the ANUS.COM metal archives back in the day. I also always liked thrash but never got into death metal much.
It seems the world is shifting away from a belief in humanism/individualism toward an idea of, well, culture being more important than ideology. Do you see evidence of this on the ground in Germany?
I do not know how "ideological" most people here really are. They certainly are good at soaking up whatever the "current thing" is and then acting as a sort of hivemind, but the degree of ideological underpinning is questionable. There is a well oiled consent-creation machinery that pushes whatever is currently useful for globalist elites. People here can literally switch between two contradictory opinions in no time if they are being told to ("every single person dying from Covid is an extreme tragedy" — "risking death of millions via nuclear war with Russia ain't that bad").
Through cultural means, you can in any case reach the hearts of people who are not completely retarded yet in a more subtle, but also deeper and longer lasting way. Since I find the current political discourse often just very stupid and boring I decided to go this path, this probably just boils down to my personality. I draw this approach from my own development: I was not very political for a long time in my life, but my aesthetic preferences were shaped by metal and neofolk, which in a way "primed" me for identitarianism on an almost subconscious level. I hope that more good dissident art of all kinds will pop up in the future.
What do you think are the classic videogames that everyone should know?
This is a highly subjective list, and I could make it fill many pages, but I will just cut it down to my personal ten favorite classic games:
Deus Ex
Silent Hill 2
Fallout 1
Doom
Quake Deathmatch at a LAN party with your friends, beer, pizza, and metal blasting in your speakers
Age of Empires 2
Ultima 7
System Shock 2
Super Mario Bros 3
Turrican 2
Where do you and your team sit ideologically/politically, if you can mention such things in the legal environment in which you find yourselves? You seem to identify as "dissidents"; what does this term mean to you?
To be honest I am as unhappy with the term "dissident" as with most other labels. My goal is the continued existence of European civilization (I do not exclude white Americans/members of the Anglosphere here btw). These people brought a very special spark to the world none other did and I don't want it to go out. I do not want to "retvrn" to any specific point in history; I think this type of thinking is moot and this "nostalgia" can paralyze right wingers.
That does not mean you can't take inspiration and energy from looking towards our ancestors — you have to — but your thoughts and actions must firmly be directed towards building the future. I want us to find a sensible path going from where we came to a European future that is not merely reactionary, if that makes sense. I implicitly have put this idea in our new game: the main character is very much a man of his time but he also is aided by ghosts from the European past, spirits of figures like Leonidas or King Arthur. He uses laser guns and other futuristic gadgets as well however.
Our team is ideologically somewhat heterogenic. Our common ground is our disdain for the current order and our desire to build something great instead of having endless online discussions.
It seems security services across the West are very interested in keeping track of dissidents. Are people afraid that you are a honeypot installing spyware on their machines? How would you explain to them that this is not the case?
I wasn't really confronted with that, but sure, it is a legit concern. If they believe we are some kind of honey pot, I can only point them to the amount of censorship we face and how much we are being fought by the system. Why would they try to hide this honey pot from you at all costs if they want you to step into it? Apart from that, make sure to only download our games from our official websites. We can obviously not guarantee for anything you get from other sources.
If people want to keep track of what you are doing, how do they evade the censorship and follow your latest updates?
The best and most censorship-resistant channels are Telegram and Gab, make sure to follow us there and our website. We now also have a Twitter account for "The Great Rebellion" specifically. You can still follow us on Instagram, let's see how long this account survives.
Tags: dissident right, kvltgames, trollsk, video games