Emit creates ambient art for those off the beaten path and willing to indulge a contemplate, meditative, obscure trip through undefined sound, like a convergence of Lull, Final and Harold Budd. In addition to being musical, this project is produced by minds who have critically analyzed and chosen their path. We were lucky enough to capture this interview after being blindfolded, driven in circles in a 20-year-old Toyota Tercel, screamed at in Pashtu and Altedeutsch, and finally interrogated by Unknown I while we gobbled our rice rations of the day.
Do you believe that art requires an intention behind it?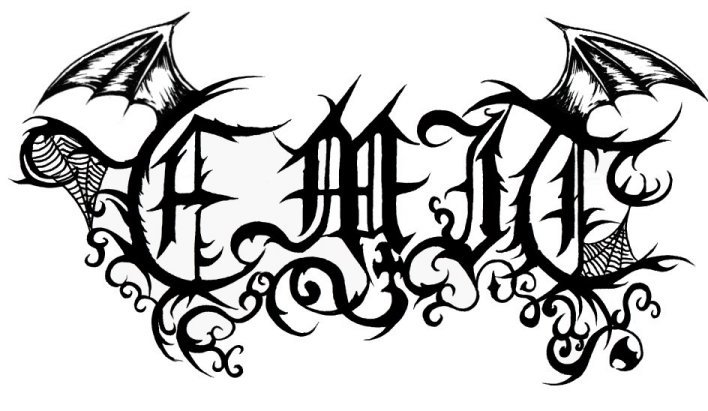 Yes, but then all art has some sort of intention behind it. Even if the intention is purely a selfish one, like making money or seeking fame (or infamy), or taking the piss, there's still a motive no matter how questionable. Deep down there's a reason for every action made in this world. People complain of "mindless" vandalism but never think about why it is that an ugly steel and glass bus-shelter may seem like an affront or worthless object of derision to others. The fake surroundings we spend most of our lives in are so hideous in my eyes that it was natural to become involved with the courageous cultured barbarism of black/death metal, noise music and so on. To me, these music forms aren't fantasy escapism but reflections and expressions of deep underlying truth and reality of existence. Most things seem to want to hide reality from you, i.e. your butchers and policemen as my old friend Joseph Conrad said, but certain art exposes inevitable death and reminds you that you're actually alive and existing. A friend of mine used to badly cut himself on a regular basis, he said that people mainly did it (in black metal circles) because it was a brutal and "evil" thing to do to yourself, but he just did it because he liked it. I suspect that he did it because when seeing his own blood spewing everywhere and feeling the pain of it, he could taste mortality and thus found confirmation of his own existence within that. Do you truly feel that you exist until you realise that you'll die one day? When you see what usually remains invisible (in this case, that which allows you to live; the internal organs, blood etc), the abyss between merely seeing and actually existing is crossed, said Yukio Mishima, loosely paraphrased.
If so, is art decoration? Is it propaganda? Is it communication? Please explain your choice.
All art communicates something, whether it communicates something worthwhile or not is another matter. The Greeks thought that the sheer craft of even an everyday object like a chair was art by itself, but then their furniture and so on was made by hand, not mass produced to a template by chinese industrial machinery. My own house is mostly purely functional, apart from a few choice objects here and there, the personal worth and interest of which are in my eyes therefore enhanced, or more accurately, are allowed their rightful place and not drowned out by crap. Owning and listening to too many albums, for instance, devalues the really great ones. So I don't do it. If art doesn't say anything to me (or if something else says it better) it's probably useless and I've no time to waste on it. Propaganda is for tabloid newspaper readers and decoration as an end in itself only reflects the present culture it derives from, which in our case isn't very good, from an aesthetic sense or any other. Ancient decorative art (from nearly all ancient cultures) glorifies all that's great about their people, mythos and culture, truly aspiring towards and reflecting something divine and vital. The likes of the Pre-Raphaelite Brotherhood (particularly the mediaeval revivalist offshoot led by William Morris and co), attempted to inject this old ethos back into the increasingly industrialised culture of the West, and with Hammemit's crude neo-mediaeval music I follow humbly in their footsteps. By "neo-mediaeval", I mean taking the past and adapting it to modernity, not wearing old clothes and fighting mock battles as if pretending it was still the year 1300. I don't want to retreat back into the past, I'd rather bring the past into the present day.
Kurt Vonnegut famously referred to art as a "canary in a coal mine", or a warning signal for society. Other artists, notably Romantics, have claimed that art serves a necessary role in celebration of life. Still others believe it should celebrate the artist. Where, if anywhere, do these views intersect, and is it possible for art to exist as a discrete one of them and not as an intersection?
I used to talk several years ago about "anti-art", because I considered what I did to be partly a reaction against pretension and fakery where most "artists" claimed to be so very deep and meaningful, but in actual fact their art was nothing but shallow and cheap gimmickry, or entertainment. It's easy to pretend to say a lot if you hide behind a fog of flashy imagery and other useless bric-a-brac. It's also surprising to me how many are taken in by it, as I thought art was supposed to go beyond the superficial.
I would have laughed when I was a teenager if someone had said to me that art like that of black metal celebrated life. But ironically, being obsessed with death and general morbidity is actually a healthy state of mind in a society where no one wants to even think of the word DEATH. I found it empowering and strangely uplifting (though it didn't occur to me that way, back then) to be thinking of death all the time and carrying bones about in my pockets, because it's a taboo and forbidden realm not to be mentioned in polite cunting society. So to be allied to a "cult of nature processes" ironically made me feel more alive and allowed me to breathe in the cold night air more deeply. Possibly it's why I found (and still do find) great pleasure in simple things which others don't find particularly remarkable at all.
Nature! We are surrounded and embraced by her — powerless to leave her and powerless to enter her more deeply. Unaksed and without warning she sweeps us away in the round of her dance and dances on until we fall exhausted from her arms.
…

She has brought me here, she will lead me away.
I trust myself to her. She may do as she will with me.
She will not hate her work. It is not I who have spoken of her.
No, what is true and what is false, all this she has spoken.
Hers is the blame, hers the glory.

– Johann Wolfgang von Goethe, Nature, a Fragment
Quorthon of Bathory refers to his music as "atmospheric heavy metal." What does atmospheric offer that the world of rock music, jazz, blues or techno cannot?
"Atmospheric music" as I would understand the term offers a means of connection with the hidden world beyond, the mysterious unknown. It allows the creation of certain moods, ideas and images within the mind of the imaginative listener. Certain key passages in this kind of music can suddenly infuse you with an almost indescribable transcendence from your surroundings. There are moments like this in Graveland's "Barbarism Returns" and Enslaved's "Heimdallr" (the demo version more so than on the album). Simple rock music or whatever is a mere temporary distraction and serves only as a kind of audial wallpaper. Rock music may passively reflect the time in which it was created and the base preoccupations of its creators but that's it. Atmospheric music pointedly reflects the time in which it was created and also suggests possibilities for the future, or contemplation. That's the difference between your example of Bathory (I would say spiritual music) and one of their contemporaries like Venom (secular music). Speaking of Hammemit & Emit, I've always wanted to create active music for active listening, not passive background decoration, as I listen to music as an activity in itself, not for any other reason. Sometimes if I'm in the car on my own I'll listen to music to just pass the time on tedious journeys, or boost flagging spirits. I hate martial/military music (outside of its intended context the purpose and point is lost), but I have a tape of good driving tunes by the SS Leibstandarte Adolf Hitler which encapsulates the optimistic atmosphere of the 1930's. It makes me smile when crawling through some faceless city at 5 mph to consider that even a 25 ton Panzer IV had a top speed of 26 mph and could easily crush to pieces the cars in front and crash through the walls of the office blocks and shops lining the road, pedestrians scattering about like rural french peasants.
When you write music, do you aim for a completed concept, or develop a fragmentary concept and see where it goes?
I've always had a "concept" in mind but as the years went on it became more easily expressed. The Hammemit album is my most consistent work, and conveys my intended ideas simply and without any unnecessary ornamentation. My core beliefs haven't changed radically but my opinions have changed somewhat from experience and such. I'm too young for my opinions to have fossilised into convictions yet. In order to communicate effectively, an artistic medium like an album of music needs to take a unified approach. It should have a distinct sound, a unique voice both visually and lyrically as well as musically. And this should all come naturally, not be forced in an unnatural, dishonest way like some calculated marketing campaign. A lot of bands understand this but only grasp it on the most superficial level; they have an "image" in promo photos, they use the same font on all their releases or whatever. They miss the point completely. What I want is for someone to look at the layout/images of the Hammemit album, read the lyrics, listen to the music and intuitively take from it something useful to them. That sounds dry and dull in words, but what I mean is that I ultimately aim to create with Hammemit the means for uplifting of spirit and transcendence in the listener that occurs when absorbing great art.
Many attack ambient music, like punk, for the relative lack of musical training or instrumental ability of its progenitors. Do you see this as an important criticism?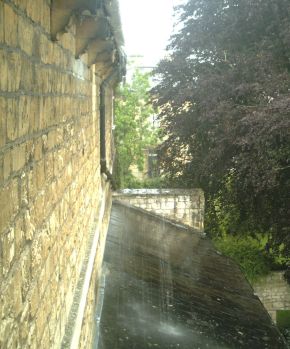 I doubt you'll be surprised by my answer here, but no, of course it's not at all important. Technique is merely a means through which you can express something. Lack of technique or limited musical ability just means you're more restricted (or perhaps freer in some cases) about what you can do. Someone lacking musical ability or training couldn't easily write or perform music like that of Morbid Angel for instance, but then some forms of expression don't require that level of instrumental skill. Furthermore, technical ability is absolutely worthless if lacking any idea of composition. I think someone who has no real technical ability as such, may nevertheless still have an innate (possibly an unrealised, subconscious) understanding of melody and form, and thus be able to create good music. I don't understand why it is that low technical skill is nearly always seen as a valid criticism by those who "know about music". It's like with these lists you see of "100 greatest guitarists ever", ok, but how many of them made music that you actually give a shit about? Darkthrone were quite talented musicians but their best music isn't hard to play to say the least. I bought a new guitar recently (an ostentatious act for me, but the model is not in itself ostentatious) and tried it out in the shop beforehand. I suppose that people usually have a long, showy masturbation session in music shops when trying out new instruments, but I just wanted to see how it felt to play and so on. I've never really wanted to drastically improve my playing skills, not through laziness or lack of ambition but because I actually fear losing my unfettered ability of expression. Over time I've improved gradually anyway as is natural, but I'm fond of the lack of refinement and "first take" freshness that can be found in recordings of people like Ildjarn or old Mutiilation. It lends a certain immediacy that becomes integral to the overall effect that the song produces upon the listener. For me it's similar to the curious power of crude woodcut illustrations, which although primitive, nevertheless convey what is intended. I'm not advocating the old punk rock ethos of "anyone can have a go", because plainly, not everyone has what it takes to create something meaningful or worthwhile. Indulge me and allow me to quote a favourite passage from a controversial figure of 1960's England; "practically everyone believes they could write a book or compose a song if only they put their mind to it. They believe this simply because they can easily comprehend the finished products of others. It is not until they attempt the act of creation themselves that they become aware of their own limitations, lack of imagination, abysmal powers of self-expression and how unaccustomed they are to thinking deeply about anything at all. Becoming aware of the vast gap that exists between understanding and personal creativity – and the intellectual effort required to capture and express a complex idea in simple terms – is humiliating". Technical prowess as such doesn't necessarily hinder the creation of (good) art, but stupidity and a lack of anything to say certainly does. Just look at the music section of myspace.
black metal and ambient music seem similar in their use of layered motifs over a drone or constant beat in which syncopation is de-emphasized.
Is this from a similar world-outlook, or is it a megatrend passing through our time to aim for atmosphere instead of discrete conclusions?
In the first place that's a really interesting hypothesis which makes a lot of sense to me, but I'm not sure if I know the answer to your question. I don't really think that a similar world outlook necessarily leads to similar artistic output other than in terms of meaning, so it's possible that intelligent artists who have something to communicate gravitate towards creating music that they feel speaks to the ancient man who finds himself living in the modern world.
EMIT has emitted (forgive me that) a series of releases, seeming with each to move farther from black metal in form and closer to black metal in spirit. Is that assessment correct? What has engendered this progression?
I think you're right. With the Hammemit album, there are no percussion elements, no distorted guitar and mostly clean vocals. In previous releases there's been a fair amount of variation with clean and distorted guitar, but ironically, I wanted to free myself from the conventions of what I used to do by limiting myself to a bare minimum as far as possible. It focused my mind and let me get to the core or essence of what I've already been doing for years. I believe I'm getting closer to an ideal stylistic approach, which has taken some time to reach. Now it's a matter of utilising the approach in the most effective way possible.
When we speak of evil in music, what is its value? Is literal evil meant, or a mockery or evil, or is the metaphor being overloaded to take on new meanings? Are they recapturing the word "evil" like hip-hop groups have recaptured racial epithets? And finally, have you encountered any music you consider "evil" in the definition of your choice?
It seems to depend on whom you speak to. The religious bands of today mean literal evil in the biblical, moralistic sense. So-called "pagan" bands use the word as if to say "christianity turned our gods into devils", recapturing the word, as you suggest. Overtly blasphemous bands like Havohej take delight in mocking the dualism and entire concept of evil with their crudely effective lyrics and stance. I don't think I've come across any music that I find actually evil, only music seeking to portray that which is generally considered evil, and that isn't the same thing as "evil music". I said in another recent interview how I've never seen death and black metal as being much concerned with blaspheming, but rather praising or aspiring towards the numinous. That's what I've always endeavoured to do with Emit and will continue to do with Hammemit.
Do you believe music should be mimetic, or reflect what's found in life, or ludic, and show a playfulness with life that encourages us to experience it in depth? Do the two ever crossover?
When I listen to Hammemit, what comes to my mind is the moors, woods, rural churches, stone circles and ancient places of England as I know it. It encapsulates what I begin to think about when visiting or visualising them, and I believe that music ultimately is an artistic manifestation of thoughts and ideas. For instance, the guy from Absurd used to say that black metal was "listenable ideology". Taking this further, I would even say that music could be broken down to something like computer language, a series of 1's and 0's which look like gibberish but can be understood if you have sufficient knowledge or have trained yourself over time. If you look at guitar tablature, it's basically a series of numbers telling you where to put your fingers on the fretboard, but when you follow this on an instrument it creates something which we can understand, much like 111110010100110001111 might be code that forms a program for a computer. So if you translate thoughts and interpretations of the world around you into music, it could be said that you're creating a program which allows other people to experience those same ideas and thoughts. I dare say this makes the whole artistic process seem less "magical", but I like to try to get to grips with the mechanics of how important phenomena work.
I want to learn more and more to see as beautiful what is necessary in things; then I shall be one of those who make things beautiful. Amor fati: let that be my love henceforth! I do not want to wage war against what is ugly. I do not want to accuse; I do not even want to accuse those who accuse. Looking away shall be my only negation. And all in all and on the whole: some day I wish to be only a Yes-sayer.

– F.W. Nietzsche, Thus Spoke Zarathustra
When you create music, do you narrow your perspective to find what you seek to express in life, and then translate it back to sound? Do you feel others do this? What are the ways an artist can approach the task of making art?
I feel I've sort of answered this above, but certain noise music to me, sounds like the breath of woodland in a heavy wind or even birdsong, if I'm in the right frame of mind. I'm not sure I'd actually call it music as such, in all fairness, but it's interesting to think of these mechanistic, artificial sounds interpreted back into naturalistic ones, as if being reclaimed. Trees smashing Isengard. Any artist who wants to communicate something worthwhile will choose a form which he or she thinks is most suitable (and personally enjoys themselves). Usually I'd imagine it's pretty much intuitive, not so much a conscious choice. I don't know how other people might go about creating music or writing or whatever, but speaking for myself, it stems from a desire to encapsulate that initial inspiration and rush of ideas and feeling. It's "just" a matter of working out a way in which to best make it communicable. Not being unique, I suppose this must be how it is for many others, as well.
What influences from the world of ambient music were inspirational for you?
The sound of nearby church bells, rain on the rooftops and wind in the trees is perhaps the greatest ambient music I've heard and has influenced me more than anything else. Some have said that the Hammemit album reminded them of work by Brian Eno and he is indeed quite a visionary, though I wouldn't agree that he was much of an inspiration to me. I like Tangerine Dream a lot, and anything that I like a lot tends to be assimilated somehow into what I do, but there's no conscious influence from them either. My music is mainly based around the guitar, so two particularly inspirational guitarists for me would be Snorre Ruch (of Thorns) and John Dowland, the latter being a lutenist rather than guitarist but the principle is similar. I think my influences are more in terms of ethos and aesthetic than anything concrete in form.
Like many others, you were influenced by the black metal movement coming out of Norway in the early 1990s. What did you see in that movement that inspired you artistically?
I saw another movement like that of the Pre-Raphaelites for whom "the past is alive". The music, image, ideas and actions transcended the mundane shit of day-to-day life in the modern world, touching on things deeply buried. "How beautiful life is, now when my time has come", sounds like a line Mishima might have written. Most black metal bands of today in comparison remind me of the difference between Dead Can Dance and fucking Cocteau Twins. In other words, idiots tell me that if I like Dead Can Dance, I'll also like these other clowns, but I DO NOT.
The long, long road over the moors and up into the forest–who trod it into being first of all? Man, a human being, the first that came here. There was no path before he came. Afterward, some beast or other, following the faint tracks over marsh and moorland, wearing them deeper; after these again some Lapp gained scent of the path, and took that way from field to field, looking to his reindeer. Thus was made the road through great Almenning — the common tracts without an owner; no-man's land.

– Knut Hamsun, Growth of the Soil (1917)
Do you have any personal ideologies? Do these inform your approach to your music? Do they provide a groundwork for the content of your music?
I once began to distrust this word "ideology", in black metal especially it became a word used to say whether a band was "true" or not. People began to talk about "ideological black metal", which was used to draw a line between bands who stood for something and those newcomers or fakes who stood for nothing but making scary music to amuse themselves. But unfortunately in trying to emphasise the difference, a lot of bands started becoming overtly politically affiliated as if trying too hard to prove they had something serious and important to say. For example, the Polish bands of the mid-90s did this more and more as they saw the Norwegians becoming less interesting musically and much less radical in their statements and so on. I think it was good and necessary to start with, because the normal people refused to listen to politically-incorrect music like that of Veles or Graveland and stuck with safer bands. I gather that people even sent Veles CDs back to the record label because it had the word "aryan" printed in the booklet. It created a refreshing and stimulating, iconoclastic environment similar to that of the original outbreak. But there was a point where overt nationalism and political-incorrectness became sloganeering or even protest music and that's where I lost interest. The point is that ideas don't need to be expressed through some existing political party/system, or so obviously. It's just cheap and vulgar and only appeals to idiots. To be silly for a moment, Hitler wouldn't have listened to WAR88 but he might have given later Graveland a try. My own music says, "I would prefer to see a million people machinegunned than a forest put to the chainsaw to make room for their ugly houses", but that isn't the title of the album.
Do you believe objective reality exists?
Tell a class of schoolchildren to look out of the window and draw a specific tree and they'll all draw something "treelike". Therefore you can say that objective reality exists. But each child will probably come up with various subjective interpretations of the tree. Most will try and copy it as exactly as possible (and become frustrated when they fail to do so accurately), perhaps some will try and capture the spirit of the tree, others will not observe at all and draw a generic tree, etc. Personally, I always tried to be faithful to the object in question taking meticulous care over tiny details, usually running out of time and leaving it incomplete. Sometimes I found that when translated to paper, objects looked wrong, even though they had been accurately rendered, so I'd stop looking at what I was drawing and improvise or add what I wanted. I began to think at an early age, in the simple way that children do, that reality is something which although the same for everyone, reveals more to some than it does to others. It was hard not to feel superior when faced with the fact that those around me seemed totally blind to all but their most immediate surroundings. I find it stupid when people say their music is "inspired by nature", because it seems to me that in nearly every case, they mean a picture postcard version of nature. They see nothing beyond the obvious, they just like the "dark atmosphere" of forests or the "inspiring" sight of distant mountains (what does it inspire them with I wonder). They might as well paint a drab watercolour picture because what they see around them has already been handily interpreted for them by TV and other mass media. We learn to interpret life vicariously through other people, so that when stood in a forest you should feel X, Y or Z, because that's the limit of human understanding so why bother thinking any different. What's the difference between visiting Stonehenge or a desert and watching some slickly edited footage of them on TV? I may see the same things such people do, but for all intents and purposes I'm not even on the same planet, my experience of life is not the same at all.
What consciousness if any exists to the cosmos? If one does exist, does it infuse you with a sense of purpose?
Well I certainly believe in a consciousness to the cosmos. But I don't believe that you need the church or any organised religion as intermediary. In meditations and in my whole life I've tried to understand even a tiny piece of this existence and wondered often, and thought deeply about all of creation and the point of it all. My beliefs in recent years have more or less followed ancient gnostic ones, as I felt the closer you got to the beginning, the nearer you got to the truth, in opposition to modern thought, where it's believed that with each new technological progression you come further to the truth and some ultimate, elusive satisfaction. In modern society people believe that with each passing second the world naturally progresses in a linear way. Well, it's not "natural" that we should have an industrial revolution at a certain time and I don't think all progression is necessarily good, or indeed real progression at all. If there's an alien civilisation out there somewhere, it's unlikely that they'd have developed the same as we've done. Terms like "the Stone Age" are very misleading. Having contemplated life in the modern world it's very easy to conclude that absolutely everything is stacked against the deep thinking, spiritual person. When you come to this point it's also very easy to think about suicide and I've had periods (now forever in the past) where I've vaguely entertained the notion. When I was younger I used to go on walks and towards dusk smell the summer air, listen to the last birdsong and I felt something huge missing within. I had no idea what this "something" was nor any idea of how to discover what it was, but it gave me a direction to strive towards. People always tell me that I think about things too much, but then I'm a spiritual person and contemplation seems to be a key to understanding. The consciousness (what people used to call god) that exists within and without this cosmos (and therefore us) does indeed infuse me with a sense of purpose. I think that changing yourself even at a solely physical level is not something as insignificant as it might seem, because everything is interconnected so such a change is nothing short of altering the entire universe piece by piece. Believing in the interrelation between microcosm/macrocosm as I do, I wonder how anyone can believe that the universe and cosmos will exist indefinitely. Is there any example in nature that suggests this is likely? Every living thing is just a miniature cosmos in itself, so therefore if every living thing has to die at some point, the cosmos itself must have to "die" as well. I personally don't believe in death as a finite and permanent thing, but as a change in existence, energy moving elsewhere or eventually returning to the source. Worshipping death and the ultimate Death of everything in the way that I describe, makes existence tolerable by virtue of considering its otherwise total worthlessness. Life would be pointless without death after all, but Death still exists without life. It is therefore, the ultimate and oldest form of existence, coming both before and after material manifestations. Energy can't be destroyed, it has to go somewhere and originate from somewhere, so death is evidently not a total nothingness in the way we might understand the word, despite not being able to comprehend it. There isn't a dualism between death and life, death is actually a continuation of life in a different (higher) form. I don't mean an afterlife as such in the sense of "heaven", but I believe in continuation in different forms, though it isn't comprehensible to us. You can say that as you can't remember anything from before your birth, why should after death be any different? Well I imagine it isn't, but non-awareness only means non-existence in the form that we know. Let's say the cosmos came into being when it first became aware that it existed. On a microcosmic level, using a biblical metaphor, the first humans became aware when tasting the forbidden fruit and thus realised they were naked. Before that they still existed but were unaware of themselves as entities in their own right. Therefore going back to the cosmos as a whole, one can tentatively suggest that the cosmos existed before it came into physical manifestation, despite there being apparently "nothing". Zero is still a digit (and a relatively recent concept at that), and there are also minus numbers, meaning you can go further back than nought. Death is a realm separate from the material one, therefore it isn't possible to experience it by means of the senses or even deep thought – it's outside of humanity. But it is real.
Nihilists tend to break the world into two groups, those who are looking forward in time toward something intangible that constitutes a purpose, and those who lack any such abstract goal so are focused on the tangible, both in physical and mental construct. Have you observed anything of this nature and, if so, what is it?
When you first look around at the world that surrounds you, you'll obviously only see the immediate – buildings, people, trees, stars etc. Once you recognise these things and begin to file them away in your mind, you start to allocate meaning to them from further associations that link them and a million other things together build up into a massive network of meanings, memories and so on. Taking everything at face value would mean that none of these things you've observed have any intrinsic value whatsoever, other than those which you've learned or been conditioned to accept. You would understand for instance, that the paper notes used for currency, or even the shiny yellow metal called "gold", are not worth anything, apart from the value society has given them. And so-called "human rights" is a meaningless, purely politically expedient concept. You're then faced with a very difficult dilemma. You can either create or accept an existing mythology to explain the world you find yourself struggling to understand, or believe that you're on your own and have been left to your own devices. Strangely, following on from gnostic beliefs, I'm actually somewhere in the middle, ha ha.
One of the fundamental divisions of our society is whether or not it can accept relativity. some turn it into relativism; others deny it and insist on "objectivism," which is a rather rigorous form of scientific Social Darwinism. What do you think unites methods of relativity in linking together phenomena, and the human desire to make life easy and tangible and have us each perceive that reality is as we desire, even if contrary data exist?
It's true that people prefer to see things as they'd like them to be, and hide away from what they really know is out there. That's why D E A T H is such a taboo that people give it all these innumerable euphemisms. It obviously sounds like a much easier and "fairer" life if everyone decides to agree to disagree, because it means less conflict and less of people's feelings being hurt. Unfortunately for utopia, people have a tendency of saying "no, we're absolutely right in our beliefs, and you are heretics/infidels/cretins/gay for believing otherwise, and now we want to kill you". You'll often hear politicians and their ilk talking about how everyone should be able to live in harmony, not afraid to believe in whatever they want to believe in. Although of course, these same people will later go on to say they're declaring war on another country to fight for what's "right". Opposing beliefs and ideas are always going to cause tensions when confronted with another, because to admit that they're "both right", or that "no one is wrong" is an admission of uncertainty and lack of faith in your convictions. It's also blatantly stupid because both parties know that in truth, either one or both of them are utterly wrong. It's like saying you know for certain that grass is green but accepting that some people think it's blue. I believe that falling trees make a sound in the forest even if no one's there to hear them, and that the world exists outside of our perception. It will still be here when I die. As usual, what unites all these things is a fear of death. The world is a frightening place if you suddenly take away everything that shields you from it. That's why people allow themselves to be led down the garden path, willingly oblivious to the forest that lurks at its carefully trimmed and cultivated edges.
Did black metal die, and if so, what killed it and, has ambient/electronic music gone through similar cycles?
Everything has to die. I feel that like the world itself, black metal could have remained something brilliant, but stupid, shallow people and commerce ruined it. Concerning black metal (but not only that), I think most people including many who "were there" only see an idealised version of reality. Basically they see a relatively brief outburst of creativity and good intentions contained as a single neverending era and not as a finite period of innovation witnessed over time, followed by noticeable decline and inevitable death. I imagine citizens of the Roman Empire in its last days felt that way. Maybe Americans feel like that. People need a sense of continuity and belonging in order to feel secure and black metal is now a boring youth subculture like any other, not an evolutionary artistic movement. It's about clothes, symbols, scene orthodoxy and total lack of substance for the most part. It's hard to admit that the dream is over, that something has come to the end of its lifespan. The people who refuse to recognise that are usually those with the most to gain from its continuation and such people are dangerous because they prevent real progress from being made. But those who do acknowledge it are the first to rise from the ashes and forge something new. When an old, beautiful and much loved building falls down, the average guy says "I'll rebuild this building, it'll not be quite as good as before but it'll keep the spirit of the old building alive". But a radical, visionary architect says "I'll rebuild this building, and I've a few ideas of my own this time". However there are quite a few people out there who think of themselves as doing something new and original, but who actually aren't. Playing a saxophone or tambourine or banjo or flute in a black metal context doesn't necessarily make you a creative genius (in fact I'm damn sure it doesn't). To cite an example I've used before, Darkthrone were obviously a positive evolution from Bathory and Celtic Frost, and to continue the architectural metaphor; are the difference between doric and ionic columns. In other words you don't need to do anything completely new to be original, you just need to look at what came before in a new light, which is easier said than done of course.
What's the status of EMIT, and when do we hear new material? What inspired this new material?
Emit has evolved into Hammemit; modern music for mediaeval sensibilities, by which I mean intended for those desensitised to the general chaos of modern life yet retaining a certain spiritual awareness and closeness to the world. The new direction isn't a sudden development but a gradual progression where I began to lean more towards the calmer works than the noisier ones. The more consistent approach which can be seen in the Hammemit album stems from deep and prolonged contemplation flowing over into a group of connected lyrics. These lyrics really opened the way into a new holistic conception and execution of my musical work. I hope that as many people as possible will read the lyrics and that some will feel a deep affinity with the music, because I know that other people look at the world in the same way that I do. My intention is that people should feel the way I felt when I read "The Centaur" by Algernon Blackwood – that they'd found a kindred spirit. I feel I should elucidate further as Mr. Blackwood isn't well known anymore, though I believe he deserves to be. He used to be quite a popular figure in his time, and would read his stories on BBC radio and even appeared on the then new cursed medium of TV (when it was basically still radio but with pictures). Yet his books are mostly out of print nowadays and his best works can generally only be found in secondhand bookshops or not at all. Lovecraft was a fervent admirer of his work, though this wasn't reciprocated and Lovecraft's writing unfortunately is largely still seen as pulp trash while Blackwood's is just forgotten. His one major attempt at fully explaining his worldview came with a full-length novel, the aforementioned "The Centaur". His preferred medium was the short story and it becomes readily apparent when reading it, but despite its very occasional failings as literature, I found it interesting and even exciting reading. What he proposed was not new, but the manner in which he set about describing the idea that the world was a living being and everything living on it were part of one entity, made it sound like perfect sense. This being because I could clearly identify with the two main characters, both of whom seemed to articulate exactly what I myself thought and had constantly struggled with. Blackwood would have as a basis for many of his stories a central character who was enthralled so much with primal nature that they "risked" being consumed by it utterly. This is best seen in his short stories such as "The Trod", "The Touch of Pan", "The Man Whom the Trees Loved" and of course "The Centaur", all of which I recommend reading. As I said, I hope to do with music and lyrics what Blackwood did with his writing, I feel a real calling to do so.
If you were able to make an album that would be given mainstream radio airplay, would you choose to make your music closer to mass tastes but subversive, or attempt to wallop people with something very far from current mass tastes?
I wouldn't do anything different from what I'm doing now. Why would I want to water down what I do in order to get the interest of shallow people who have nothing in common with the meaning of the music? I'd just be wasting everyone's time. Look at Dissection and their "Reinkaos" album or Watain's new one. Why even bother? Seeds on barren rocks. Good luck to them if they think their message will be spread further by simplifying ther music, but I'd rather not pander to the lowest common denominator. I don't see myself as some supreme and elite being, not through modesty but through thinking about it. I aspire to better myself and to achieve certain goals, and I look at myself therefore as what a human should be like, it's those falling under that who are below human. There's only human and underhuman, everything else is aspiration for now. I understand the limitations of the masses and know that difficult concepts are totally beyond them, not always beyond their capacity to understand, but certainly beyond their attention span. The masses are guided by base instinct and self-interest and to make them otherwise is impossible. It's easy to trick them into believing that something bad for them is actually good for them and vice-versa. As long as they think it serves their own interests they'll be happy. They're mere empty vessels who've allowed themselves to become corrupted and mindless, a bit like Tolkien's orcs or the zombies from "Dawn of the Living Dead". Their greatest and apparently only desires are to eat/consume, fuck and destroy everything beautiful. The individual I quoted earlier once said that serial killers acted the way they did because they were either consciously or unconsciously deeply aware of time passing by and wanted to take action while they could, to live each moment as much as possible and push the limits of experience. The masses are not in the least aware of time passing them by, they don't think death will happen to them. They imagine an afterlife paradise where all their sickening desires and lusts will be fulfilled for them, so might as well sit and wait for it. A consolation for me is that they will all eventually be reclaimed, as into an amorphous jigsaw with billions of missing pieces…
DEATH DEATH
If you seek the kernel, then you must break the shell. And likewise, if you would know the reality of Nature, you must destroy the appearance, and the farther you go beyond the appearance, the nearer you will be to the essence.

– Meister Johannes Eckhart