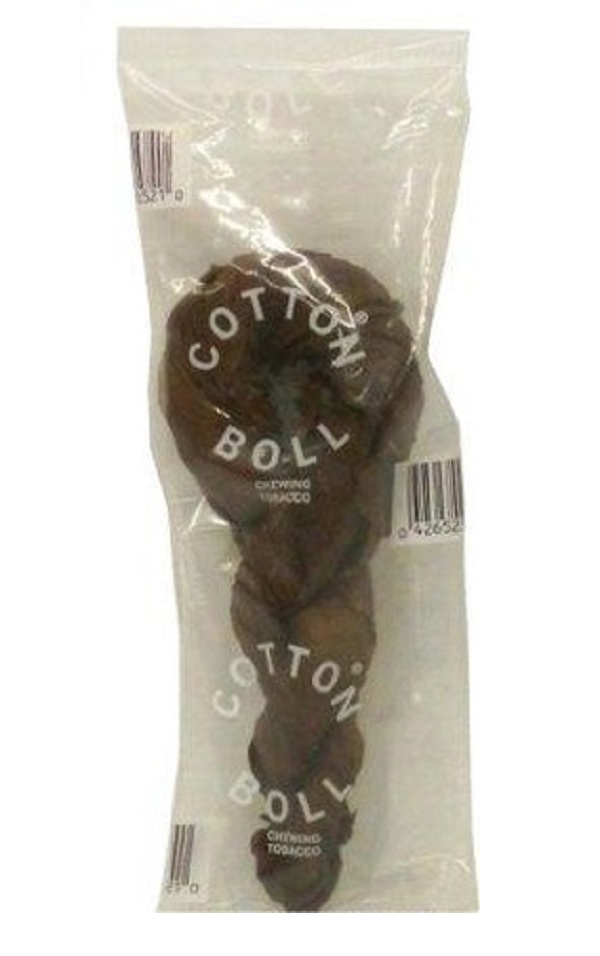 Many (but not all) pipe smokers claim that they smoke for the flavor, not the nicotine. This is on par with wine drinkers talking about the "aura" and "palate" of a wine as they approach the end of the second bottle and begin slurring their words. For most of us, the pipe is a complete experience: taste, smell, feel, activity and yes, nicotine.
Why? Because Nicotine is a god among stimulants, providing cognitive benefits as well as relaxation. Because it helps us see our dead ancestors. Because it is fun. Pick one or more of the above, but be honest in recognizing that for many of us, nicotine is part of the trip. Accordingly, many smokers seek out a nicotine "holy grail": the most intense nicotine blast that one can experience in a pipe.
A number of candidates arise, most from the Gawith Hoggarth stable, but rumored to be beyond even that in intensity are twists. These are nearly raw tobacco, taken from curing and wrapped in a distinctive shape, then allowed to age so the sugars in the leaf ferment and that dead vegetation flavor leaves. Twists are normally designed to be chewed and then placed against the cheek where nicotine absorption occurs through the membrane, but since the dawn of recorded history on the topic, smokers have been known to hack off bits of them and smoke them for a cosmic Nicotine experience.
You can get twists a number of places. Here's a semi-comprehensive list:
These contenders for the holy grail of mind-blowing Nicotine trips are generally not all that expensive, in keeping with their functional origins in agricultural work. They do not have fancy flavors or extensive steps taken to reduce their rougher edges. But they do offer a staggering dose of the magic lady.
In my search for pipe smoking's holy grail, I acquired an American Snuff Company Cotton Boll Twist, rumored to be one of the stronger twists. It arrived in a plastic bag, looking very much like a roughly dried leaf. Upon slitting the bag and removing it, I noticed a scent of old leaf, perhaps with undertones of oil, and felt how dry the twist was in my hands. But I noticed the hands were shaking.
Pipe smokers are famous for their lore, and while much of it is not strictly speaking factually true, almost all of it has metaphorical meaning, like religion or Texans telling tales where the fish keeps getting bigger or the boar gets meaner. It was entirely possible that this thing would kill me. They would find me, tense body twisted into an impossible pose in my comfortable share, surrounded by ashes flung aside during my final convulsions. The M.E. would shake his head sadly and proclaim death by misadventure, and I would be buried in a simple grave with the marker reading only HERE LIES AN IDIOT. This fear gripped me as I turned the twist over in my hands.
Being a somewhat intrepid sort, at least with my own life, I put it on the cutting block and hacked off an inch, then sliced it vertically and again, horizontally, to create small cubes. Because the leaf was dry and unpressed, these quickly expanded to tiny flakes — approximating the size of rough cut tobacco — of dry, slightly greasy vegetation. Figuring that here went nothing, I loaded up my favorite author style pipe and set match to tobacco, then waited for death to swoop down from the clouds and seize me in a spasm of final agonies.
Nothing of the sort happened.
First, I recoiled from the flavor. Almost no tobacco is actually "raw," since you sort of have to dump something on it to help with the aging process and rehydrate it after drying. But this is as raw as it gets and it has a flavor that resembles, well, dried leaves. It burns quickly too, making me rehydrate the second batch. But for that first bowl, I lit, tamped, gagged and then lit again. After a few more puffs — slightly sour like the first notes of a newly-lit cigar — I found the flavor to improve. The nutty broad flavor of Burley replaced the raw taste of flame. Then a slight sweetness, very light, drifted to the surface. The more it burned, the better it tasted, although an oily undertone like old butter from an all-night restaurant persisted, and sometimes there was the slightly bitter "green" taste of minimally cured plant matter. But by the end of the first third of the bowl, I was thoroughly enjoying myself.
And then… it hit.
Like a serpentine form uncoiling in darkness, Nicotine wound its way through the smoke into my brain. My jaw dropped and cold sweat broke out on my forehead. I could see my fingers twitching like insects in the spastic repetition of instinctual motions. Sounds receded, and I could no longer speak. I could feel every hair like a finely-tuned instrument, detect even the slightest breeze brushing over my skin. "Unholy mackerel," I thought, "This may indeed be the end."
But I survived. And I hung on, chopping up another half-inch and adding the collected leaf-bits to a small bowl over which I draped a hot damp towel. I waited. And then I reloaded, lit, tamped and blazed. The same bitterness struck, the oily smoke curling around my head, but then the rancid butter and cut grass flavors faded and the nuttiness returned. The faint sweetness emerged as well, as did the Samurai warrior that is Nicotine. But this time, I rode the dragon. I felt myself pass into the shadow realms, and like the mythical Jenkem users of central Africa, I spoke to my dead ancestors. I enjoyed every minute of it.
In terms of raw strength, this tobacco is not more excessive than Samuel Gawith 1792 Flake or the infamous Gawith Hoggarth "Happy" Brown Bogie. It has some strength on those, but does not leap to another cosmic level. However, like a tropical storm it attacks quickly and holds you with an iron grip. In this case, it is pleasurable. Subsequent bowls revealed that this tobacco mixes extremely well, and even a pinch of an English mixture mutes its flavor extremes. Its heavy Burley takes the flavor of whatever it is mixed with, making this an even more enjoyable experience. But that power — the raw, infernal power — remains.
The stronger ropes from UK tobacco makers, or even some of the home-grown Perique mixes that the Americans concoct, most likely match this in strength. Part of its reputation comes from the fact that as a dry tobacco, it burns quickly and thus injects more smoke into the mouth (this is the same reason people like flake tobacco; the compressed flake burns a lot more leaf at any given instant than loose tobacco blends). But part of it is a sensible recognition of the dark forces at work within this demon of a twist. I paired it with Incantation Onward to Golgotha in recognition of its infernal strength, and sipped green tea to keep me anchored in the world of reality. This may not be the holy grail of Nicotine abuse, but it is one of them. And I am glad I found it.
Tags: cotton boll twist, pipe tobacco, pipes, Satan, tobacco