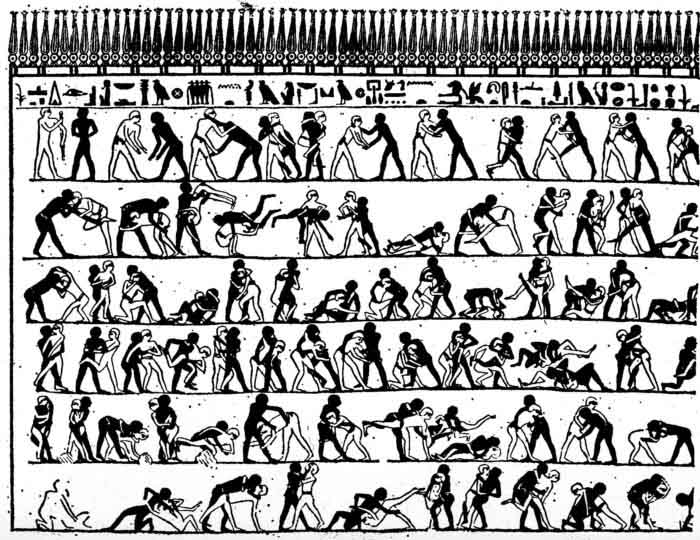 Wrestling is the oldest sport in existence. One can find it in any culture on earth, Egyptian hieroglyphs depict various techniques, Islam recognizes it as one of the main sports for preparation in combat and European knights trained extensively as a lot of armored fights quickly become tests of who could pin who to be able to deal a finishing blow with a dagger through the gaps in the plate armor. Throughout the years wrestling has proven to be the best art for all forms of combat as every region in the world has at least one form of indigenous wrestling.
Not all forms of wrestling are equal, as technology relating to sports has evolved so have the rules and the competitors to reflect these changes. Most older forms of wrestling as practical as they may seem have no interest except for maintaining tradition. Even though wrestling styles appear different since wrestling can be any sport without strikes and where one wins through submission or positional dominance, there are three useful types in this day and age.
Greco-Roman: An Olympic form where using or grabbing the legs is illegal so that upper body moves may be demonstrated, possibly the hardest style in existence since it requires an above average individual to understand the intricacies of how to defeat an opponent without tackling him or tripping him up.
Freestyle: An Olympic style that permits an incredibly large number of techniques and rewards fast explosive sequences, by far the most popular style due to its diversity and propagation throughout the world.
Folkstyle: Trained exclusively in America from a very young age up into collegiate level with many of these athletes winning international accolades in the other two styles. Unlike the Olympic styles, dominance is prioritized over everything else. Fancy throws score as much as the basic ones and there is unlimited time for the athletes to fight on the ground while the one on top keeps gaining points for positional dominance.
We shall concentrate on Folkstyle wrestling as it is the most similar to metal in that it discards showmanship in favor of results and while it may appear to be random and chaotic on the outside, it is a very organized sport with distinct sequences. The two most common techniques folkstyle are the single leg and the double leg, both deceptively simple for someone who doesn't follow the sport but contain a myriad of details and variations like bare bones playing of early death and black metal. Kung fu movie throws do not work on someone who actually has a minimum of strength and balance and can fight a bit and varied throws are lower percentage techniques than diving down to grab the legs.
Metal relies on the same conviction and determination that is essential in wrestling. Average musicians like those of Sarcofago and Sepultura shocked the world with the power of their music that they achieved through hard work and an unbreakable desire to share their vision. A strong motivated wrestler with endless willpower will eventually smash through a technician in the same way Morbid Visions will always best a tech death album. The technician may have a fancy bag of tricks that will initially impress but once the bag is empty or the tricks are similar to the previous ones, the brute will eventually discard the illusions and obliterate the technician. The brute relies on an a high work rate, draining his opponent's energy while making sure that every action is efficient, works towards a larger objective while using as little as energy as possible. Imagine the machine like grinding of Pierced From Within vs the randomness of Behemoth's later works, one is designed perfectly down to the last millisecond, the other is a list of random ideas connected with no overall purpose.
Folkstyle is also known for its intense and soul shattering physical preparation that most humans would never even dream of attempting. Like metal, raw strength is valued immensely as it is the basis of achieving victory. Having the physical tools to accompany mental strength is necessary as the mind is not isolated from the body. A mixture of speed, endurance, power and strength(power being the speed that you can use your strength) allows the mind more freedom since the body can execute more actions without being held back by weakness. Wrestling and metal are very tiring in action as technique comes together with power unlike more popular sports and genres, where you can replace physicality with tricks like being able to shoot football penalties (soccer for the yanks) or repeating the same sweep pattern. Tricks that are attained from repeating an excruciating number of times the same thing mindlessly. Jon Schaffer perfected his rhythm attack through technique and immense endurance and Lord Worm possessed great lung capacity and some conceptually weird tricks to produce some of the most awe inspiring tones in metal.
Two folkstyle greats Taylor and Dake demonstrating the beauty of the sport
While technique without any foundation is guaranteed failure and nothing more than smoke and mirrors. Technique is the stuff that can make those excellent into legends. Cause of Death as much as it is a great album, lacks a certain level of sophistication that stops it just short from being a transcendental effort. Whereas Atheist added technique on top of an excellent base that allowed them to pierce into the top of the death metal pantheon. High level wrestlers focus on the bread and butter tactics that work but in times of need are able to muster all the confidence and previous training required to pull of such moves on high level and mostly equal combatants. Most great metal bands have the potential and the ability to throw around technical parts but what makes them great is when they do so in time of need. Sinister's Cross the Styx enforces easy melodies to play combined with occasional NYDM sections that are fairly complicated to play. Being overly technical at the wrong moment generally tends to backfire in metal as well as in wrestling. In wrestling it allows the opponent to counter fairly easily and in metal it is discarded as a useless diversion.
Wrestling has kept strong conservative values and even during various periods of corruption never sold out or made a mockery of itself. For all Hessians interested in combat, I strongly recommend trying the sport in any of its variations at least once as it is truly a very hard and punishing sport where there are no shortcuts on the road towards success and unlike metal the values from metal have reached the top of the world in that most of the top cage fighting athletes have a very strong base folkstyle base, proving that the values in wrestlingare the best to have in times of war and that metal should seek to create ties if it wants to exceed itself.
Tags: domination, History, masculinity, power, sports, testosterone, wrestling