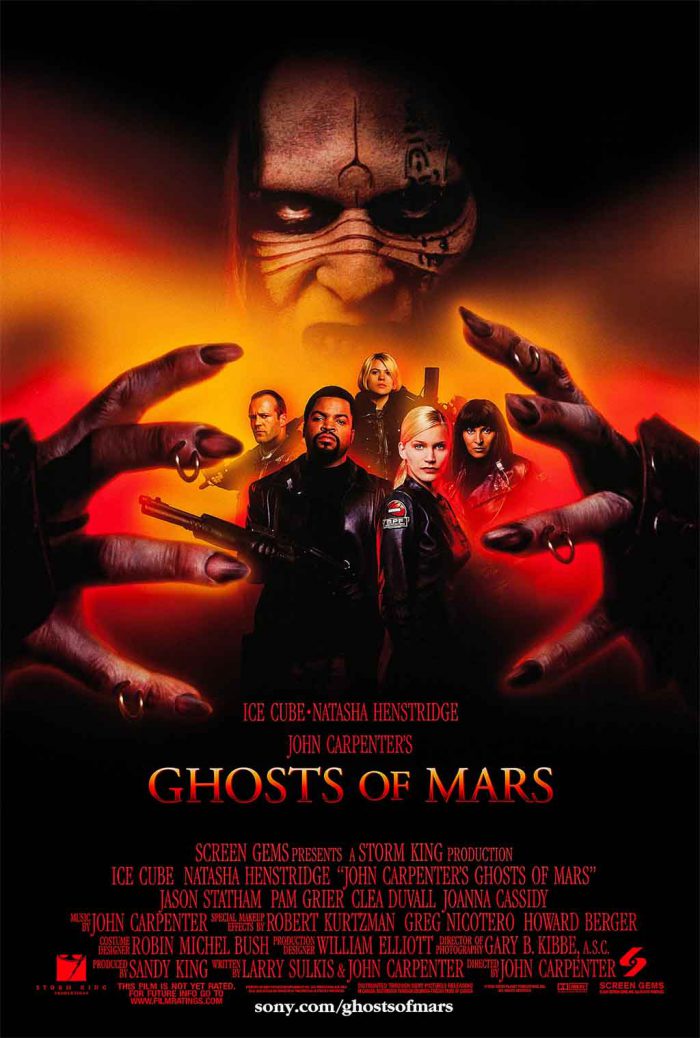 Some may know this movie because Anthrax collaborated on the soundtrack, but it deserves mention for holding its own not only as part of the John Carpenter oeuvre but in recognition of its difficult mixture of science fiction, mindless action, and absurdist comedy.
The story seems simple enough: something that the settlers on Mars in two centuries, now a mostly-terraformed colony, have encountered among the ruins of the past civilization there has possessed them and turned them into cannibalistic maniacs who can only be handled with excessive violence and possibly, psychoactive drugs.
Combining elements of Philip K. Dick's paranoid science fiction, Ray Bradbury's vision of telepathic Martians, and a riff on Carpenter's own Assault on the Precinct 13 (1975), Ghosts of Mars makes an entertaining film told mostly through flashbacks, built around the bewitching eyes and slightly aeronautical ears of Natasha Henstridge.
It even has moments of prescience, such as this immortal line: "Look, if we even get back to Chryse, those things will just keep coming. We've got a chance here. We got a chance to stop this thing before it goes any further. This is about one thing: dominion. It's not their planet anymore."
While some may theorize about this film to the point of boredom, it remains like most of Carpenter's work a nuanced script delivered with the crudity of a sawed-off shotgun, and remains a thoroughly entertaining watch in which you can identify with the characters without having to moralize.
Thankfully low in CGI, it mostly features action scenes which showcase expert choreography which keeps melee fighting interesting and compelling, allowing the desperation of characters struggling with the unknown breathe and come into its own with an unforced, unnerving plot.
Tags: cinema, ice cube, jason statham, john carpenter, natasha henstridge