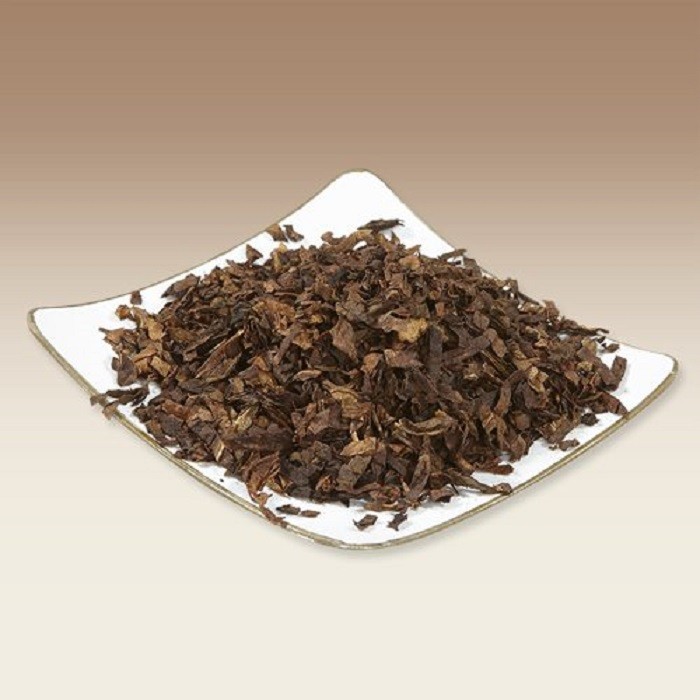 Burley arrived in 1868 as a mutant of existing strains that possibly constituted an atavism resurrecting the strength and other characters of the pre-cultivation Nicotiana Rustica, but remains prized to this day for its large yields owing to its sizable leaves. Some say that most tobacco sold has an origin in the Burley family, including most cigarettes, but its participation in specialized pipe blends has been less assured. Long a favorite of the "codger" blends and their fans, the Burley flavor is both distinctive and a chameleon that takes on anything around it, making it good for shoring up and stabilizing a blend — including reducing burning temperature — but possibly not for standing out as a flavor like the big stars and condimentals such as Virginia, Perique, and Latakia do. Still, classic blends like Granger and Prince Albert made the Burley flavor work for generations of American men.
Enter Dark Fired Kentucky Burley. What you need to know is that this lightly smoke-cured Burley resembles the Dark Burley used by Cornell & Diehl in so many of their blends, but with its curing comes more sweetness and less of that slightly odd green vegetation flavor that Burley often expresses. This blend is perfect for an all-day smoking, tasting like a mixture of dark and light Burleys, Virginias and Dark Fired Kentucky, but having the simplicity of being a single ingredient. Since it is full-strength in nicotine, it serves well as an all-day smoke, and the increased mellowness brought on by the smoke curing makes it ideal for this role. It also serves well in blending, as blender Russ Ouellette succinctly expresses:
This is a little-known component that I use for a variety of purposes. It is a dark tobacco, similar to Burley that is cured over open fire, giving the tobacco a smokiness that is much more subtle than Latakia, a deep earthiness, and a decent wallop. I like to use a bit in a Latakia-based blend to give it a touch of sharpness, or to add body to Virginias. High in nicotine, moderate burning quality.
Mixed with sweet Virginias, this tobacco produces a blend that can be smoked for hours without exhaustion as it alternates between the sweet and sour flavors of its components. Smoked straight, it provides a depth of texture within a single flavor that has multiple contrasting attributes. My Prince Albert (yes, in a can) has languished since the discovery of this remarkable, flavorful ingredient. For those who like the codger flavor, this is essential smoking, and for anyone else who likes natural tobaccos at full intensity, it is worth trying if not blending. When touched off with a little Latakia or another full-dark dark fired blend, it introduces a sturdy body behind those flavors which normally float suspended over the rest owing to their outlier status. Although it makes English blends taste like the singed results of a fallen empire, in Oriental-forward varieties it creates a tangy, soft taste that is as enigmatic as it is appealing. For kicks, mix it with a little Five Brothers to get a full-bore all day smoke in the oldest American tradition. I feel sorrow that I discovered this tobacco so late, as with a cellar of this and a few good briars I would be happy for a long while.
Strength: 5/5
Aromatic: 0/5
Flavor: 4/5
Room Note: 3/5
Tags: blending tobacco, dark fired kentucky, dark fired kentucky burley, pipe tobacco, pipes & cigars