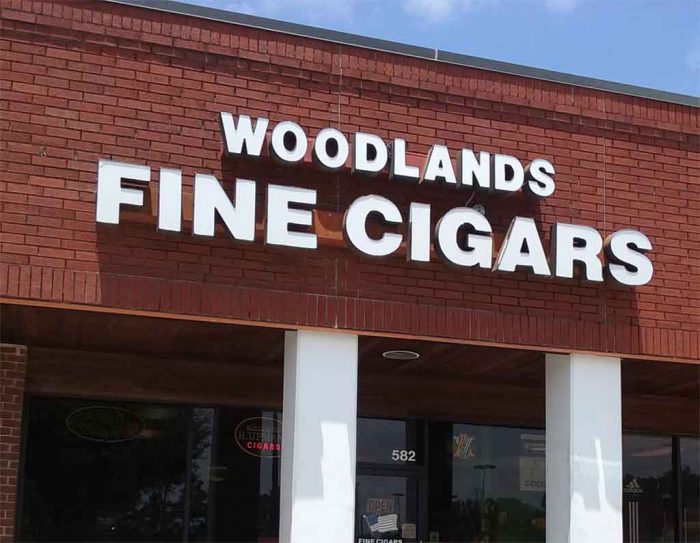 Woodlands Fine Cigars [ map ]
582 Sawdust Rd, The Woodlands, TX 77380
281-296-0202, woodlandsfinecigars@yahoo.com

Everyone in Texas knows The Woodlands because it is the future of living in Texas: instead of a gated community, make a whole gated city just outside the sprawling disaster where people can enjoy normal suburban life without the pollution, crime, filth, disorder, noise, and existential tension of the city.

Once the city got too big, a developer set aside a huge chunk of land, took out massive loans and created a planned community. It was designed not to have apartments, because apartments bring cheap labor, and that creates the disaster of the city, namely low-caste people milling about and committing crimes of opportunity while contributing to squalor, public defecation, and pointless activity whenever they can. If you want to escape the city, you have to escape its most basic unit, the apartment plus entry level job plus economy car.
Right on the edge of The Woodlands, in the part that looks more like nearby Spring, TX because it is sprawl and not the planned, forest-divided, and type-organized layout of The Woodlands proper, you can find a few hundred shops designed to cater to the residents of The Woodlands and the surrounding community where the entry-level labor for The Woodlands lives. In these communities, everyone pays 3-5% of their home value in property tax in order to pay for the schools and services needed by the children of the entry-level labor. This is why every high school is huge and has bars on the windows.
Among these few hundred shops, which range from extremely dubious Chinese food to the cleanest Walgreens ever with a layout that froze in time during the early 1990s, you can find Woodlands Fine Cigars, which turns out to be a comfortable neighborhood smoke shack. Like most strip mall stores, its layout consists of a long narrow channel, the first half of which is a seating area, counter, and display shelves, and the second half of which is a humidor organized for those who know what they are looking for (and behind it, a mysterious customers-only restroom and office).
Behind the counter, a small array of pipe tobacco — Peterson, MacBaren, Samuel Gawith, and two sad remaining tins of Dunhill (RIP) — cigarettes, and accessories can be found in roughly the amounts that a suburban smoker needs. The humidor boasts an entirely reasonable selection of cigars, mostly focused toward the weekend smoker who wants quality and price over novelty, but with enough high-end offerings to even knock the most cynical hipster flat on his gender-nonconforming buttocks. Head out of the humidor with a stick, and there is a seating area comprised of three leather couches where you can light up and converse with others. Not surprisingly, regulars are frequently seen here, generating thick clouds of delicious smoke.
The affable owner says this place has been operating since 1996 and attracts a consistent clientele. Logistically, it makes sense; five minutes from the heart of the Woodlands and you can drive into an anonymous strip mall, park and enjoy a cigar or pipe in a little slice of sanity where people still enjoy the good things in life. It may not have the greatest variety due to its size, but you can find a workable version of whatever you want here. It's worth a repeat visit.
Tags: cigars, houston, nicotiana tabacum, nicotine, pipe tobacco, smoking, texas, the woodlands, woodlands fine cigars