When the new genre of death metal emerged, no one knew what to call it at first. It grew out of a time when metal was just managing to break out of its last assimilation by rock, the late 1970s and early 1980s glam, through speed metal bands like Metallica. As soon as those broke through, others followed with an even more alienated and disturbing sound with what came to be called "death metal."
Since that time, advertisers and marketers have descended on the phrase. Outsiderness means authenticity and authenticity sells products. Every product that wants to tag itself with rebellious, "fun" and nonconformist would benefit from using the term. But before it became another media tag-line, death metal constituted the most vital genre that existed outside that form of social control.
Its origins remain in murky obscurity, but can be tracked through the bands that innovated the sound. Read on for the five albums that invented this sound.
1. Sepultura – Morbid Visions/Bestial Devastation
Way back in 1985, Sepultura released Bestial Devastation as a fully mature death metal album including unorthodox song form that fit to content and Slayer-style introductions with related motifs to new riffs. Fast and furious in the style that Morbid Angel, Massacra and Vader later developed, this tremolo-picked fury joined Morbid Visions on a release to commemorate these early and massively influential works. Notably this band also spun off guitarist Wagner Antichrist to Sarcofago who later kept black metal alive in the intermediate years between Hellhammer/Bathory/Sodom and Mayhem. Although this early release was recorded with borrowed instruments in what sounds like a dungeon with DC power, many of the elements that became central to death metal presented themselves here: complex riff changes fit together by theme, abrupt breaks, layering by repeating at double speed, use of chaotic guitar highlights, and vocal drops over transitional riffs. For its primitive origins, Morbid Visions/Bestial Devastation demonstrates death metal entering its maturation process after early years of using loan-techniques from related metal and punk genres.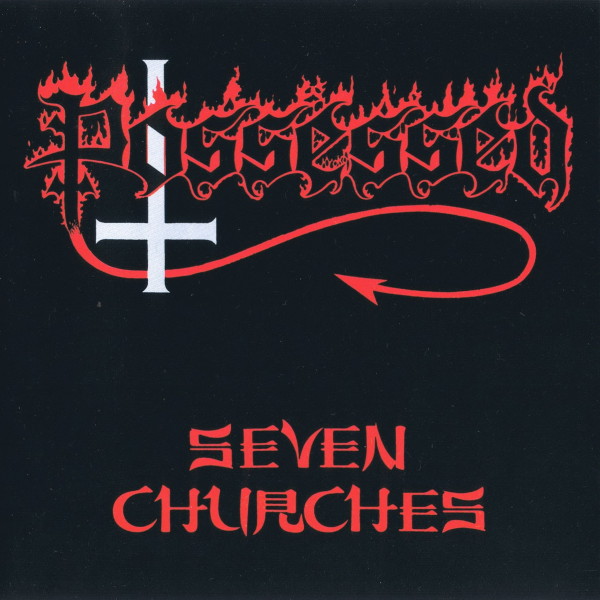 2. Possessed – Seven Churches
Like many early albums attempting to forge a death metal path, Seven Churches borrows much of its technique from earlier styles of metal. In particular, much of speed metal persists here in song structure and rhythmic sensibility, but Possessed nailed the infernal voice that would become an easily noticed characteristic of the genre and gave it its name. This album slashes through songs that mostly follow riff-chorus song format but interrupt it with discursive passages such as the famous melodic riff on "The Exorcist." Riff shifts generally occur at significant points in the song rather than as extensions of the standard format, which gives this release a chaotic and uneven feel fitting its subject matter. Its song titles embraced outright positive feelings about Satan, which in the 1980s was enough to cause a listener social problems. The lyrics no longer warned of the possibility of evil, but the certainty of it and the necessity of embracing it to avoid the rotted and calcified lies of the "good." Its pacing and riff forms often resemble those of speed metal as well as its tendency toward bouncing rhythms which favor the offbeat, where later death metal bands might have adopted a more downbeat approach. Despite spanning these genres, Seven Churches lent so much to the new death metal genre that it forever seems appropriate to associate it with death metal.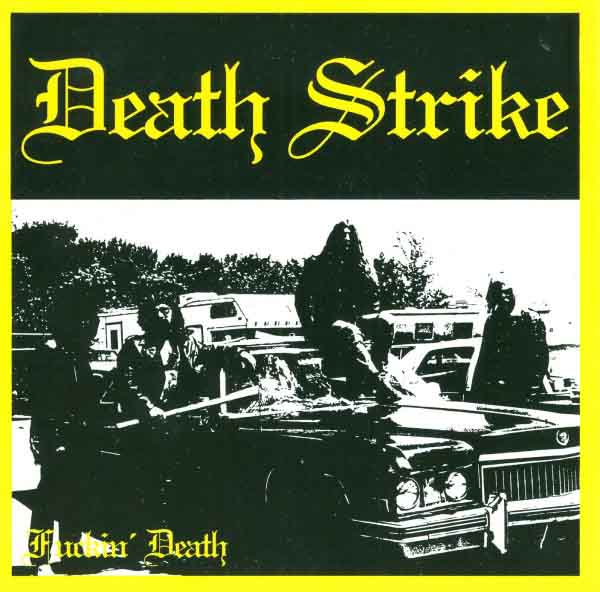 3. Death Strike – Fuckin' Death
Paul Speckmann contributed much to the rising death metal movement under a bevy of different names: Master, Death Strike, Funeral Bitch, Abomination and Speckmann Project. His basic approach took 1960s protest rock, violent punk, and early dark heavy metal and mixed them into what basically sounded like rudimentary metal with punk rhythms. Death Strike emerged in 1985 with death vocals and grinding riffs but Speckmann's demos had exemplified these attributes for at least two years at that point. While the result sounds spacious for modern death metal ears and uses variants on standard song format almost exclusively, this early embrace of the aesthetics of violent chaos and radically simplified riffing set many on their path down to the fiery depths of death metal.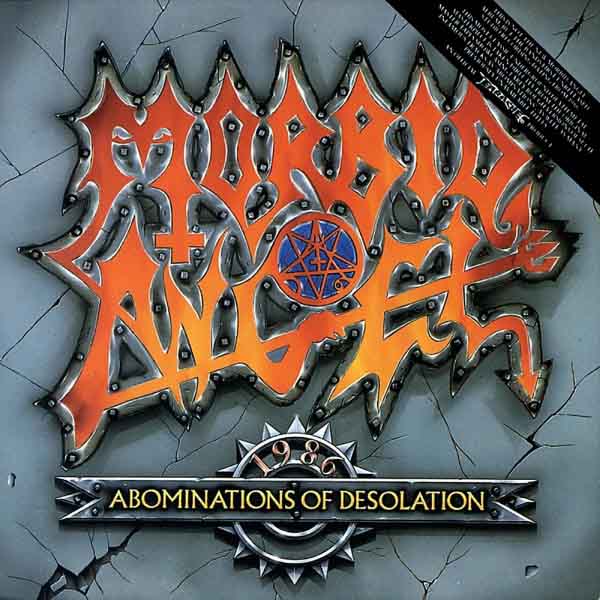 4. Morbid Angel – Abominations of Desolation
The first Morbid Angel album made it to a limited release only on a small label in Tampa, Florida, and so was lost to time until Earache re-issued it in 1991 as a full release. Featuring the drum and vocal talents of Mike Browning (Nocturnus, After Death) this early powerhouse showed the unique and progressive rock influenced songwriting that would appear on later Morbid Angel but without the similarity of aesthetic. Abundant lead guitar spills out all over, songs vary tempo widely, and riffs span many more forms than the solidified final Altars of Madness — which shares most of its songs with this album after three years of refinement while band members worked at a car wash — would demonstrate. Some of lead guitarist Trey Azagthoth's most creative and psychedelic playing adorns this release, as well as songs that stray into doom metal and progressive metal territory. While this album followed a battered and twisted path to release, it made itself known to the tape-traders who were the backbone of non-mainstream metal in the 1980s, and from there influenced the entire genre.
5. Necrovore – "Divus de Mortuus" demo
Speaking of demos, some of death metal's most profound work never made it to vinyl or polycarbonate. Traders passed around demos and most band members were traders or had zines and got copies of demos in for review. "Divus de Mortuus" appeared in 1987 after some years of rehearsal and live tapes circulated among the demo circuit and immediately galvanized many. In particular, its influence can be felt on Morbid Angel, whose David Vincent adopted the more aggressive vocals and warlike posturing of vocalist Jon DePlachett. While the riffs on this demo focus more on abrasiveness and less on phrase, many of the elements inherited through Hellhammer and Slayer shine through here on what might be described as the first atmospheric death metal release. While this demo may never make it into stores, its influence spread outward from Texas to Florida and Europe beyond and it lives on in the death metal that followed it.
Tags: death strike, master, morbid angel, Necrovore, paul speckmann, possessed, sepultura