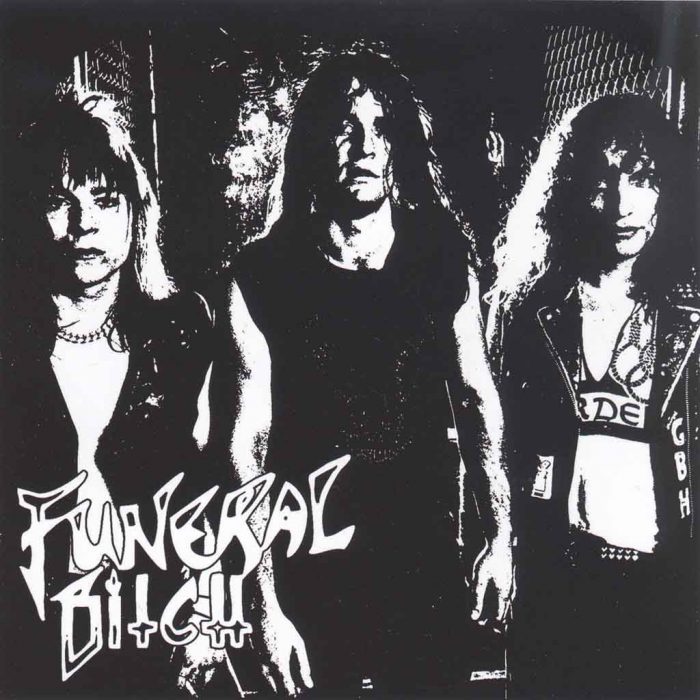 The varied Paul Speckmann projects — Master, Abomination, Funeral Bitch, Death Strike and Speckmann Project — reveal attempts to forge a new genre out of the ashes of speed metal. Roughly combined of metal, punk and 60s rock, the Speckmann approach took several forms which reflected his vision of what was occurring in music at the time.
Funeral Bitch comes to us straight from the 1986-1987 era and reflects the influence of thrash on Speckmann. Not thrash as the teeny-bopper magazines us it to describe Metallica-style speed metal bands, but thrash in the sense of Dirty Rotten Imbeciles, Corrosion of Conformity and Cryptic Slaughter. Funeral Bitch sounds like the first COC album hybridized with the early Sodom demos under the advice of The Mentors.
Short songs weighing in at around two and a half minutes or less use the infectious vocals Speckmann borrowed from 60s rock, the buoyant energy from punk, and the shaped phrasal riffs of metal but deliver the punch quickly. Versions of "The Truth" and "Funeral Bitch" from other Speckmann projects reveal how these songs were sped up and the vocals simplified to a single cyclic hook for this rendition. The result is in many ways more compelling, because the extreme speed and thrashing drum aggression of Funeral Bitch requires simplification and removes many of the excesses inherited from rock that made Master and Abomination releases confused at times. Like commando raids in the night, these short songs leap in to the fray, speak their piece, bash down the opposition and then disappear into the jungle.
These two demos provide different views of the same idea. The earlier one shows more of a punk influence, while the later shows the marks of actual thrash and perhaps influences from the rising grindcore scene. On this re-issue they are at radically different volume levels which makes regular listening difficult, but these historical recordings fit another piece in the puzzle of the evolution of underground metal and provide a punchier, more effective version of the Speckmann vision.
2 Comments
Tags: abomination, death strike, funeral bitch, master, paul speckmann, speckmann project, Thrash