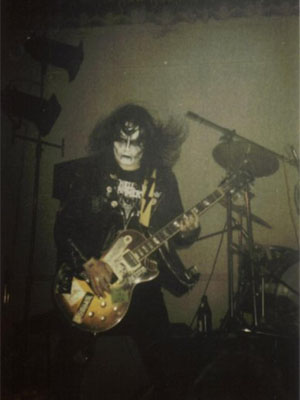 We can only know the present by knowing the past. In the case of heavy metal, it is a murky past obscured by both the grandiose rockstar dreams of individuals and the manipulative fingers of a voracious industry.
Metal arose through a complicated narrative worthy of a lost empire, and by knowing this history, we can know more of the music we enjoy today.
Specifically of interest are a number of threads that interweave throughout the history of the genre, both as outside influences and later as internal habits, which influence its twisting path from something a lot like rock to a genre entirely separate.
This story then is a tale of how many became one, or how they found something in common among themselves, and how it has taken years of creative people hammering on the parts to meld them into one single thing, known as heavy metal.
However, no one really likes a lengthy essay. Instead, here's metal's history the best way it can be experienced: by listening to it.
1968-1970 — the origins
Three threads ran alongside each other: punk, proto-metal and progressive rock. All three are on the edge of being metal, since the type of progressive rock in question is raw and disturbing and not of the "everybody be happy love friends" hippie style. This is music that thinks our society is disturbed, and that therefore many of the values we reject are worth a closer look. Some is fatalist-nihilist, like the self-destructive tendencies of punk, where progressive rock is more clinical, and metal more epic (looking for meaning in the ancients, in nature, the occult and conflict).
Iggy and the Stooges – Raw Power
http://www.youtube.com/watch?v=6DIIPeUctP4
Black Sabbath – Black Sabbath
http://www.youtube.com/watch?v=C_wnmai0tjI
King Crimson – In the Court of the Crimson King
http://www.youtube.com/watch?v=H678XUB77OA
1971-1981 — maturation
A lot happened here, but basically, metal became more like its ancestors (hard rock), progressive rock faded out, and punk got more rock-music-like. The punk from this era is more like normal rock music than the outsider stuff it originally was, but also gains some aggression from Motorhead, who may technically be metal but were born of a progressive rock band (Hawkwind) and sounded very punk and inspired the next generation of punks to be louder, lewder, etc.
Punk music arose from the earlier work by Iggy and the Stooges, but formalized itself into a pop genre that used guitars more like keyboards than like the guitar fireworks of conventional guitar-intense bands like Cream and The Who.
Ramones – Ramones
http://www.youtube.com/watch?v=O7PEzQQYWag
Misfits – Static Age
http://www.youtube.com/watch?v=40SM7SpmX1Y
An exception to the metal of the period was NWOBHM (New Wave of British Heavy Metal). DIY and extreme for the day, it left behind the Led Zeppelin-styled "hard rock" vein of metal and got away from Sabbath's detuned doom and gloom to make energetic, mythological but also somewhat excited-about-life metal.
Motorhead – Motorhead
http://www.youtube.com/watch?v=xa88CK3DwUo
Satan – Court in the Act
http://www.youtube.com/watch?v=9cj07nHVWRU
Angel Witch – Angel Witch

Iron Maiden – Killers
http://www.youtube.com/watch?v=0YKblxKglTY
Judas Priest – Sin After Sin
http://www.youtube.com/watch?v=DTBZK2-N_Gs
1982-1987 — the peak
Punk got its act together, in part inspired by the more commercial bands like Ramones and Sex Pistols. This is where hardcore punk really happened. That in turn spurred a revolution because music had finally left rock behind, and by mating the nihilistic (no inherent rules) composition of punk with the longer-phrase riffs of metal (derived from horror movie soundtracks), the riff styles of death metal and black metal were born, and the progressive song structures of speed metal evolved. At the same time, essentialist movements in punk hybrids (thrash) and metal (doom) emerged, sending many back to the roots of these subgenres.
Discharge – Hear Nothing, See Nothing, Say Nothing
http://www.youtube.com/watch?v=3DmSbqmJaig
The Exploited – Death Before Dishonour

Amebix – Arise!

A second generation arose in the USA (all of the above bands are UK):
Cro – Mags – The Age of Quarrel
http://www.youtube.com/watch?v=KUSzM9GB9s4
Black Flag – Damaged
http://www.youtube.com/watch?v=61q-yAtU5-E
Minor Threat – Discography
http://www.youtube.com/watch?v=pAEzAjFZPys
1983 — the big branching: speed, thrash and death/black
1983 is a crucial year, and so it gets its own entry. Metal and punk cross-influenced each other. The result was a lot more metal. If you're familiar with nu-metal or more radio style metal, start with speed metal, as it's the most like really violent rock music with influences from progressive rock in song structure. If you like messy punk (!!!) try some thrash. And if you've already given your soul to Satan, try death/black. With death/black, there's also some influences from progressive rock, although they're balanced with punk technique which makes for a chaotic spawn.
Speed metal took the complex song forms of progressive rock, the muted-strum guitar riffing of the NWOBHM bands like Blitzkrieg, and added to it the high energy of punk hardcore and came up with songs that kept getting faster and faster. This shocked people of the day, and was the primary reason speed metal bands were different from the NWOBHM that came before them, hence it was dubbed "speed metal."
Metallica – Kill 'Em All

Nuclear Assault – Game Over
http://www.youtube.com/watch?v=KrG8vQEVYwo
Megadeth – Rust in Peace
http://www.youtube.com/watch?v=4l9WbnqFSw8
Testament – The New Order
http://www.youtube.com/watch?v=VqE3wz1J1ik
Thrash is a hybrid genre that takes punk songs and puts metal riffs in them. Its name arises from "thrasher," or skater, and those were the people who embraced this style of music that was more extreme than metal or hardcore at the time. While it leans toward punk, it used metal riffs, and wrote short songs that in the punk style lambasted society but in the metal style tended to mythologize the resulting conflict.
DRI – Dirty Rotten LP
http://www.youtube.com/watch?v=i6XteJQhpc4
Cryptic Slaughter – Convicted
http://www.youtube.com/watch?v=323jnOT-SSo
Corrosion of Conformity – Animosity
http://www.youtube.com/watch?v=eBkB5vEP8mM
Like thrash, this was a hybrid of metal and punk that leaned toward the punk side for song structures, and the metal side for riffs.
Napalm Death – Scum

Terrorizer – World Downfall
http://www.youtube.com/watch?v=YSLzeoVkkBw
Repulsion – Horrified
http://www.youtube.com/watch?v=sjRr3JG6A38
Carcass – Reek of Putrefaction

PROTO-DEATH/BLACK METAL
In 1983, these bands contributed just about equally to the new sound. In the largest part inspired by NWOBHM like Venom and Motorhead filtered through aggro-hardcore like GBH and Discharge, the unholy triad invented underground metal to come.
Bathory – The Return
http://www.youtube.com/watch?v=1xAVpAPHehc
Hellhammer – Apocalyptic Raids
http://www.youtube.com/watch?v=4zQCBAzM8ck
Slayer – Show No Mercy
http://www.youtube.com/watch?v=1_X5nW4A3II
Once proto-death/black metal had occurred, people began to expand on the formula. One side decided to make it more technical, and riffy, and taking after Hellhammer's "Triumph of Death" and the increasingly mind-bending riffing of Slayer, made it use mazes of mostly chromatic phrasal riffs. On the other side, some wanted to preserve the atmosphere of the simpler songs that Bathory and Hellhammer had to offer, but injected melody and loosened up the drums to keep it from being as clear and rigid as death metal. While that latter group went off to figure out black metal, the death metal team experienced a boom of creativity and excess during 1985-1995.
Possessed – Seven Churches

Sepultura – Morbid Visions/Bestial Devastation
http://www.youtube.com/watch?v=brf71GAwavU
Necrovore – Divus Te Mortuus
http://www.youtube.com/watch?v=R09JrN9aiso
Morbid Angel – Abominations of Desolation
http://www.youtube.com/watch?v=zCP-No1DcQI
PROTO-BLACK METAL
While death metal was just starting up, other bands were trying to figure out how to make melodic ambient metal, structured equally after early melodic metal and free-floating songs like Slayer's "Necrophiliac." The result had chaotic drums, deliberately bad sound quality to avoid becoming a trend or something which could be imitated, and high shrieking vocals to death metal's guttural growl. Taking a cue from Bathory, Slayer and Hellhammer, it also embraced the occult and esoteric and rejected conventional social norms and religions.
Sarcofago – INRI

Blasphemy – Fallen Angel of Doom

Merciless – The Awakening

As black metal matured, it moved into Norway, possibly inspired by the previous generation of melodic Swedish death metal bands who used high sustain through heavy distortion to make melodic songs which featured less constant riff-changing than the bigger bands from overseas.
Immortal – Diabolical Full Moon Mysticism

Mayhem – De Mysteriis Dom Sathanas

Darkthrone – Under a Funeral Moon
http://www.youtube.com/watch?v=h08zTR0F-qQ
Burzum – Burzum
http://www.youtube.com/watch?v=ICNIRMH-8jA
Emperor – Wrath of the Tyrant

Gorgoroth – Pentagram
http://www.youtube.com/watch?v=sHfgXh1506Q
Enslaved – Vikinglgr Veldi

This is just the beginning; there's a lot more after this in all of the genres, which kept developing in their own ways. This is only an introduction to the history of it all, and is not designed to be comprehensive…
Tags: Black Metal, death metal, Heavy Metal, History, NWOBHM, Speed Metal