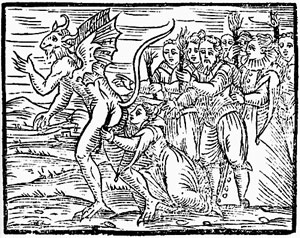 Studies of the relationship between popular music and religion have increased rapidly in the last twenty years, and the scholarly interest in metal music has "increased markedly during the past decade", states researcher Marcus Moberg in an article published in Popular Music and Society earlier this year, where he evaluates the current scholarly writings on religion in metal music and culture.
The issue at hand is, apparently, problematic. Concerning metal music and culture as religion, researchers have used "top-down" methods to justify their assumptions, with little (if any) empirical evidence to support them. Case in point is Moberg's own suggestion that "more thought-out views on religion in general would be relatively common among wider metal audiences" (considering metal's individualist outlook combined with its fascination for religion), but there's simply no (or not enough) data to support this claim. Another problem connected to the lack of ethnographic information concerns a prejudiced downplaying of the ideas within metal as little else than a rebellion against adult society. "[T]he issue of rebellion has always constituted a central theme in the scholarship on metal", writes Moberg, but a clear specification of what 'rebellion' consists of has been lacking.
Metal music and culture can also be seen as "offering its followers a wide range of resources for religious/spiritual inspiration". According to Moberg, scholars studying this area have been more careful in their interpretations, but have downplayed as well as exaggerated the seriousness with which metal bands explore these spiritual themes.
Moberg's recommendation, then, is for future studies to be based more in fieldwork and ethnography, and less in speculation:
[I]n order to be able to provide more persuasive arguments about what followers of metal culture themselves actually get out of their participation in metal culture in ways that relate to religion/spirituality, studies would clearly […] benefit from striving to ground their arguments on the expressed views of musicians and fans themselves (and this concerns the issue of "rebellion" as well).
Supposedly, we shouldn't be surprised if curious PhD students start asking us questions in between songs at the next Asphyx show…