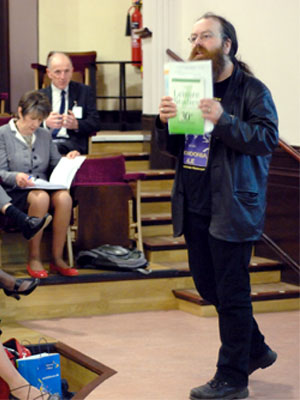 Academic acceptance of metal accelerates through conferences dedicated to studying metal, professors teaching about heavy metal, investigations of links between heavy metal and religion, and the launch of an international journal for studying metal.
While the metal community may not have found a position on this change as of yet, the very fact of its existence is startling to those of us who experienced metal in the 1980s or 1990s, when society viewed us as outcasts of a likely deranged, intoxicated, criminal and Satanic nature. From the censorship battles of the 1980s, when the Parent's Music Resource Center (PMRC) attempted to prevent younger people from acquiring metal in record stores and tried to legislate a requirement for lyrical content warning stickers on metal records, to the 1990s bourgeois bohemians wrinkling upper lips at the impolitic and feral nature of metal, society hasn't liked us.
Luckily, academics don't see it that way and have forged ahead with metal study, coinciding with a massive "hipness" of metal in the mainstream press and hipster underground. Metalheads might find this interesting because academic study can balance out what social pressures amplify.
We are fortunate to have Dr. Karl Spracklen, Professor of Leisure Studies at Leeds Beckett University, here to tell us more about his projects, the International Society for Metal Music Studies, its conference, and its journal.
Why study heavy metal?
Heavy metal is an important part of modern culture and everyday life, so studying heavy metal enables us to understand both of those things. For me, the interesting thing about heavy metal is the tension between metal's strong sense of being part of a non-mainstream subculture, and metal's place in the industry of modern pop and rock music. That's because I'm essentially a sociologist. Other heavy metal scholars might be interested in the way the music is constructed, or the meaning behind song lyrics, or the history of the scene, or the use of heavy metal as a philosophy or ideology of life. Heavy metal is just a subject field, a lens, through which we can think about problems in other academic disciplines.
You've created Metal Music Studies to in part serve as "a bridge between the Academy and the wider genre of metal music writing." What is the wider genre of metal music writing?
People like you — we want the journal to be read and used by journalists and writers who are fans and critics of heavy metal. We want people from outside the university system, non-academics, to read the academic papers but also get involved in writing articles for the journal themselves. There will be a separate section in the journal for shorter pieces that are not written in the standard, academic style: articles that are more polemical, or articles that respond to key issues in the metal scene,
Do you think academia has been hostile to metal in the past, or simply seen it as being part of the amorphous cloud of "rock" without an identity of its own?
I think there have been academics who have been very dismissive of heavy metal in the past, people who have seen the music as serving no good purpose in everyday life. I think for many of these critics, their own prejudices and tastes have got in the way: metal has always had that blue-collar association, and some cultural academics still can't bring themselves to acknowledge the diversity and depth of the genre. There are also some academics who think heavy metal is a great evil, and we still see some papers written that claim metal fans are more likely to be criminals and so on. This is just bad science, but every time someone publishes these crude generalisations the press picks up the story. This journal is the journal of the International Society for Metal Music Studies. This learned society is partly for academics who have a professional interest in metal, but also those in the industry who want to be a part of Metal Music Studies, including musicians and journalists, and fans. You should join up. When you do, you will get a subscription to the journal. And all your readers should join! (Advert over.)
You're taking an inter-disciplinary approach as opposed to a pure musicological one. What are the advantages of this approach, and does metal uniquely require them?
Inter-disciplinarity is the only way you can create a subject field such as metal music studies. If all you do is focus on one discipline you miss half the interest, half the story, and half the explanation. Just think about how and why death metal appeared on the scene in the 1980s. Part of it was technological, such as the practice of certain producers and studios; part of it was musicological, such as the evolution of certain vocal styles, riffs and beats; and part of it was social, a reaction by bands and fans against the mainstream metal of the day. Heavy metal is not unique in requiring inter-disciplinarity to explore it: sport and leisure are other possible subjects of this kind of work, and there are many others.
When you speak of the journal publishing "high-quality, world-class research, theory," what do you mean by "theory"?
When we mention theory we are suggesting we will publish academic papers that develop new theories about heavy metal, or that use heavy metal to develop new theories in their parent disciplines. A lot of academic work is research (investigating stuff), but not all of it, and we'd like to see papers on theory as well as papers based on new research.
What sort of topics would one research in metal? Does this include statistical approaches?
There are hundreds of possible research topics in metal! In Metal Music Studies, we will be interested in research about the music itself, the industry, the fans, the spaces, the lyrics, the metal media, metal in wider society, metal in different countries, genres, philosophies, histories, ideologies, the politics of metal, metal events, metal and globalisation, just to list a few obvious research topics that come to mind. My own academic interest in heavy metal is the local extreme metal scene in the north of England, elitism in black metal and the ways in which the Norwegian BM scene of the early 1990s has been mythologised.
How important do you think it is to study the history of metal? Does this include the context in which these musicians formulated their music?
The history of metal is a crucial part of metal music studies — and yes, this is musicological history as well as social or cultural history.
Do you think it is appropriate to view metal as a form of deliberate and purposeful art, or more as an entertainment product which reflects community attitudes?
Heavy metal is both of those things, sometimes at the same time, but not always. That's the reason why it is an interesting subject of study. People in the scene, musicians and fans, talk about heavy metal being something artistically important and culturally authentic, something that stands against everything we dislike about mainstream pop music. But so much of heavy metal is part of that mainstream, and even death and black metal are shaped by the forces of commerce.
What, in your view, is the dividing line between "metal" and "rock"?
Metal is one louder. Actually, there isn't a clear dividing line, and for many people I think there is a smooth transition. For the purposes of the journal, we will allow histories of rock music as they shed light on metal's evolution. We will probably also allow in scene studies where there is a connection between rock and metal fans, in the same way we will publish research on the intersections between metal and punk, or metal and goth music.
Do you personally listen to heavy metal? Does study of metal require enjoying metal, and/or does enjoying metal lend anything to the study?
Yes, I listen to a lot of heavy metal, mainly black metal and doom, and local bands from the north of England. I try to get out to gigs when something comes around worth travelling for: the last gig I was at was Enslaved in Manchester, England, with the mighty Winterfylleth in support. I think being a metalhead myself allows me to understand the nuances of the scene, its history and the music. I think that makes my research have a certain depth to it. But I do think it's quite possible to do research on heavy metal and not personally like it.
Many people view metal fans as people who are social outcasts who are unlikely to pursue education. Why do you think metal fans are so alienated? Do you think your research will bridge this gulf as well?
I think that stereotype about the average metal fans is out-dated. I think metal fans tend to be very intelligent people, and that's why they are drawn to the music. I'm hoping the journal and the International Society for Metal Music Studies will prove that there are metal fans who are able to articulate their passion for the music while remaining critical and measured.
Are there any sources in the metal community who are doing what you are doing?
None that I know about.
Who are your forebears in this field? What is the history of academic involvement in metal?
Robert Walser and Deena Weinstein were the key academics who first proved that heavy metal was worthy of serious academic study. Keith Kahn-Harris has been important in championing the field.
Prof. Martin Jacobsen is teaching an English class at WTAMU about metal lyrics, and Prof. Josef Hanson is teaching a metal musicological course at University of Rochester. Are you aware of these? How would this type of activity fit in with what you're doing, and vice-versa?
I wasn't aware of these, but I'm not surprised. I use metal in my own classes on the sociology of leisure.
Can you tell us more about the upcoming journal, including when it will be available, and what sorts of things to expect in it?
The new journal's first issue will be out at the end of 2014. The content of the journal will demonstrate the range of metal music studies, so an ideal issue would include perhaps some of the following (these are just ideas, and this is not an actual list of contents):
research published by a range of established names, early career researchers and those from parent disciplines;
research on the performance and production of metal;
research on the analysis of metal lyrics;
research on new sub-genres and fandom;
research on the evolution of heavy metal from rock music;
ethnographic research on a metal scene in Kenya;
research on the aesthetics of metal;
research on the social psychology of death metal growling;
and smaller pieces discussing whether black metal is dead or alive, written by a print journalist and a blogger.
The bulk of the content will be original research and theory papers (6-10k size), alongside smaller articles/opinion pieces (1-3k) devoted to discussion of metal by 'serious' non-academics (journalists, fans and industry insiders).
There will also be book reviews.
How does one join the ISMMS?
At the moment ISMMS does not have membership, as it is not yet set up officially and legally with the authorities in the States. Amber Clifford is the Treasurer so her email contact should be used for anyone who wants to join the Society. When the paperwork is finalised membership details will be confirmed via the ISMMS web-site, the Metpol mailing list, the ISMMS Facebook page and other channels.
Do you accept submissions from people who are not academics, merely metalheads or metal journalists?
The journal will accept submissions from independent scholars and non-academics, and the society will accept such people as members. There will be a separate section in the journal for shorter papers that will allow non-academics to contribute, but there is nothing to stop independent scholars submitting full papers – all full papers will be subject to peer review against the usual standards of academic writing. We want to encourage such contributions.
What can a metal band do to make it easier for them to be studied? Is there a place, for example, where well-known metal bands can sign up to be part of a study, or to put their stamp of approval on the project?
There isn't a place where metal bands can sign up to be part of research studies — sounds like a great idea, actually! In terms of endorsements, we are hoping some high-profile musicians and band will sign up to the Society and support its aims, and maybe even write in the journal.
Tags: academia, Heavy Metal, International Society of Metal Music Studies, karl spracklen, metal, metal academia, metal music studies