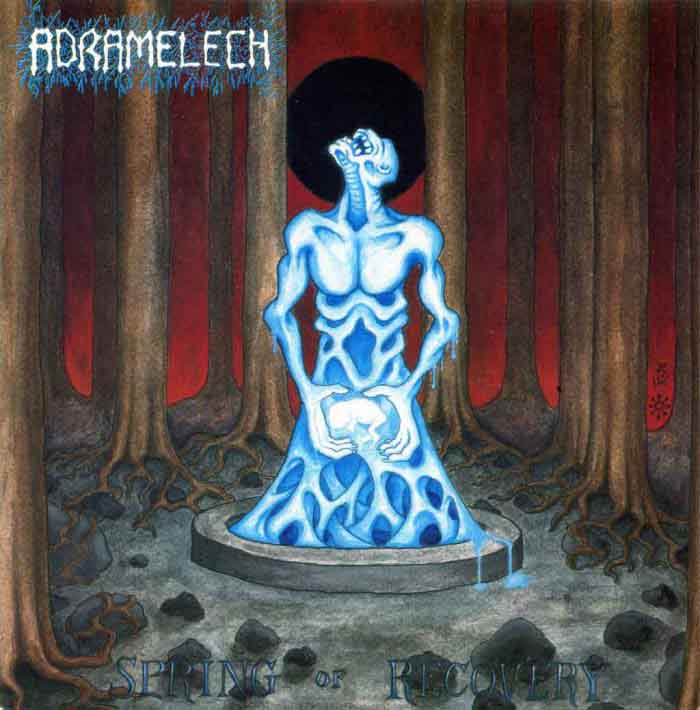 Finnish death metal occultists Adramelech last year unleashed two compilations of their early works, Spring of Recovery and Recoveries of the Fallen, which compiled the many EPs, singles, demos, live tracks, and rehearsals that make up a successful death metal oeuvre.
These recordings slide closer to the nocturnal ambience and ambiguous existence expressed in Demigod works, but maintain a spirit of their own, seeking to (in the best Finnish tradition!) branch ancestral folk, primal hard rock, early heavy metal, Terveet Kadet hardcore, and early death metal into a progressive but storytelling form of ambient, haunting death metal.
Spring of Recovery compiles the "Spring of Recovery" 7″ EP (1992), "Grip of Darkness" Demo Cassette (1991), and "Promo 1993″ Cassette into one four-song recording.
Tracklist:
Spring Of Recovery EP (1992)
1. Dethroned
2. Mortal God
3. Revived
"Grip Of Darkness" Demo 1 (1992)
4. Mortal God
5. Grip Of Darkness
6. Ancestral Souls
7. Dreamdeath
Promo 1993
8. Untitled
9. Untitled
10. The Fall Of Tiamat
11. Ancestral Souls
"Human Extermination" Rehearsal Demo 1 1991
12. Intro
13. Carnivore Corpse Feast
14. Human Extermination
15. Sarcophagus
16. Pestilential Mist (Abhorrence Cover)
17. Thoth (Lord Of The Holy Words) Live Holland 11/5/97
This one came out on Morbid Wrath Records and went through several editions.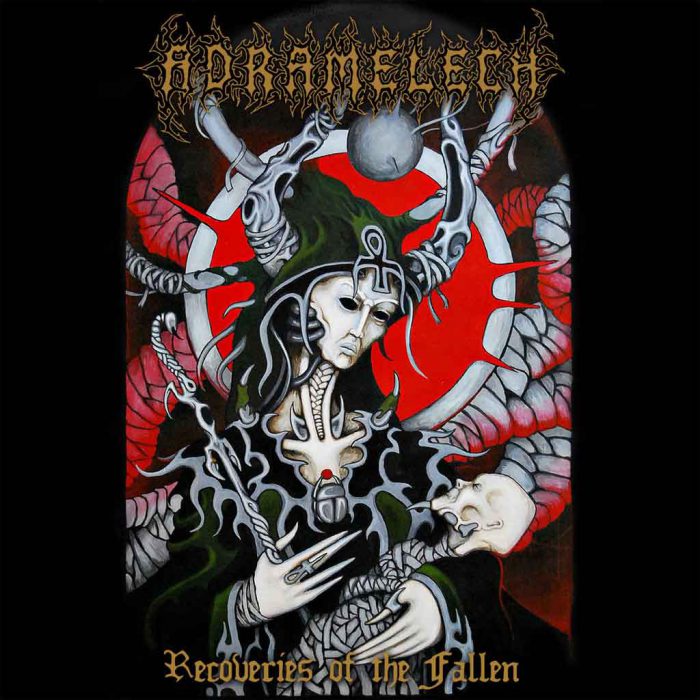 In addition, as part of its fortunately pathological chronicling of the Great Library of Alexandra worthy past of death metal, Xtreem Records has released Recoveries of the Fallen, a compilation of past Adramelech releases which need to see the light of day again on compact disc.
Tracklist:
The Fall EP (1995)
1. As The Gods Succumbed
2. Heroes In Godly Blaze
3. Seance Of Shamans
4. The Fall Of Tiamat
Spring Of Recovery EP (1992)
5. Dethroned
6. Mortal God
7. Revived
"Grip Of Darkness" Demo (1992)
8. Mortal God
9. Grip Of Darkness
10. Ancestral Souls
11. Dreamdeath
"Human Extermination" Demo (1991)
12. Intro
13. Carnivore Corpse Feast
14. Human Extermination
15. Sarcophagus
16. Pestilential Mists
Tags: adramelech, death metal, demigod