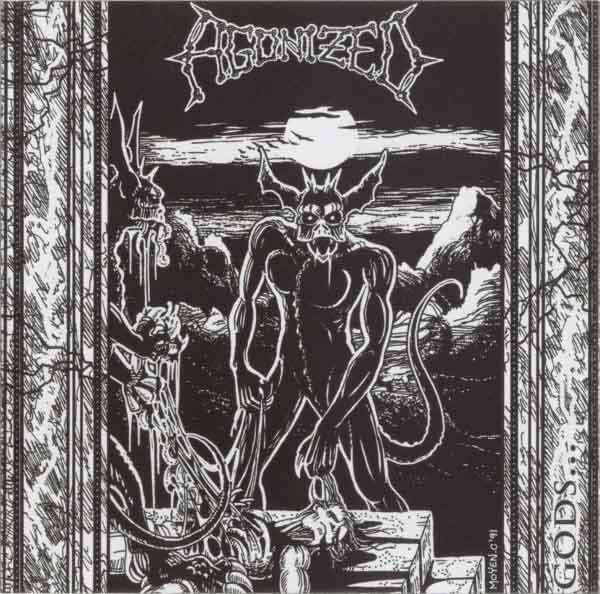 Agonized will violently sodomize the inner core of your fragile soul. – Sarjoo Devani/Explicitly Intense
Not every band from the frozen north aimed for melodic and energetic interpretations of death metal; many, like fellow Finns Belial or the Swedes in Obscurity, chose instead to write grinding cudgels of primitive bass noise that sounded like a winter avalanche of the soul overtaking all hope. Agonized created a six-song demo in this vein and sadly were lost to time after that point.
Gods… resembles a Scandinavian version of the ultra-primitive death metal of Morpheus Descends in that songs start with simple motifs, often two notes shaped into a compelling rhythm, and then ride that pattern through textural changes such as alternating tremolo/single-picked, tempo doubling, and layers of vocals. This pattern is then confronted with an oppositional pattern which is extremely similar, causing a kind of crossover which tends to find itself in a third pattern which is a mid-paced melodic overview of the previous two. It creates a result that must be like rising from the frozen wastes to walk along mountain ridges.
Perhaps most famous for its title track, which includes a distinctive riff shared between Agonized and Beherit (on both Engram's "Axiom Heroine" and Drawing Down the Moon's "Thou Angel of the Gods"), Gods… evokes the raw purpose of the death metal and black metal underground. This was not political music; it was a rejection of what civilization had become in its reliance on friendly, happy, positive, "human" values. Thus it turned toward the inhuman. These churning dark riffs and gurgling demonic growls convey the point aesthetically that the days of enlightenment have failed us, and darkness has come again, rising from below to destroy all who were fooled by the false light.
Tags: agonized, death metal, Finnish Death Metal