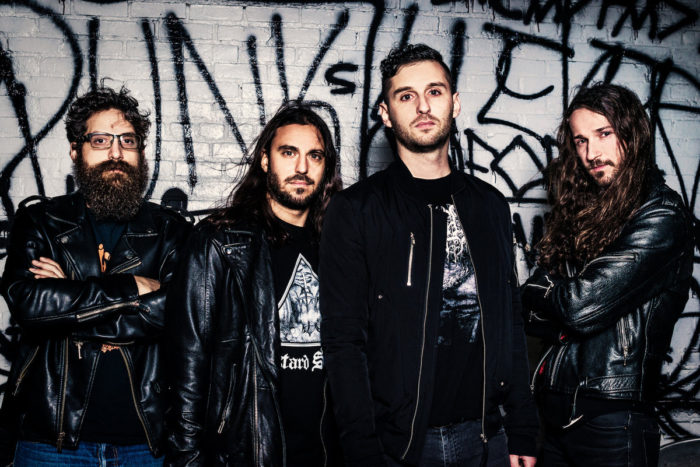 German antifascist communists booted American metalcore band Woe from the lineups of some shows on their current tour due to Woe opening for Inquisition a few times. Woe are one of your standard, screamo random post-hardcore bands pretending to be "US Black Metal" when in reality they are still metalcore. Moreover, Woe being social justice warriors from Brooklyn, New York played several benefit shows for antifa in the US. Now Woe themselves are throwing a fit about leftist crybabies preventing them from playing shows on Facebook as the communist scum decided that since Woe do not march in gay pride parades, probably do not fuck the gaping open wounds of mutilated transvestites, and do not mind opening for bands that once sort of played a simplified form of black metal that Woe occasionally play on Spotify when wanting something heavier to relieve the stress of their service jobs, Woe must be shot with hollow point bullets in the back of the head.
Woe should have seen this coming. While karma is not real, idiots like Woe crying wolf after supporting censorship of others who actually play the genre of music that they are merely pretending to play for an indie-rock audience in a cargo cult fashion is ridiculous. We at Death Metal Underground supporting silencing Woe in the marketplace as their music sucks, not that we care about Woe's political beliefs or what the antifags think of them. Woe attempting to align themselves with black metal greats like Graveland is ridiculous and preposterous for shitty leftist metalcore pogo-jumpers with no original content of musical worth to speak of. Woe should go back to licking clean the open Karposi's sarcoma sores of AIDS victims until they write actual black metal based around tremolo-picked riffs in long form, minor key melodies.
Antifascists are the pussified versions of actual goose-stepping Communists, who were fond of shooting homosexuals in the face and condemning entire races to exile or death as potential fifth columns. Stalin wasn't particularly fond of the Jews either Woe despite having affairs with Jewish women. Have you ever heard of the Doctor's Plot? Likewise, Woe are a shitty metalcore band who decided to trade in the eyeliner, snake-bite piercings, and Justin Bieber haricuts for hair grease and brand new leather jackets like the Fonz from Happy Days. Get AIDS and die.
Tags: AIDS, antifa, antifascist, antifascists, cargo cult, censorship, communism, communists, germany, hipster bullshit, idiocy, Inquisition, metalcore, metalgate, posers, poseurs, skrewdriver, woe