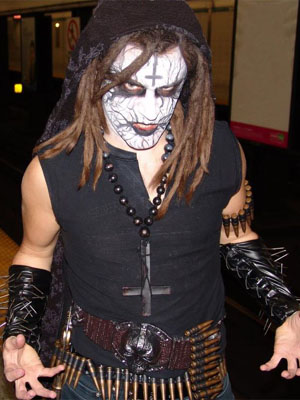 Look, science journalism, it's time for us to have a chat. I read you every day, but when you write about metal, I wince even before I read the article.
Here's why: check out this article in which it summarizes research findings that 'An analysis of 551 college students found "significantly higher levels of anxiety and depression among listeners of heavy metal/hard rock music, as compared with non-listeners."'
While this is a reasonable assessment of the original study, keep in mind that science is a world in which we find out relationships between things before we find cause. Thus, there's a few problems with this article:
551 people from community colleges around San Diego is not exactly a representative sample;
The term "heavy metal" means a lot of things to a lot of people, but that doesn't make them all right;
We're not sure whether this anxiety pre-dated the heavy metal or not;
We're not sure whether this anxiety is a result from honest and realistic fears about the future of society, whether brought on by minds opened by metal or not.
You can forgive us for being a little twitchy here in the metal world. Every time someone shoots up a school, there's someone in the media or Congress looking to blame heavy metal. Heck, they almost banned us back in the 1980s with the Parents Music Resource Center (PMRC). But when studies come out, and then you give them a headline that makes it sound like heavy metal "causes" these problems, you're giving ammunition to the bad guys.
Even more, this article has a huge picture of Rage Against the Machine on top. Who ever considered them to be metal? They don't even like metal. They'd hate being called heavy metal. That's like calling Nirvana metal, while Kurt Cobain was talking about how heavy metal was out of ideas and offended him politically.
Now let's look at the good news:
Among those who listen to heavy metal, there were no significant differences in anger, anxiety, or depression among frequent as opposed to occasional listeners. The key factor seems to be the inclination to be drawn to this music, rather than the amount of time spent listening to it.
Translation: there's something in fans before they hear heavy metal that makes them prone to being anxious about the future of our world. It's unclear whether they'd be anxious in a different society, or even a more stable one.
Naturally, this pushes back against the idea that pure, perfect children turn into drug-abusing, crime-committing, sheep-raping suicidal maniacs the instant you let them listen to heavy metal. It also suggests that trying to slam that barn door extra hard after the horses are gone, and shutting off your kid's music, won't do any good.
Fortunately, it also points out that metalheads aren't prone to anger or depression. In fact, as other research points out, it may be the smarter kids who are drifting toward heavy metal. This suggests that anxiety may be a side-effect of intelligence and awareness of what's going on in the world, not "heavy metal poisoning."
Tags: academia, Heavy Metal