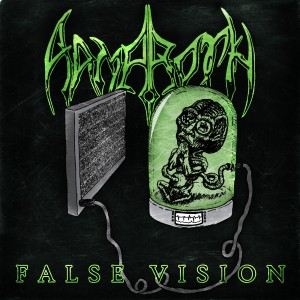 Bands seeking to play death metal in 2013 are faced with a curious conundrum: they grew up with undeniably great records that inform their knowledge of the genre, and yet their potential audience in this current generation clamors for simpler material with more digestible melodies. Bands then have to decide to what extent they will incorporate the "modern metal" influence into the death metal which is their reason for playing in the first place.
Armaroth play a fusion of death metal and speed metal, with some modern melodic metal influences introducing cross-generational appeal. Death metal riffs drive the songs forward, providing the backbone for the other elements to build upon. The riffs in their best moments are darker than the typical modern death metal fare, bringing out a sense of foreboding that has more evocative impact than just pure aggression. Speed metal lends itself to connecting riffs between verse and chorus, providing motion with palm-muted riffs that introduce rhythmic variation.
These sections are solid in themselves, but the band often moves from one to the next without giving sufficient care to set up transitions, leaving songs at times feeling as if they're collections of riffs thrown together rather than conceived with a purpose. Moments as such are aggravated by the modern metal elements, such as embarrassingly catchy choruses and ambiguous guitar wankery which sharply contrasts with the more polished material.
The band recently released their first EP, False Vision. In their future material, if the band were to focus on and improve what they already do well and abandon the tendency towards including concessions for the newer generation, their material would be well above average in the current milieu.
http://www.youtube.com/watch?v=eF7_crOv3uM
http://www.youtube.com/watch?v=EmKdXAZn3m0
Tags: armaroth, death metal, Speed Metal