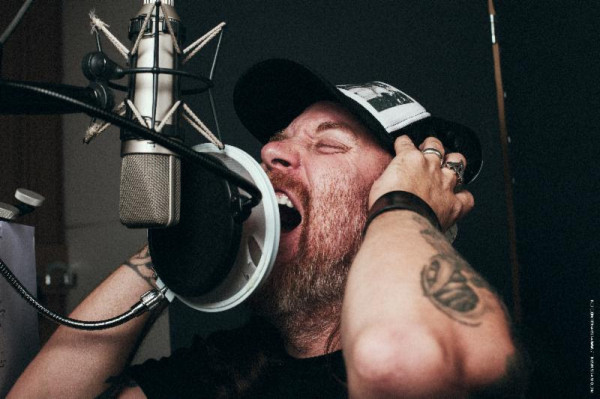 Swedish melodic death metal band turned melodic speed metal band At the Gates finished recording its latest album At War With Reality and plans release on October 27th in Europe and October 28th in North America via Century Media Records.
Vocalist Tomas Lindberg issued the following statement:
We are very excited to finally have finished this new album. An album that we've been working on for over a year now. It's by far the most challenging record that we have made, but it's an honest album and I think that you will feel that it is faithful to the legacy of AT THE GATES.

We have, through the process of creating it, been true to ourselves and our art. From hearing the first demos that Anders presented to the band last summer, through the extensive stages of songwriting, pre-production, rehearsals, recording and mixing, we now finally got the finished album in our hands.
We are very happy to have managed to produce an album that we feel is truly 'us'. Something we can all stand behind one hundred percent. I can't wait 'til you all get to hear it!
Recorded with Fredrik Nordström at Studio Fredman and mixed by Jens Bogren at Fascination Street Studios, At War With Reality shows the return of the classic At the Gates lineup with their first new material since best-selling but fan-disappointing Slaughter of the Soul, which showed the band drifting toward Metallica Ride the Lightning era speed metal given the melodic Swedish metal treatment.
The band recorded this in-studio statement:
http://www.youtube.com/watch?v=l0vkElvuk-c
Simultaneously, the band have announced an international tour for 2015. Dates are as follows:
AT THE GATES + support:
20.11.2014 – Tampere (Finland) – Klubi
21.11.2014 – Jyväskylä (Finland) – Lutako
22.11.2014 – Helsinki (Finland) – Nosturi
AT THE GATES, GRAVE, MORBUS CHRON:
27.11.2014 – Göteborg (Sweden) – Trägårn
28.11.2014 – Stockholm (Sweden) – Arenan
29.11.2014 – Malmö (Sweden) – KB
AT THE GATES, TRIPTYKON, MORBUS CHRON:
04.12.2014 – London (UK) – Forum
05.12.2014 – Manchester (UK) – Academy 2
06.12.2014 – Glasgow (UK) – Garage
07.12.2014 – Birmingham (UK) – Academy
08.12.2014 – Cardiff (UK) – Solus
10.12.2014 – Essen (Germany) – Turock
11.12.2014 – Hamburg (Germany) – Markthalle
12.12.2014 – Eindhoven (The Netherlands) – Eindhoven Metal Meeting
13.12.2014 – Leipzig (Germany) – Conne Island
14.12.2014 – Wien (Austria) – Arena
16.12.2014 – Aarau (Switzerland) – Kiff
17.12.2014 – Munich (Germany – Backstage Werk
18.12.2014 – Antwerpen (Belgium) – Trix
19.12.2014 – Cologne (Germany) – Essigfabrik
20.12.2014 – Berlin (Germany) – Postbahnhof
AT THE GATES – live 2015:
08.01.2015 – Istanbul (Turkey) – Jolly Joker
09.01.2015 – Athens (Greece) – Stage Volume 1
10.01.2015 – Thessaloniki (Greece) – Principal Club
31.01.2015 – Dublin (Ireland) – Academy
26.02.2015 – Oslo (Norway) – Vulkan Arena
29.05.2015 – Johannesburg (South Africa) – TBA
30.05.2015 – Cape Town (South Africa) – TBA
Tags: At the Gates, century media, death metal, Speed Metal