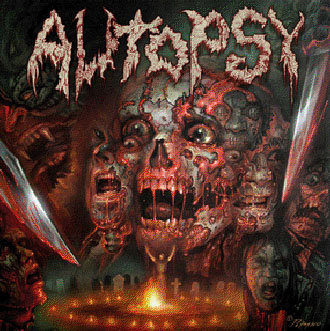 Autopsy played a new song named "Arch Cadaver" during their set opening for Bolt Thrower at the Oakland Metro in Oakland CA on May 26,2013. Contrary to record company/band hype, no new ground is retread and laurels are rested on to some extent, namely the formula adopted on Acts of the Unspeakable, albeit this new song has much less grindcore/Nuclear Death influence.
In other words, Autopsy is treading into Exhumed territory with simple songs that use somewhat predictable structures but focus on writing killer riffs and having intensely catchy, gory choruses. The result is like a fusion of early German speed metal with gore-drenched grindcore in the Carcass and Repulsion style, making a high-energy form of music that is pure pop at the same time it is pure pus-ridden disease-laden metal for the sake of sounding extreme and creating that old school feel of being totally alienated from the sociable world.
Following a dooming intro reminiscent of "Meat" from Acts of the Unspeakable, the band go into the dark 2-beat hardcore/death metal previously explored on songs like "Dark Crusade." It's doubtful the band intended to reinvent the wheel with this release, and if this song is any indication, The Headless Ritual will be the "crowd pleasing" Mental Funeral and Acts of the Unspeakable admixture fans were hoping for.
Drummer/vocalist Chris Reifert opined in a recent interview, "Expect nothing less than the monstrous brutality that Autopsy has been known to offer. Laurels will not be rested upon, trends will not be followed and mercy will not be shown. Mark your calendars for June and pick out a coffin to lie down and die in. Darkness and death await…"
Autopsy have begun selling the album and related merchandise through their label, Peaceville. Click below for the live song on YouTube video, or the stream of the studio version of the same song.
Tags: autopsy, death metal, Grindcore