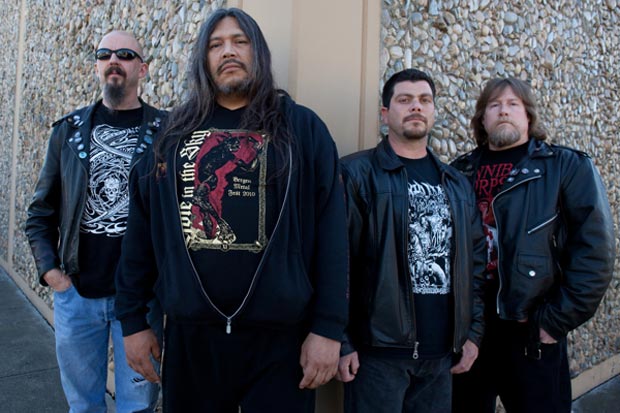 According to a post on their Facebook page, California gore-metal morticians Autopsy are entering the studio in early April to record their next full-length. Described as "monstrous brutality" independent of all trends, this album indicate what insiders suggest could be a return to Autopsy's roots in complex, esoteric death metal.
During the early days of death metal, Autopsy were distinct because of their ability to use multiple tempi per song, to employ harmony and theme, and to use seemingly sloppy, grotesque, overflowing riffs to convey themes of death, suffering and disease. Their career arguably peaked with 1991's Mental Funeral, an album of many varied songs of different lengths and song structures, presenting a strange landscape for the listener to navigate.
Last year's Macabre Eternal showed Autopsy returning to the sound of old school death metal and the abrasive aesthetics that came with it, but not quite entering the realm of the weird where obscure song structures and riffs contribute to mood as much as they did on older Autopsy releases. Although that album showed promise, its somewhat consistent approach created a uniform intensity which resulted in much of the content getting lost on some ears.
The Headless Ritual will be recorded at Fantasy Studios under the care of Adam Munoz, with cover art by the widely-acclaimed Joe Petagno. Slated to be released on Peaceville Records sometime in June, the album is the latest chapter in the continuing odyssey of Autopsy and promises a brutal dose of gore, rancidity and internal decay.
Tags: autopsy, death metal