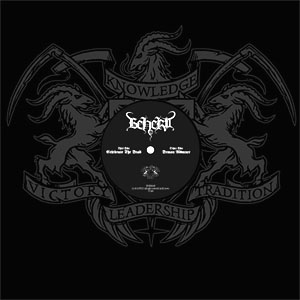 Legendary cerebral primitive black metal cabal Beherit are on the move again. The new release, Celebrate the Dead, involves one song from the epic 2009 release Engram, and one song assembled from material prepared for that album. While information on it is scarce, rumor has it we see Beherit continuing the direction toward an ambient/metal fusion.
1. Demon Advance (13:13)
2. Celebrate The Dead (16:18)
According to Holocausto, who was harassed by DLA operatives earlier this week, this KVLT release is an exact copy of a demo he recorded himself in July 2008 in Helsinki and Bangkok. This demo was sent to Spinefarm records, who then agreed to release what became Engram. KVLT wanted to release the demo, and since Holocausto felt the demo versions were better than the final studio production, even though the drums on the demo were sampled, he agreed to this vinyl-only release.