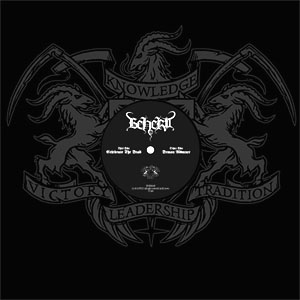 After a new genre establishes itself, bands try to stand out by either mixing other genres into their music or to expand upon the original idea, increasing its complexity and depth.
Beherit launches itself into this conflict first with the triumphant Engram, which connected the generations of black metal in a concept album that paid tribute to the past while evolving it into a new form, and now with the fertile landscape of ideas Celebrate the Dead.
This vinyl release contains two songs, a version of "Demon Advance" which is mostly faithful to the version on Engram. Some areas have less distortion, and the overall sound is a bit more raw and offhand, which gives this track a slightly different atmosphere.
"Celebrate the Dead" is another story. This lengthy (16:18) track shows Beherit experimenting with a fusion between ambient music, electro-acoustic, black metal and classical forms. Like most artists of statute, the composers behind Beherit know how to separate aesthetics (surface) from composition (structure and melody). As a result, while this track is a blueprint for an ambient or dubstep song played as if it were a metal one, it reaches for the greater objective of finding a mutual language among these music types.
While popular music (pop, rock, rap, blues, jazz, disco) songs vary wildly on the surface they rely on very similar underlying structures. These structures are based on cycles, or the back-and-forth between a verse and a chorus with a few detours to keep it interesting. The purpose of music in these genres is to equalize song structure so that surface traits, like using a flute or recording underwater, stand out and become interesting.
In narrative music (metal, classical, some ambient, electronica and electro-acoustic acts) the surfaces tend to be similar across songs and albums, but underlying song structure changes to fit the topic of each song. Riffs expand upon the context of previous riffs and force re-interpretation of both, expanding the storyline just as how each new clue in a mystery changes the direction of the book.
These are more like poems than cyclic sonic wallpaper or droning consistency; in fact what makes them great is that they're inconsistent and based on change, not maintenance of a moment. This fits with the purpose of these genres, which is to show a change in character through the course of a journey or experience, so that the starting point is different from the end, and the people involved have a new strength or vision. They emphasize the difference between the start of a journey and its end, but also the many different types of journeys.
"Celebrate the Dead" shows Beherit deciding how to integrate these two types. It wants the ritual power of black metal and its own vision of occult dubstep or electro-acoustic ceremonial music, but with the ambient version comes a dose of the cyclic and layered that excludes the narrative. Beherit tries to keep the sense of the unique journey which is inherent to black metal, and enwrap it in the layered ambient approach, and as a result produces music that is every bit as much ritual as early black metal.
The song migrates through three major movements, in which pairs of riffs transfer potential energy between each other as layers of drums, vocals, samples and keyboards are applied to build an intense tapestry of hanging sound, complete with sonic breaks and metal-style interludes. The result is a deepening experience but in its non-linearity it loses the epic power of metal's ability to tell a tale, which is what Beherit changed with their music for the Engram LP. On that album, the narrative wins out and the layering circular style is brought in slowly.
This is rough listening. In part because this is a demo of the laptop-and-guitar type, which means that it's not so much an organic sound as a pastiche of recorded and generated sounds. However, what will throw most people off are the vocals which are fragile and yet shamanistic, in what music reviewers call "accessible" but is more likely an experiment in the deliberately immature, unformed and intellectually curious sound that diverse musicians such as Roky Erickson and Absurd have made popular. These are the anti-slick, and while hipster pop has ruined "accessible," their child-like honesty gives them a weight that no polished vocal could achieve.
What is most impressive about this release is that it is a pathway to future development for metal. The best of the genre, like the first Enslaved album or the longer Burzum works, tended toward a type of ambient music that used guitars but did not fall into the loop-pattern of popular music, instead preferring the epic storytelling of metal and classical. Black metal backed down from the challenge offered by albums like Hvis Lyset Tar Oss and instead became a plaything, a hybrid of either indie-rock ("post-black-metal") or a darker form of punk ("black crust","war metal").
Beherit turned black metal back toward a sensible path with Engram, which cited forms and styles from the past (some in tribute to Venom and Bathory, from the sound of them) but worked those into a concept album that ended in the meditative "Demon Advance." To include the ambitious "Celebrate the Dead" in the same album might have made it lopsided, but in this sample track we see a possibility of metal guitars and dynamic acoustics existing in a narrative style.
This release will not make it past the enthusiasts and diehards who are curious about what the most fertile minds in black metal are thinking for the future. This is a shame, as all metal musicians should study this work to find a pathway out of the current rock-style slump that grips metal, and also to find a new inspiration for connection to the ancient ways of both metal and music from time immemorial.