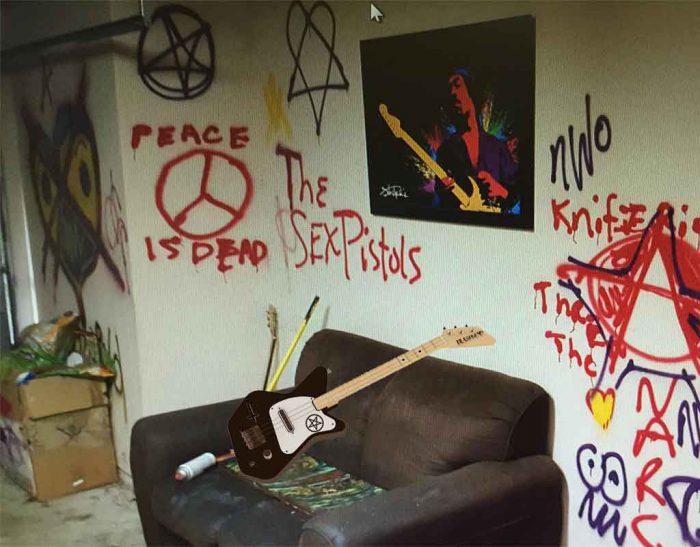 As a recognized founder of the war metal genre, the band Blasphemy represents martial conflict and infinite blasphemy. Now it may be the progenitor of future generations of war metal through its latest offering, a war metal starter guitar kit named "Initiation of Confliction" that includes all the necessities for creating a war metal project band.
"This representation of militant desecration compels the fabrication of ultimate militant brutality and heretical insurgency in the form of unholy war metal music," said founding Blasphemy member Nocturnal Grave Desecrator And Black Winds. "For those who desire initiation of the endless aggression among the epitaphs of the dethroned, the Initiation of Confliction kit provides all that you need. It's for sale on our web shop."
Crafted by famed Vancouver Island luthiers Carlyle and Tzu, the guitar features only the lowest five frets and three strings with a unique pickup designed to enhance the muddy, chaotic, and messy distortion favored by war metal bands. "Originally designed for our jazz bass, the Whole Terrestrial Frequency (WTF) amplification not only produces strong lower-end sound but mixes in radio transmissions from passing planes, distant cities, and the Earth's magnetic field, which delivers the chaotic and erratic harmonics necessary for impenetrable distortion," said electronics installer D.J. Sartarelli from Carlyle and Tzu.
The kit comes with one war metal guitar, an amplifier soaked in pigeon blood for an obscure sound, two sets of spike-studded armbands, a bullet belt, and two dozen patches from bands guaranteed to be so obscure that a simple Google search will not reveal any of their formative material. It retails for 40,000 Twitter followers, 30k Reddit upvotes, or a file box of obscure 7″ releases from marginalized black metal bands rightfully forgotten by history.
"The Initiation of Confliction package provides any entry-level user the ability to set up the guitar tracks they will need to import into GarageBand in order to make their first demo, or really, any of the recordings that a war metal band needs, all of which will have the trademark noise and obscurity sound that sets war metal and Incantation-inspired bands apart from the rest," said Sartarelli. "You can pick it up in the afternoon and be famous in your obscure niche of the internet by dawn."