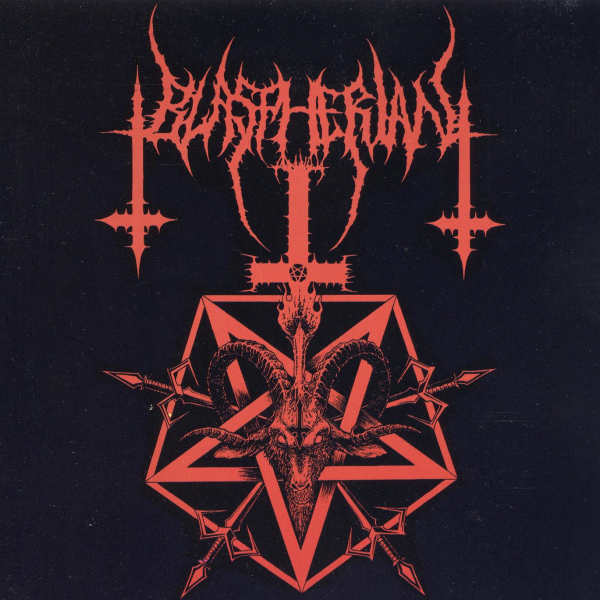 Death metal requires from its artists more than finding two parts in harmony that complement each other. It requires the creation of a visual experience, or a topographic one, through the interaction between riffs themselves. It helps to remove harmony from this equation and to use melody, harmony and other techniques selectively to highlight certain functions of the riff, like techniques used in language when writing a novel. This restores the ideas or sensations behind music to their rightful place, and puts the charms of music in their rightful place of servitude to the experience — sensation producing mentation — of music itself.

Coming to us from the maniacs at Compilation of Death, Blaspherian Demos obscures itself through the primitive production of these two recordings. Combined, the three-song rehearsal from 2005 and the four-song "Summoning of Infernal Hordes" demo from 2006 contain the early work of this band in a primal death metal form: low guitars, whispering murky rasped vocals, and drums thudding in the background. By doing so, this recording removes many of the obstacles to perceiving the experience of the music itself, which is a change in dynamics through the shape of each riff, with the serpentine twist of power chord tremolo sculptures mimicking a sensation in life or within the human mind.
The architect of these riffs, Wes Weaver, emphasizes "contrast" in his songwriting and these early visions show how this is applied. A riff starts, finds a convenient parallel between shape and rhythm, and builds an expectation; another intervenes, changing the sonic terrain and forcing re-interpretation of the prior riff, and then another emerges. These dogfight over the ground laid by the first riff until they evolve into a different path with some elements from both, like evolution or tectonic shifts. As each song ends, the initial theme emerges in a state changed by the alterations to context, much like experience and learning causes us to see what we always knew in a new light.
While those who want a studio perfect experience may recoil from these rough recordings, and others who fear the insidious power of nostalgia may also shy away, the experience provided escapes necessary connection to the past. It grasps the sensations of being alive and alert to the nothingness, emptiness and illusion of that which surrounds us. With uniquely self-expressive riffs and a style of rhythmic hook that evokes the early days of Incantation and Deicide, the music on these demos brings out the best in death metal even if it requires some imagination to hear.
Tags: blaspherian, death metal, imprecation, wes weaver