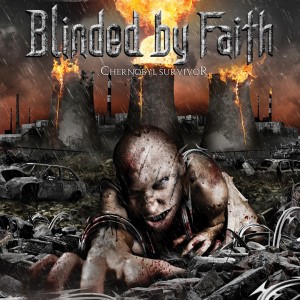 Blinded by Faith shape melodic metal out of the combined styles approach that The Haunted first used, complete with over-the-top vocals, and show an aptitude for writing fluid melodic riffs that don't end up as saccharine floods of very similar patterns.
Chernobyl Survivor stands out for having these melodic patterns emerge from the otherwise chaotic stream of mixed-genre elements and dominating vocals. Within all of what's going on, which is a lot of fast-fingered frenzied riffing in the style of technical metalcore bands like Ulcerate, what emerges is the ability that Blinded by Faith has to write melodies and then expand upon them. They also have a really good nose for rhythm and how to match riffs and rhythm to make a song.
The best bands to compare to Blinded by Faith are Ulcerate or Cosmogenesis-era Obscura, but Blinded by Faith appears to be pulling away from the strict metalcore approach that Obscura in particular has taken. I realize "metalcore" isn't a definition and that most people refer to Ulcerate and Obscura as "tech-deth" bands. It's an anti-definition, meaning stuff that uses metal riffs but isn't metal, because it reflects how those riffs are put together. Metal bands use their riffs to glue each other together, commenting on each other and furthering evolution. Rock bands use riffs like foundations, as something to build upon with vocals and other instruments, and don't expect them to comment on each other. In fact, they like them to be radically different for a sense of change, and rely on harmony (key, scale) to make them fit together. This is why all rock-based music with metal riffs is probably going to be metalcore, much like all rock-based music with punk riffs became post-hardcore and eventually developed all of the tropes we see in metalcore today. Blinded by Faith is reversing this metalcore tendency by making their metal riffs comment on each other, kind of like themes in 1950s musicals, but more intense!
This CD could be many things. Chernobyl Survivor could easily be made into an amazing power metal album. It has elements of the old (real) death metal as well, and could also go the other way and be a killer jazz-prog album like At War With Self. Right now, it's searching for the next evolution of its voice somewhere in the middle of these.
On the whole, Blinded by Faith have put together an album that helps nudge this style closer toward figuring out who or what it is, which is good because the tech-deth/metalcore explosion is running out of steam. If they continue in this direction, they could claim a place in the next evolution of popular music and be recognized for their strength in writing melodic riffs.
Tags: blinded by faith, metalcore, modern metal, tech-deth