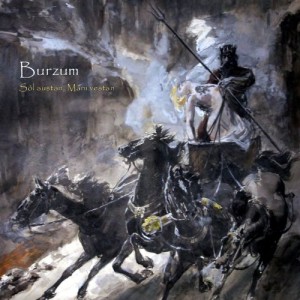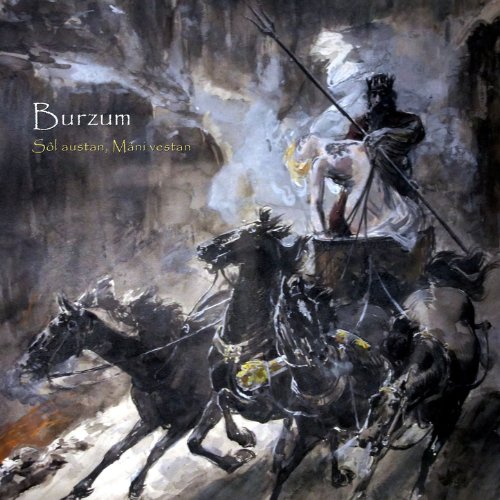 After a hiatus of some years, Burzum returns to the path that is intuitive and natural for composer Varg Vikernes, who drifted through a triplet of droning black metal albums before discarding the genre. Sôl austan, Mâni vestan picks up where Hlidskjalf left off, except that this new album uses a wider range of sounds and also covers a wider range of emotions.
The title, meaning "East of the Sun, West of the Moon," encompasses the cosmic music nature of this album. While the sounds are thoroughly contemporary, the spirit of this album is in the stargazing music of the 1970s that attempted to find divinity even as the world around it seemed in a state of total doubt. Having explored the darkness and alienation of the past, Vikernes increases his palette here to include the playful, mystical, mysterious and placid, and works them in contrast to one another so that no one dominates and becomes background noise, but he pushes right to that limit with not only direct repetition but allusion to very similar themes across songs. The result is like a hypnosis into which the listener slides, unaware that through this mundane noise a vision of great beauty and even metaphysical significance will be found.
As Vikernes said in a blog post, "We are all lost souls in a dying world, so to speak, stripped of all spiritual life and energy by the societies we live in, and left to find new spiritual life and energy on our own. We stumble, we fall and we get up again, as we progress, and black metal, although empty and hollow like most other things in this world, is actually a good gateway to the Divine Light. If nothing else black metal has been a way to find true meaning, a positive direction and new life for many." This attitude pervades through Sôl austan, Mâni vestan which consistently uses simple and catchy sounds to introduce themes which gradually develop into something revelatory of the sublime, like a flower opening from a bud hidden under dirt.
Burzum showed its affinity for 1970s relaxing and New Age style music with classics like "Tomhet," "Rundgang" and the cheerier parts of Hlidskjalf. This new album picks up from that influence and goes further, fusing the classic Burzum sound with a full range of moods as one might find on a professional ambient album from the heart of that genre. Unexpected technique, including duets with guitar and bass through which keyboards and sampled tones dive like seabirds in flight, and flair borrowed from rock, ambient and jazz, offset these fundamentally simple tunes and embed them in the kind of texture and nuance you might expect from an Autechre or Aphex Twin album.
In the meantime, although not only the black metal aesthetics but also the black metal voice have been cast aside, the uncanny sense of pacing remains which Vikernes uses to engage us, lull us, excite us and finally bring all of these things into collision. In many ways, this music is more black metal than his post-prison guitar albums because it has such a range of emotions, and such a vivid journey from start to finish. In that sense, Vikernes has returned, and has found his natural voice after many intervening years. It's not black metal, but who cares? It's excellent and relentlessly intriguing.