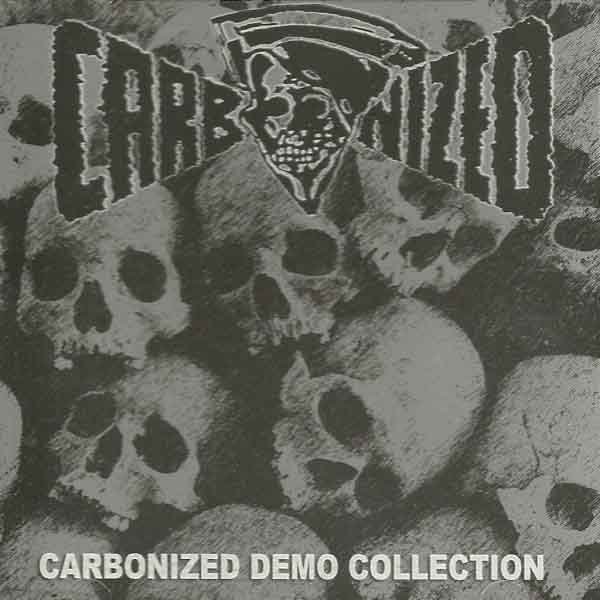 The Swedish grindcore band Carbonized came from an era when metal was still defining itself, and grew up alongside the more intense death metal acts which were putting Sweden on the map. Carbonized remains somewhat less known because the band embraced weirdness and unconventionality in everything it did, which makes for great art but not a conveniently wrapped-up listening experience.
Through three classic albums — For the Security, Disharmonization, and Screaming Machines — Carbonized put its mark on the death metal and grindcore underground by using outrageous technique and converting ideas from other genres into their metal equivalents. While in too "raw" of a form on the Carbonized releases, these ideas were picked up by other bands in more easily digestible forms and thus made their way into the core of those genres.
Luckily someone has bootlegged the Carbonized demos in the grand tradition of underground metal. The three demos and one EP on this CD chronicle the emergence of Carbonized and, as time goes on, its refinement from a fuzzy concept to a clear personality and eventually, such a strong presence that its songwriting is immediately distinctive even when simpler and less polished than what we expect from the albums.
The "Auto-da-Fe" demo from 1989 shows the band as a primitive grindcore/death metal hybrid that leans toward the kind of epic statement that death metal bands made but without much reliance on tremolo strumming. "Re-Carbonized" from 1990 shows the style most will recognize from For the Security, with detuned guitars and recursive-chug riffing among the broad chord progressions played without embellishment in rigid linear rhythms. This gives the music a stark and birds-eye-view character but also places it outside of where death metal was, musically, at the time. This isn't riff interplay so much as an advanced layering of verse-chorus pairs. Next is No Canonization which shows a messier and more conventional grindcore band that could have been on par with Napalm Death in the same year. A strong inclination to use melody to counter-balance chromatic riffing gives this an expansive feel. Finally, "Demo 3" from 1991 shows us a more confident and technically advanced band who have mixed the techniques of death metal into primitive grind and come up with a melodic but structured and semi-theatrical sound. Its essential character and weirdness shines through, which preserves the esoteric feel of this material.
Probably of interest only to Carbonized fanatics or at least Swedish death metal devotees, Demo Collection reveals facets of this band who shared members with Dismember, Therion and Entombed that had been lost to time. For those of us who think For the Security may be one of grindcore's lost classics, seeing these demos emerge again is both a treat and an invitation to explore the murky history behind this shadowed movement.
Tracklist:
"Au-to Dafe" Demo 89

Final Chapter
Paradise Lost
Au – to – Dafe

"Recarbonized" Demo 90

Intro
Recarbonized
For the Security
Two Faces
The Monument

No Canonization EP 90

No Canonization
Statues
Au-to – Dafe

"Demo 3" 1991

Dark Curses
Carnage Mass
Emperors of Death
Purified from Sulphur
Hypnotic Ain
Syndrome
http://www.youtube.com/watch?v=H4t4IdKzSVg
Tags: Carbonized, carnage, death metal, Dismember, entombed, Grindcore, Therion