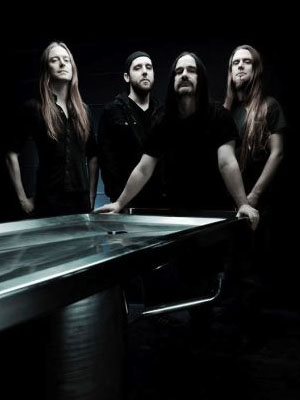 Carcass started as a grindcore band with one crucial difference: they sang about gore, disease, decay and torture instead of political topics. It was a sort of metapolitics, a way of viewing the world that reduced humans to meat and hopefully induced compassion.
After a few years of doing this, and playing live many nights in a row, they improved at playing their instruments and began wanting the acclaim that other bands got. So their style drifted, first to death metal (Tools of the Trade), then to speed metal (Heartwork) and later to hard rock (Swansong). Then the band disbanded, and only returned this year.
"Captive Bolt Pistol," which is the first song to leak from Surgical Steel, roughly resembles Tools of the Trade crossed with Swansong. It uses death metal tempos and inflections, but hard rock riffs, and lots of bluesy rock-style leads. If this is their new direction, it seems a reasonable assumption if they hope the rock audience will cross over to like a band named Carcass.
The first new Carcass album in 17 years, Surgical Steel was created by a lineup of original members Jeff Walker (lead vocals, bass), Bill Steer (guitar, vocals) and new drummer Daniel Wilding (ABORTED, HEAVEN SHALL BURN), with guest vocals from original drummer Ken Owen.
Tracklist:
The Master Butcher's Apron
The Granulating Dark Satanic Mills
A Congealed Clot Of Blood
A Wraith In The Apparatus
316l Grade Surgical Steel
Cadaver Pouch Conveyor System
Captive Bolt Pistol
Intensive Battery Brooding
Non-Compliance To Astm F899-12 Standard
Mount Of Execution
1985/Thrasher's Abattoir
Unfit For Human Consumption
Zochrot
Livestock Marketplace