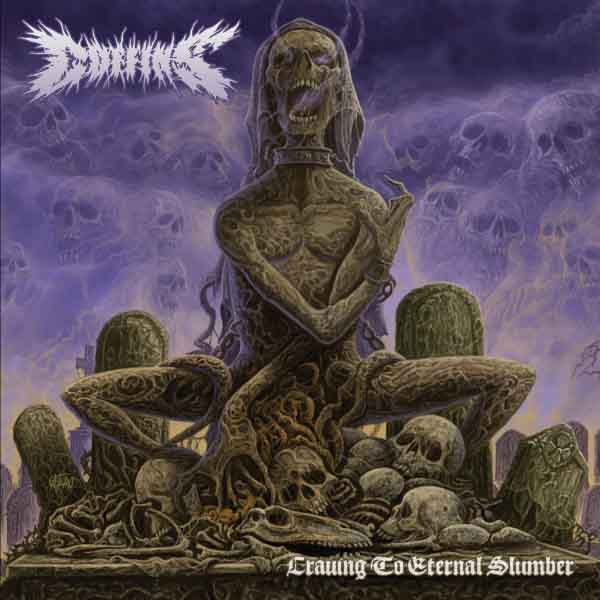 While acts such as Immolation, Suffocation or Vader are routinely and falsely accused of making the same unchallenging album all over every few years without bringing anything to the table, this judgement is much more accurate when directed at a band like Coffins. While the attack leveled on the former bands is merely a lack of appreciation of the subtlety of the progression (in their early career) and latter downfall (mostly after the year 2000) of bands that were never stagnant but rather extremely consistent in their trajectory, in Coffins we find a band presenting Cianide-like doom-death cliches in a string of riffs that have no head, no tails, no climax, but rather a sequence of pleasing moments for the fan of the style.
These Japanese death metallers started this project right during the start of the worse decade for metal, the decade when all progress was dead and which had, apart from a few respectable echoing the remains of a golden era ten years in the past, a penchant for completely empty and lavishing parading of style cliches. Four full-length albums and a billion demos, EPs, and splits into their career, and Coffins still does not have a sound of its own. In them we can hear Cianide, and echos of other bands (but most Cianide). There is absolutely no trace of something that belongs to them. In fact, when played back to back with the aforementioned underground classic one wonders if Coffins' release isn't just an uninspired album by the first band.
Cult classics are usually (but not always) "cult" — that is having a very particular and reduced audience that listens to them almost as a guilty pleasure or with a fanatical eye for a very special reason — because they are not very good to begin with. Their is the underground, and then there are the "cult" bands. We can not apply the same rule to every band, but a good rule of thumb is: they did not make it for a reason, and they also became cult for a reason. In the case of Coffins, it is just a very faithful superficial imitation of cliches of the genre, which pleases all those looking for the exterior fascination but who apparently perceive very little of the progress of a music piece and what it has to communicate. Any serious death metal fan would do well to avoid losing their time with this passing bland piece of junk.
Tags: 2015, coffins, Craving to Eternal Slumber, death metal, Japan, review