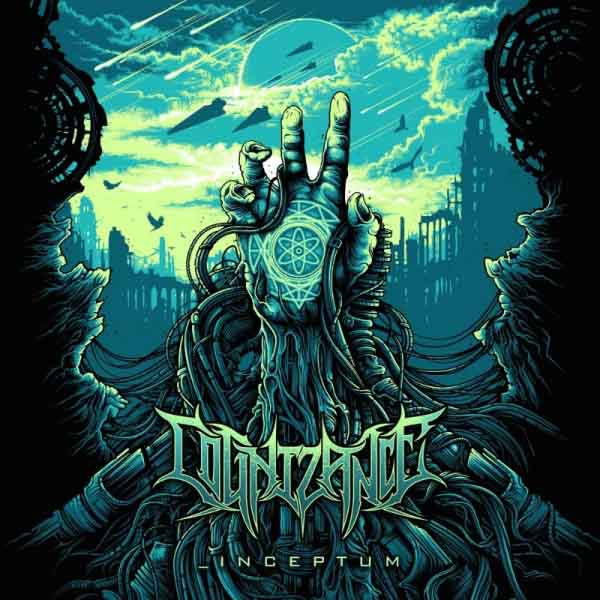 The quest for the palatable metalcore album continues.
While doing so is controversial, it makes sense to group all of the metal hybrids which organize themselves as post-hardcore bands did under the metalcore banner. This is because compositionally they are heading in the same direction. That direction involves high contrast stop-start riffing and use of fills instead of connecting riffs together so their contrasts form a narrative, as death metal did.
Cognizance leap into this fray with a new EP, _Inceptum. The cyber-title reflects the mania in metal since '94 to seem like the next generation, of something. But stepping past this, _Inceptum presents two songs of medium length in the metalcore style. The vocals are open throat and lead the rhythm of the song, which plays off against it jazz-style with the drums and by alternating between percussive rhythmic riffing in the "prog-death" style and sweeps/fills as has been the tendency of metalcore since Necrophagist. Lead guitars take the license they get from jazz fusion in the rock school and break from rhythm, which allows more flexible exploration of related themes.
This exceeds the norm for metalcore. These songs still spend too much energy on being catchy and creating contrast, which reminds me of the 1980s carnival metal they sold as an alternative to speed metal, mixing gothic, hard rock, heavy metal and industrial in these sample platter albums that went nowhere but would distract you with something "new, unique, different" (NUD) every iconoclastic second. The tendency of vocals in metalcore to blurt out a repeated rhythm is offensive not on an aesthetic level but a musical one, as it forces the rest of instrumentation to discoordinate. That was sort of new when Napalm Death did it… twenty-five years later, it plays out as contrived. Where this band shines however is in their ability to tie together songs with a central harmonic theme and thus despite the wide range of technique, still use the craft of songwriting to guide listeners through a musical experience more than an aesthetic one. Lead guitars are far above average and make the best use of their flexible style, although sometimes the melodies and patterns that emerge could be the basis of additional songs in their own right.
As they saying goes, with metalcore "you either do or you do not," and many of us firmly underline the do not option because we prefer death metal for its greater expressiveness. Among the post-metal hybrids however Cognizance provides one of the better options by keeping musicality at the center of their songwriting and refusing to allow it to be swallowed up by instrumentalism, pushing back against the most wanky aspects of the metalcore genre. Musical performances show competence extended to the point of some comfort with the performance, which allows this band to relax a bit and write some songs instead of spending too much time using Visio to script their riff transitions. While _Inceptum shows us only two songs, it reveals a positive side of this band that may offer new breath for the flagging metalcore genre.
Tracklist:
The Succession of Flesh
Aeon of Creation
Tags: cognizance, metalcore