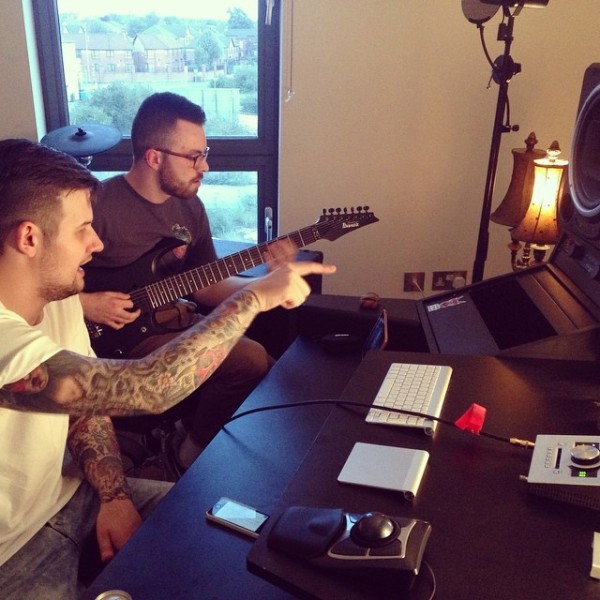 Metalcore band Cognizance hopes to make itself a force among the legions of hybrid-metal bands dressing like hardcore kids, partying like millennials and hungry for riffs. With their newest release, _Inceptum, Cognizance unleash two tracks of technical metalcore with a focus on songwriting. Guitarist Alex Baillie gave us a few moments of his time to describe the past and future of this competitive band…
When did Cognizance form, and did you have a goal in mind at the time? Were you from similar musical backgrounds? What about life-paths and outlooks?
Henry and myself started working on a Death Metal song late 2011, we recorded it like 3 times with the help from some other musicians we were friends with. Eventually, it started to sound pretty cool and early 2012 we started (slowly) piecing 4 songs together which later became our debut Inquisition.
Pryce (Big Mac/Henry) and me have been friends for quite a long time, we've played in a couple of bands together. We've always shared a mutual love for heavy metal, gear and snacks. So kicking off this project was pretty easy going.
Phil joined the force late 2013, we've known him a while and I used to play in his band XisForEyes. You can check this out in detail in our "Origins" video:
You're more experienced musicians than the average person starting a new band. Was this a challenge and how did you overcome it? Did you face any obstacles in uniting your musical styles?
I wouldn't say we're more experienced than people starting a new band, but we're keen players for sure.
I'd say the only obstacle we initially faced and still sometimes do is Pryce telling me everything needs to be faster haha. We eventually compromise on a tempo, I'm down for the faster speeds but sometimes certain parts can just sound a mess at whacky speeds. Plus I can't play that fast!
As far as musical styles go, we each contribute our style of playing to compliment the song. If our idea doesn't work or fit then it gets changed. We usually put things like this down to a vote.
What sort of music is Cognizance? How does it differ from death metal, grindcore and metalcore?
Cognizance is modern Death/Extreme Metal. I don't think we differ that much from the styles mentioned above. Although I don't think we have any elements of Grindcore in there, yet.
_Inceptum seems to be a concept EP. What does the leading underscore (_) mean? What is the concept?
We wanted to use the underscore to visualise the technological/digital theme in the song "The Succession of Flesh." The specific word "Inceptum" was inspired by the other single "Aeon of Creation." The theme in each song share undertones which form the title _Inceptum.
The lyrical themes of each song are set in completely different time frames. "Aeon of Creation" is about the hellish conditions during the early formation of Earth, the originator of consciousness. A natural creation. "The Succession of Flesh" is set in the present and is themed around technology being considered an extension of human consciousness, a man made creation.
Why did you decide to do an EP instead of a full-length?
There are a few reasons why we decided to do this, mainly; Time, our budget and our ambition to keep churning out songs as quickly and consistently as we can.
Currently not being a live band means that we have to go about things in a slightly different method. At the moment this works for us and our sound is constantly changing so this keeps each release sounding real fresh.
Where did you record, and what did you do to get the crisp and crunchy ("Pringles") sound you got?
_Inceptum was recorded in various locations:
Drums: Eyal Levi's studio in Stanford, Florida. Eyal also recorded his solo here.
Rhythm and lead guitars: Henry's studio up in Leeds; Eyal flew out to record us here in the UK.
Vocals and bass: Phil's studio up in Newcastle upon Tyne. More Eyal action right here.
Frank Mullen guest spot- Tommy Jones (Videohammer Studios) who filmed the whole recording process flew out to Long Island New York to track Frank at Full Force studios.
Jason Suecof guest spot: Jason recorded his guest solo at his studio in Florida, the mighty Audiohammer studios. They now have a meat smoker over there but that didn't make its way on to the recording.
About those Pringles you mentioned, the overall sound is down to each of our performances and the final mix Eyal did.
You chose to release the EP to press as a 20-minute film about the making of the EP. How did this "meta-release" come to pass? Was it a greater challenge?
The addition of the documentary fell in place naturally. We wanted to capture the experience of this project as it was a pretty big venture for us having Eyal Levi and Tommy Jones come over from the US to work with us. Plus including a documentary with the release was a nice step up from our last demo, widely know as the "Speed Metal" self-titled.
Tommy did an incredible job of the documentary. Filming in multiple locations/studios can't be easy to edit into a final product but he's really nailed it and we're pumped about how it's come out.
We will be releasing the documentary for free online alongside the release of _Inceptum on the 22nd December.
What's next for Cognizance? How should interested fans stay on top of what you're doing?
We're already working on a bunch of new material. I've pretty much got four songs written at this point. I'm not sure what we're going to use them for or when you guys will hear them. But we're starting some pre-production in less than two weeks, should be badass.
We post regular updates on our pages
14 Comments
Tags: cognizance, metalcore