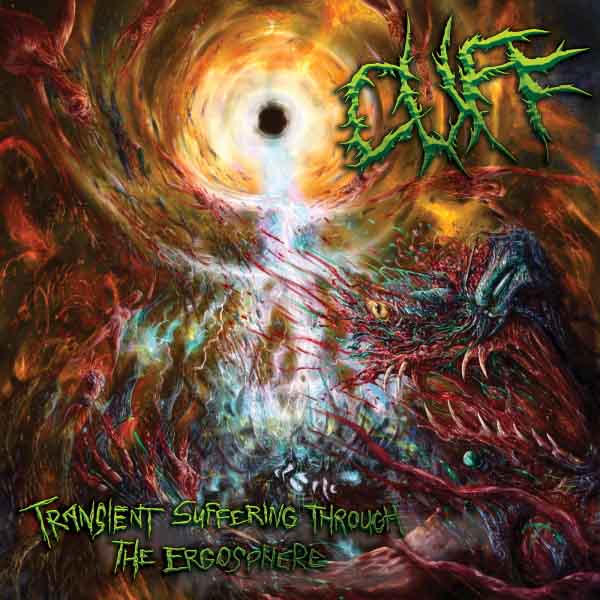 Joining the crowded field of late model death metal that tries to tie together the influences of the last decade of chaotic metal hybrids, Cuff introduces a style that aims for a hybrid of Cryptopsy-styled brutal death metal and recent West Coast brutal death/tech-death/gore-grind hybrids like Deeds of Flesh. This album delivers basic linear riffs with compelling rhythm while sneaking back in some of the technicality and lead-guitar melody of older death metal, in addition to imaginative Voivod-style sci-fi lyrics.
Transient Suffering Through the Ergosphere — the ergosphere is the liminal region just outside the event horizon of a black hole where energy can be sampled from the rotation of the field — brings out the intensity through raw technique of these genres but stops short of a new style. It uses the brutal percussive death metal late genre addition of vocals in trope with drums and guitars, creating an almost GWAR-style comical insanity, alongside more of the styles of explosive grinding popularized by Cannibal Corpse. While much of this follows the late grindcore model of technicality, touches of musical creativity hide in many details and niches.
As with many things in life, this genre of recent brutal gore-grind mashup will not be for everyone. To those outside the genre, it seems to be ludicrously simple and repetitive. Within the genre, fans enjoy the duality of material that is both catchier than a Taylor Swift album and more extreme than early Napalm Death in terms of sheer rage-venting riffs mated to pounding, transgressive drums. Cuff intensify these aspects and, while not inventing anything new, push the sub-genre closer to the musicality of later Cryptopsy.
Tracklist:
Spastic Craniotomy
Malignant
Transfusion of Bodily Fluids
Gorging the Sacred Carrion
The Transcendence of Mankind
Sub-sonic Impacts
Through the Ergosphere
Breeding Diverse Entities (Re-recorded)
Supreme Genital Goddess (CBT COVER)
Personnel:
Zach Smith (Guitar, Bass, Drums)
Bob Shaw (Vocals)
Transient Suffering Through the Ergosphere will be released November 18, 2014 on Gore House Productions. For more information, see the band website.
Tags: cuff, gore house productions, gore-grind, tech-death