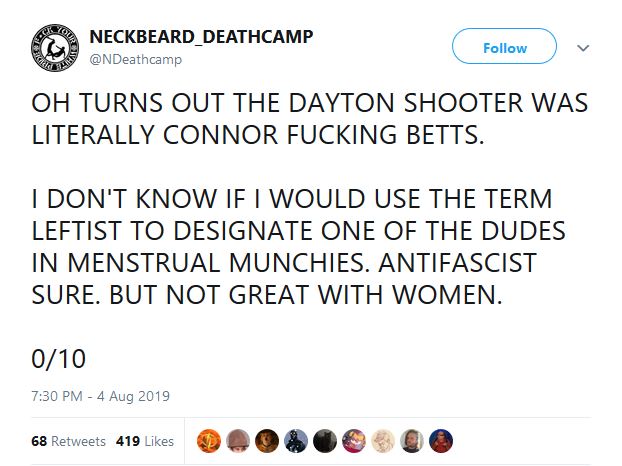 As the nation mourns the deaths of 9 people killed in the Dayton, Ohio shooting on Sunday more information about 24 year old shooter Connor Betts is surfacing based on his newly unearthed Twitter profile. While mainstream media outlets such as the Daily Beast have falsely reported that Betts had no links to extremist ideology, the account contains tweets that profess the gunman's support of socialism, Satanism, and "Antifascism."  
Furthermore, Death Metal Underground can exclusively report confirmation that Betts was the vocalist of a failed goregrind band called "Menstrual Munchies." Given the grindcore scene's connection with far left wing ideology, and the adoration many metal journalists from Brooklyn Vegan, MetalSucks, and other popular sites have expressed for Antifa (in many cases being Antifa members themselves), it is safe to infer that the many popular heavy metal websites of today are most responsible for the radicalization of heavy metal's first mass-murderer musician.
While the Bandcamp and Facebook accounts for Menstrual Munchies have been disabled, several videos remain on YouTube and Facebook at the time of this writing. Connor Betts  clearly appears (identifiable by the tattoo on his left arm) in a live video posted to the Facebook Event page for one of the band's 2018 concerts. In the video, Betts dons a dress and a mask commonly worn by Antifa members. The band's sound is similar to fellow "Antifascist grind" band NeckBeard Deathcamp, who — like Betts — display an extreme Left wing ideology and advocate for violence and killing of "Nazis," "incels," and law abiding civilians who happen to hold right-of-center political views. The two bands appear to have been friends, with the latter possibly influencing the former as Connor Betts had followed the band on Twitter and retweeted them on occasion.
"Antifascism," communism, and other radical left wing ideologies have been increasingly promoted within the metal community since about 2013, when a number of popular metal journalists began gushing over the antics of Antifa and even started promoting their violence. This affection culminated in an Antifa-themed concert dubbed "Black Flags Over Brooklyn" which was booked by Teen Vogue journalist Kim Kelly in January of 2019 and featured a bill full of artists who have called for violence against civilians with right wing political views. Kelly herself is openly an Antifa member and has been retweeted by Dayton shooter (as seen in the tweets below).
Despite the extreme agenda, nearly every left wing indie metal site rushed to glorify this event, including MetalSucks, Metal Injection, and Invisible Oranges. Furthermore, several mainstream music outlets also gave glowing press to the concert including Rolling Stone, Vice Magazine, Brooklyn Vegan, and Kerrang Magazine.
Now it appears that all of these journalists and media outlets have blood on their hands, as their support for extremist Antifa's Terrorism has likely contributed to the radicalization of Connor Betts and potentially many others. Connor's language, as indicated by numerous Tweets, has been similar to that of many of the aforementioned journalists and the bands they promote. Betts has called to "Kill every Fascist" and retweeted a number of tweets advocating right wingers to be burglarized and physically assaulted. This confirms that Betts was indeed radicalized by extremist left wing rhetoric that implies America is a "fascist nation" and must be displaced by socialism/communism for any justice to exist. And because of activist/social justice warrior journalists, this rhetoric is has become dominant within the underground metal community that was likely the only place that Betts likely found any sense of community or belonging.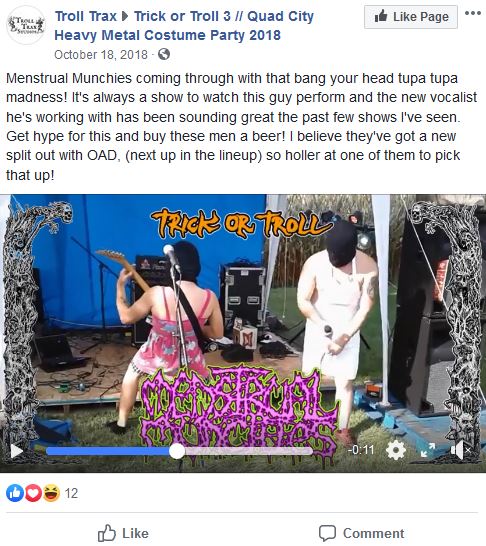 Dayton Shooter Connor Betts performing with his Antifa band Menstrual Munchies
It's worth noting that the nine murders committed by Betts in last weekend's atrocity have made him the first mass murderer in the history of heavy metal musicians, and possibly the first among underground metal fans (some the school shooters of the 90s favored alternative rock/mainstream metal hybrids such as Marilyn Mason). While the mainstream media may attempt to infer radicalization from metal's infamously violent lyrics and admittedly isolated community, it's important to note that in the 50 year history of heavy metal (and 30 year history of extreme metal) no atrocity of this magnitude has ever been committed. It is not "death metal," "black metal," or "goregrind" that has most radicalized and desensitized Betts, but the extremist ideology of a fairly the new metal micro genre known as "Antifascist metal" which is also sometimes called "Red Anarchist Black Metal."  While black metal in particular has likely influenced a great number of crimes, none have produced an incident as horrific or as high in fatalities as Connor's barbaric onslaught of Antifa terrorism. As for the music itself, psychological studies have indicated that heavy metal is actually beneficial to mental health. Therefore it was not the music, but an ideology that only recently permeated the music, that has contributed to the Dayton Shooter's aggression and isolation.
It is therefore important that the aforementioned metal media outlets come clean about Connor Betts's radicalization and indoctrination into Antifa extremism before the mainstream media ties it to the greater metal community as a whole, as we have seen in the past with the rare incidents perpetrated by heavy metal fans. It would be unfair to the greater legions of almost unanimously peaceful heavy metal lovers their beloved music to be blamed for what has been clearly the work of a small but vocal group of left extremists.
While Antifa is already classified as a domestic terrorist group in New Jersey, it frequently gains the sympathy of many mainstream news outlets and politicians such as CNN and Democrat Senator Tim Kaine (whose son has been arrested committing violence as a member of Antifa). However recent months have seen other politicians such as Ted Cruz and Matt Gaetz introduce and support legislator calling for the terrorist classification of the group. President Donald Trump announced in a Tweet last week that his administration would consider this classification. We can only hope that the confirmation of Connor Betts as a member Antifa member will lead to the appropriate understanding of the organization's horrific violence and disgusting ideology.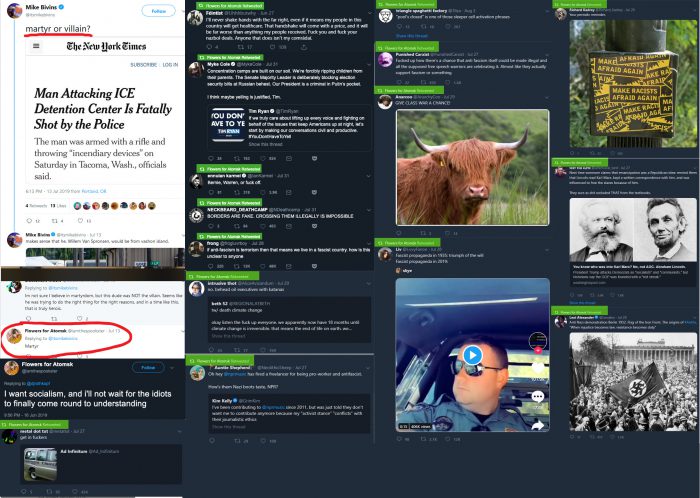 Antifa journalist Kim Kelly was one of many left wing extremists retweeted by Betts
Below are more of the Tweets from Dayton Shooter Connor Betts, whose account has been deactivated at the time of this writing: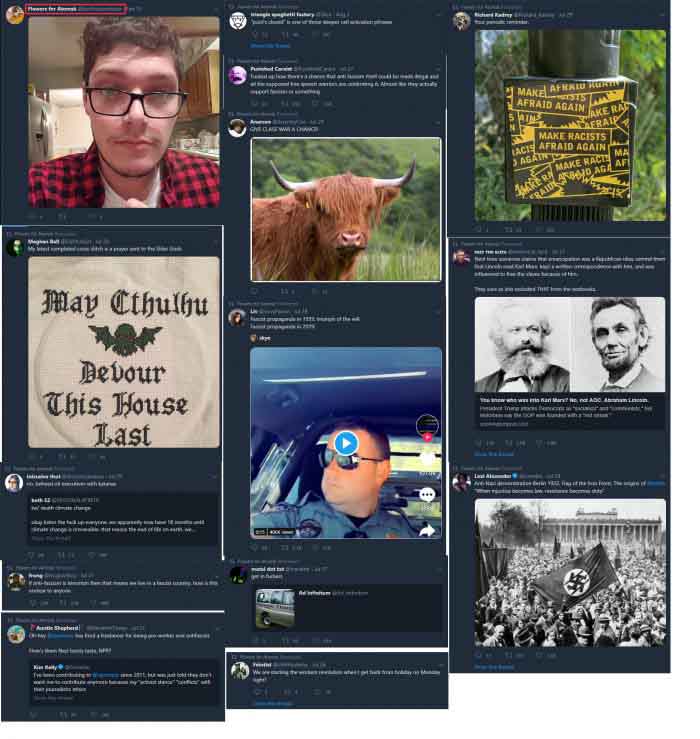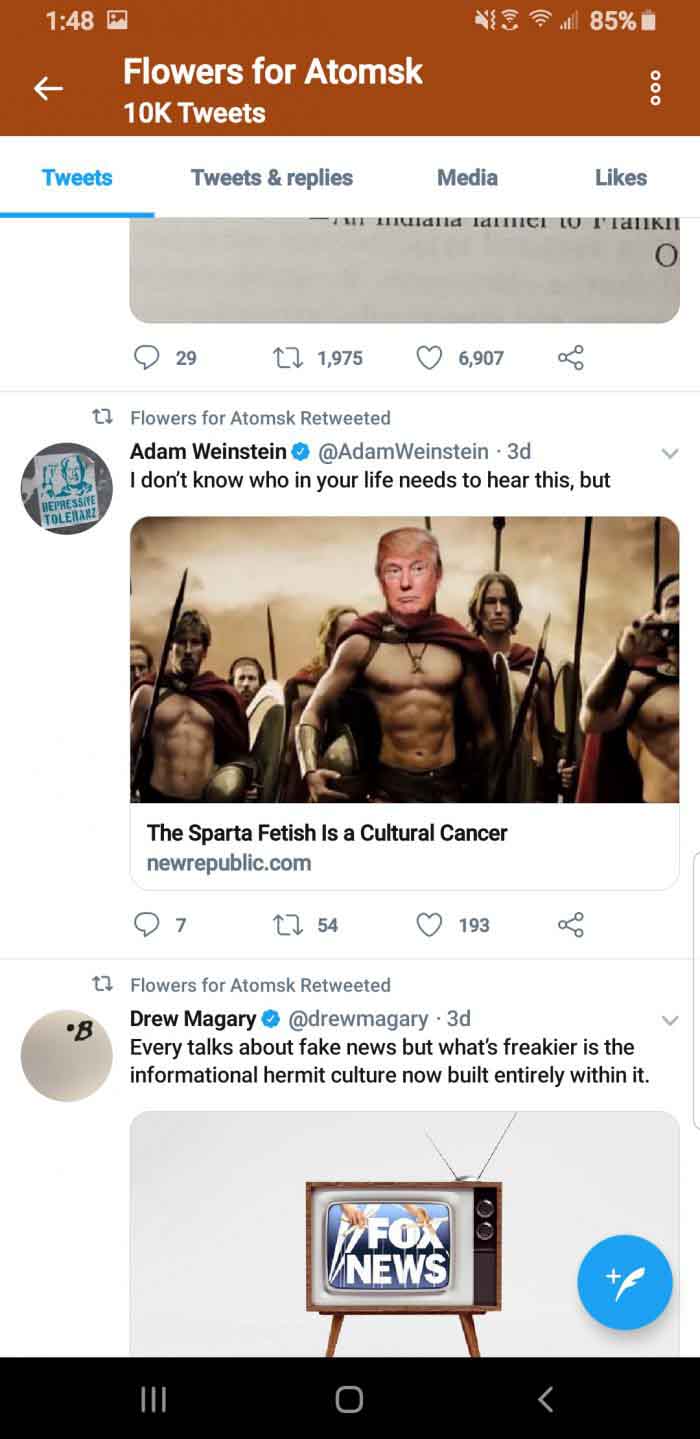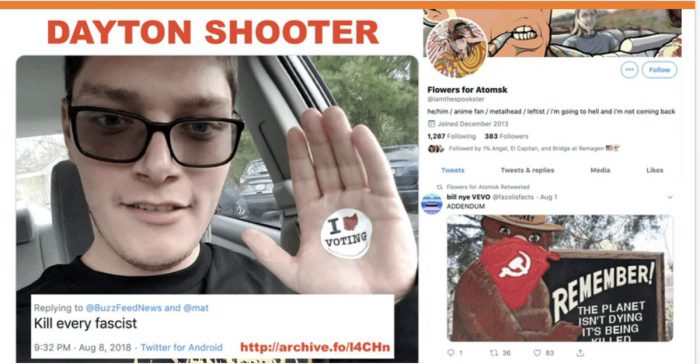 Tags: antifa, Antifacist metal, Antifascism, Antifascist grind, ben umanov, Brooklyn Vegan, Connor Betts, Dayton shooter, dayton shooting, domestic terror, Goregrind, Grindcore, Invisible Oranges, Kerrang, Kim Kelly, left wing, mass murder, Menstrual Munchies, metal, metal journalism, metal media, MetalSucks, neckbeard deathcamp, pornogrind, radicalization, rolling stone, Teen Vogue, terrorism, vice magazine