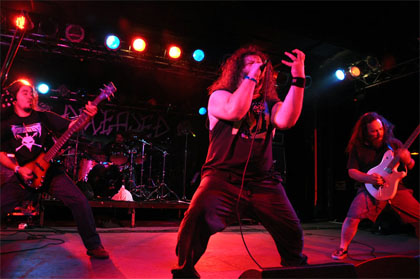 Underground vanguards Deceased have announced plans to release the follow up to 2011's Surreal Overdose late in 2013 through Hell's Headbangers Records.
Deadlywhite will consist of the Iron Maiden-infused death-thrash that Deceased have been exploring since 1997's Fearless Undead Machines; however frontman King Fowley has revealed the inclusion of a few new elements to their sound:
"A few songs will be lengthy tracks, including a 15 minute ride. Fitting interludes will lock in the actual tracks and little jolts of madness will also rear their ugly heads from time to time. This is a musical adventure we've been waiting to take and now's the time.
If we do what we are setting out to do, it will ooze of dark melody without forgetting the rough aggressive edges and catchiness in the songwriting that we've kept in our sound since day one," said Fowley on Deceased's official site.
Surreal Overdose was one of the stand-out albums of last year, genuinely matching up to the quality and ferocity of their earlier work without showing the least signs of the band becoming jaded. Any change or development is almost sure to be within the bounds of faithful enhancement of their influences.