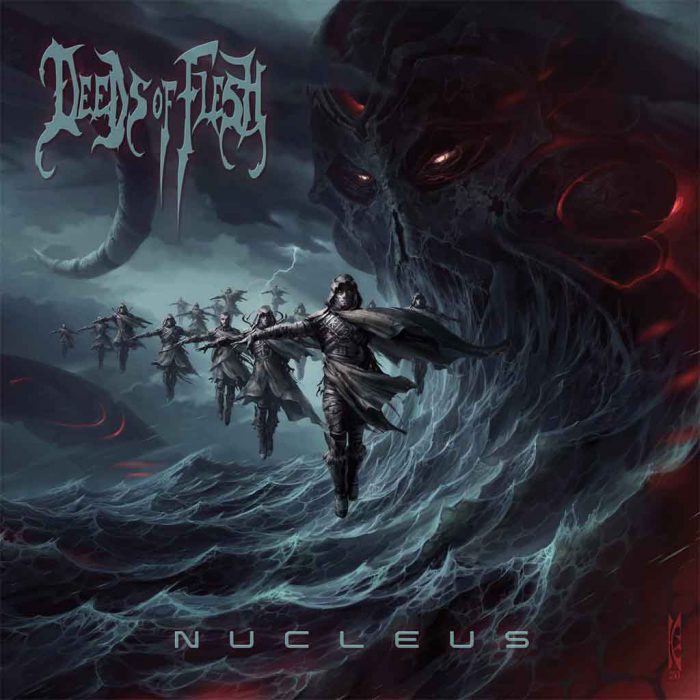 Technical percussive death metal band Deeds of Flesh (similar to Suffocation, Kataklysm, or Malevolent Creation) releases its ninth studio album, Nucleus, on December 11 of this year. Overcoming the loss of founder and guitarist Erik Lindmark in 2018, the band has come back with an updated sound and style.
Vocalist Jacoby Kingston commented:
After losing Erik, it didn't feel right to have anyone else do the vocals on this album, so I knew coming out of retirement only made sense. Mike Hamilton and I made a plan to tackle the story and lyrics as a team and it came out better than I could have hoped for. Writing and performing on this album brought me back to the early days of recording Gradually Melted and Trading Pieces, when everything was new and exciting. We put 100% into this album and I think it really shows. The dream team of guest vocalists that laid down tracks on this album is ridiculous and humbling at the same time. We are honored to have them, and I think fans will be excited about it once they learn who is on there. The music is freaking crazy, but it's definitely a DEEDS album. We've managed to mix some of the old and new together to come out with a hybrid form for a new era.
Tracklist
1. Odyssey
2. Alyen Scourge
3. Ascension Vortex
4. Catacombs of the Monolith
5. Ethereal Ancestors
6. Nucleus
7. Races Conjoined
8. Terror
9. Onward
Tags: death metal, deeds of flesh