Back in 1993, Demilich released a killer album entitled Nespithe. The album innovated consciously in every way possible. It took the audience a decade to warm up to it, but by the time Demilich re-united in 2006 for a reunion tour, death metal had fully bonded with this inventive act.
Fast forward a few more years and Demilich is finally getting the recognition it deserves through re-releases of its classic material. These were originally planned in 2006, but got delayed a bit as the wheels of music justice ground. Demilich has just announced the release of a limited edition box set with a 44-page booklet, sticker and new cover art.
The set comes with cover art by Turkka G. Rantanen, above, and a fold-out A2/B2 size poster with art by David Mikkelsen, below. The box set comes in 2CD and 3LP forms and is called The 20th Anniversary of Emptiness, available through Svart Records in late 2013.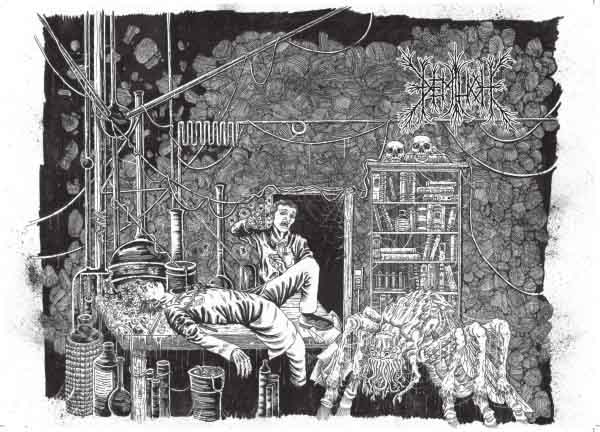 Tracklist:
V34ish6ng 0f Emptiness / Em9t2ness of Van2s1ing (2006)
Emptiness of Vanishing
Vanishing of Emptiness
The Faces Right Below the Skin of the Earth
Nespithe (1993)
When the Sun Drank the Weight of Water
The Sixteenth Six-Tooth Son of Fourteen Four-Regional Dimensions (Still Unnamed)
Inherited Bowel Levitation – Reduced Without Any Effort
The Echo (Replacement)
The Putrefying Road in the Nineteenth Extremity (…Somewhere inside the Bowels of Endlessness…)
(Within) The Chamber of Whispering Eyes
And You'll Remain… (in Pieces in Nothingness)
Erecshyrinol
The Planet that Once Used to Absorb Flesh in Order to Achieve Divinity and Immortality (Suffocated to the Flesh that it Desired…)
The Cry
Raped Embalmed Beauty Sleep
The Echo (1992)
egasseM neddiH A – ortnI
The Echo (Replacement)
Erecshyrinol
The Sixteenth Six-tooth Son of Fourteen Four-regional Dimensions (Still Unnamed)
The Cry
…Somewhere Inside the Bowels of Endlessness… (1992)
(Within) the Chamber of Whispering Eyes
…And Youll Remain… (in Pieces in Nothingness)
The Cry
The Putrefying Road in the Nineteenth Extremity (…Somewhere Inside the Bowels of Endlessness…)
Inherited Bowel Levitation – Reduced without Any Effort
The Four Instructive Tales …of Decomposition (1991)
Introduction / Embalmed Beauty Sleep
Two Independent Organisms -> One Suppurating Deformity
And the Slimy Flying Creatures Reproduce in Your Brains
The Uncontrollable Regret of the Rotting Flesh
Regurgitation of Blood (1991)
Uncontrollable Regret of the Rotting Flesh
Tags: death metal, Demilich