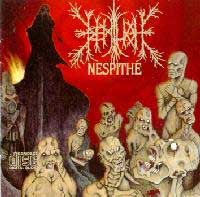 In a Google+ post, Demilich guitarist/vocalist Antti Boman both announces the arrival of a Demilich compilation CD on Svart Records, and calls for those with "artifacts" of the Demilich era to send them to him or end a link to where to download the material.
"The Demilich demo compilation CD and LP will be coming out in autumn. If you have old photos, flyers, or other Demilich memorabilia, good quality scans or originals will be gladly received," Boman wrote, then added: "Thanks for the idea, dear brothers of Svart Records."
For those who are joining death metal later in life, Demilich was one of the first death metal bands to break out of the fast and brutal and get into the weird and nuanced. Its style, featuring spidery lead rhythm playing slowly rotating to reveal a melodic core, influenced all that came after it.
While many in the early 1990s were slow to catch on to the value of technical death metal, perhaps fearing the wankery of the 00s that haunts us to this day and was dominant in "progressive" hardcore at the time, Demilich's return in 2006 brought huge crowds of maniacs to hail this unique and powerful band.
Tags: death metal, Demilich