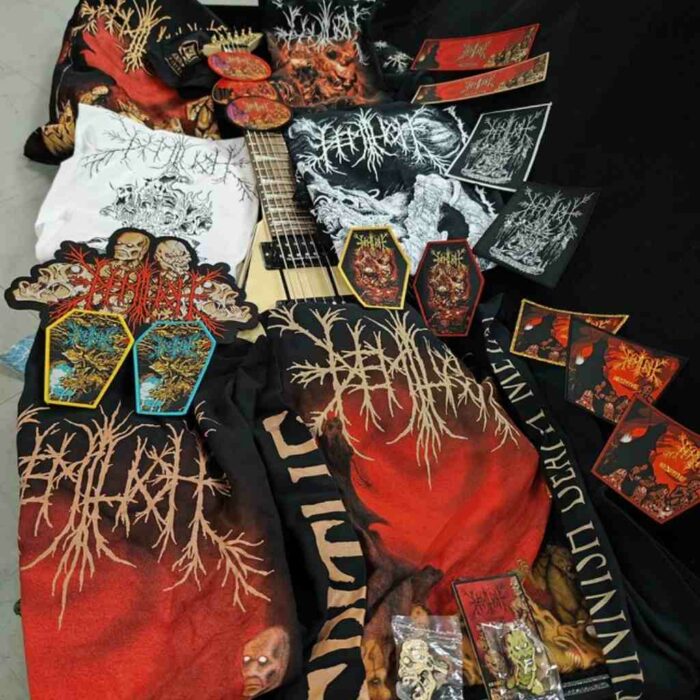 As I write this, I am on the phone with a friend of mine who works at an oil firm and might be able to get us a private jet to Madrid. This might get me past the watchlists and us there in time to see what according to founder Antti Boman is the last Demilich show ever.
Founders of the subgenre of death metal that is conceptually progressive rock but uses technique ranging from one-chord punk and noise to flamenco and classical guitar, Demilich made off-time, oddball music featuring spidery precision rhythm riffs that delighted their audience. Demonized for a decade, Demilich experienced a revival in the early years of this millennium as the audience woke up and the influence of broken air conditioner brutal death metal wore off.
Boman writes:
A surprise Demilich gig, also for the band, in Madrid tonight! We didn't plan on this, it just happened. All the pieces fell together, and we'll get to dance with Agressor (on backstage) once more.

Also, do note that we will have special patches, pins and shirts from Pull The Plug, Musick Cadas, etc., for sale! I saved lots of them at home for you, dear mailing list people, and I will let you know about them later, but if you're coming to the show tonight, you can already grab some beautiful things there! Or if some friend of yours will be there, ask them to help you out!

Timetable:
19:30 (The) Doors, and merch should be available about then
19:50 Painstorm
20:50 Demilich
22:15 Agressor, and our merch will most probably be pulled out by then

Do note this will be our last show ever, unless i will be able to switch my head switch to a more productive mode. More info on this list next week.
This will be killer since Agressor were writing bizarre technical and conceptual metal in the 1980s that avoided becoming like most progressive bands obsessed with harmony like rock and jazz theory in the high schools taught, the same anti-melodic, anti-structuralist stuff that obsesses the soy kids today.
Unfortunately, it is the last Demilich show ever, which is a sad thing in some ways to see this band pass into history, but also a chance for Antti and the others to get back to writing music for themselves, which is where their creativity is best.
Much as being loved as a band is a great thing, it can also be a millstone around the neck, since you fear disappointing your audience. What if you want to become the new Yanni or Kenny G for an album? Your fans will vomit (but your mother will be delighted).
So sometimes bands must cut free, and this may benefit those musicians and humanity more than continuing to tour on a 1993 album, although the two more recent tracks had promise and we all secretly hope for a second Demilich mind-blowing masterpiece. But the world has changed and requires thought to see with the new eyes of creativity again.
Back in the 1990s, the Oration of Disorder was one of the few shows to grasp Demilich despite our CD being a second-hand promo picked up for $0.99 at a local record store. Then, the original Nespithe review drove everyone mad, but over the next decade as the bad surged people sought the good with more-open minds. In the meantime, Antti managed to convert many people to the Demilich cause, even having a presence on USENET and WebWorld.
In any case, if I can bullshit my way past a few little hurdles, there is a slight chance that I will make it there. These planes are pretty fast after all, and nothing is better than burning tons of carbon on the dime of the carbon industry knowing that most of us would be dead without that industry.
Should that not happen, tonight will be a Nespithe night here. Time passes, we grow old, death takes us all at some point; however, greatness ascends to the heavens, where it joins Plato in smiling down on the very few who actually strive to think and see clearly in the midst of the chaos.
Visit the band at the Demilich website or the Demilich shop.
Tags: antti boman, death metal, Demilich