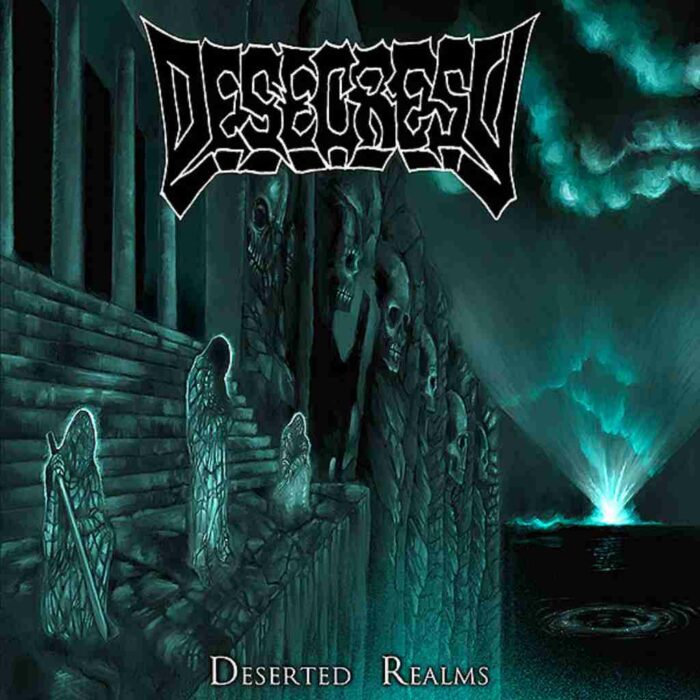 One-human Finnish death metal band Desecresy plans to release its eighth album, Deserted Realms, on September 26th through Xtreme Music. To that end, the band has released the tracklist, cover, and first single, "Dark Chambers."
Based on an initial listen, it seems like Desecresy returning more to its roots of brooding atmospheric plate tectonics death metal with an underpinning of melody, which lends promise to the news of this upcoming release.
Tracklist:
1. Approaching Sound
2. Spirits at the Cursed Ruins
3. Dark Chambers
4. Green Monolith
5. From Beneath the Horizon
6. The Cosmic Crypt
7. Shroud of Mist
8. Deserted Worlds
The label issued the following statement:
The heaviest, darkest and most eerie Finnish Death Metal band DESECRESY, continues its unbreakable alliance with Xtreem Music, which has a new chapter in the form of their 8th album entitled "Deserted Realms", which will be released on September 26th. through Xtreem Music, on CD, 12″LP, Cassette and Digital formats.

DESECRESY is a one man band; Tommy Grönqvist has always written all the music and played all the instruments until his fifth album where he also took the vocal duties, becoming even more guttural. The style of DESECRESY remains as always, a dark, putrid, eerie and hypnotic Death Metal with Doom touches, reminiscent of bands like BOLT THROWER, INCANTATION, RIPPIKOULU, MYTHIC, ABHORRENCE (fin), ROTTREVORE…

Release date for "Deserted Realms" will be 26th of September 2023 through Xtreem Music on CD, 12″LP, Cassette & Digital formats.
Tags: death metal, desecresy