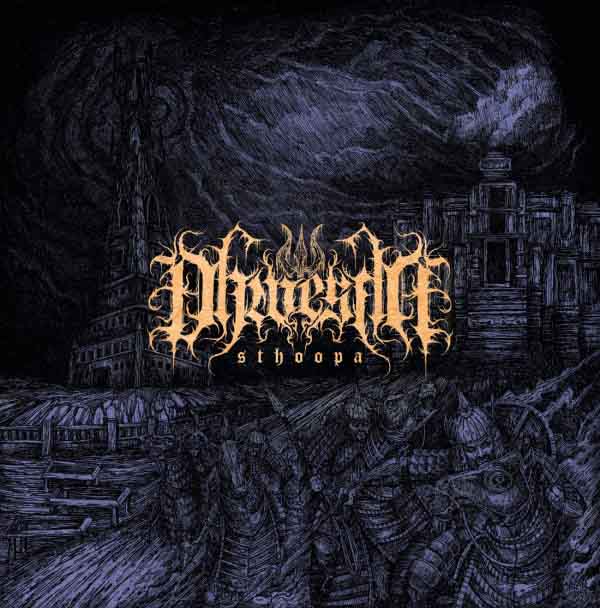 Dhwesha create death metal with a large influence from classic heavy metal, sounding like a cross between the first Torchure album and a melodic Swedish band like first-album Sentenced or Desultory. Their bread and butter is the crossover between recursive downpicked rhythms like a speed metal band would use underneath melodic rhythm leads, and death metal riffs which re-direct these songs to more vicious ends.
Aesthetically a good comparison might be Monstrosity: drums, bass and guitar work together to create a powerful unison which hammers out a clear theme which corresponds to song title and vocal concept. But like early Therion, Dhwesha incorporates older heavy metal patterns and pulsing rhythms as opposed to the darker and more abstract death metal themes, which creates an organic heart of energy to this band which allows them to incorporate speed metal technique without it taking over songwriting. Songs generally cycle between verse- and chorus-like sections with a couple riffs each and a transitional section or two per song, focusing in the death metal way on the presentation of each. Frequently a lead-picked tremolo will outline a melody over a grinding but bouncy rhythm riff which creates a sense of a landscape shift.
Vocals take on the best attributes of Blasphemy, which is an incoherent shout so hoarse it sounds like the wind or a wild bison charging on an inattentive traveler, giving the music a feral air. All musicians show great proficiency but avoid showing off, which makes Sthoopa move like a single entity. Unlike many of the recent death metal attempts, Dhwesha show no desire to incorporate modern methods but homebrew their own instead, but also unlike death metal, this band seems content to exist in the late 1980s ambiguity between death metal and heavy metal. The result has the sentiment of Desultory with the earth-moving power of a more explosive act, but by balancing the two creates more of an atmosphere than one might expect from a band on their first album.
Tags: death metal, dhwesha