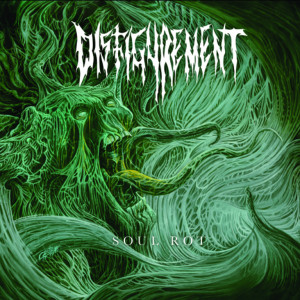 Soul Rot shows Disfigurement melding a number of different styles with an attitude of keeping intensity at full speed like a raging death metal band in the Pentacle or Hail of Bullets style. On the surface, this is percussive blasting death metal, but underneath the skin are rich bluesy solos reminiscent of Metallica, melodic riffs off an Amon Amarth album, and varied death metal influences from the late 1990s.
However, at its core, this band hearkens back to the mid-1980s and the collision of speed metal with underground metal that occurred on Bathory's Blood Fire Death. On that album, charging riffs led songs into full-speed development, then dropped them into rhythmic riffing that recalls the best of Exodus and Nuclear Assault. Here the influences are more from the death metal side, but the speed metal core emerges over time.
Guttural vocals and a strong sense of rhythm from the interaction between bass and drums drive Disfigurement to apex sonic terrorism. Where this band is weak is in the loss of dynamics caused by the constant high intensity riffing, but their strength is in riffcraft and knowing when to leave out extraneous threads. The result is hard-hitting and musically literate.
We are fortunate to have a chance to talk with Nate from Disfigurement, who wants to remind you that you can hear the title track from Soul Rot and other songs at Disfigurement's bandcamp page.
What was the moment at which you decided to become Disfigurement? How did the band come together, and were there any influences on which you "bonded" that later shaped your music?
Cheers, thanks for interviewing us. We're very forfunate that people are interested in what we're doing, especially Deathmetal.org.
Disfigurement came together at the very beginning of 2011. Adam and I were hanging out a lot, and he told me about this project he had been wanting to start for a while, a straight-forward thrashy-death metal band. He had been talking to some people that he'd played in bands with before, and gotten Richard and Max together, I volunteered to try out for vocals.
Once we got Vaedis onboard with drums, we had a whole line-up and were playing shows by March. I remember Vader and Carcass being the main influences for Adam at the time, and Panzerchrist and Deicide being the main influences of mine. There were also many bands like Morbid Angel, Dissection and Sodom that were going to play a part in our sound. We played around with the vocal styling a bit, but from the beginning were pretty set on the sound that we have to this day.
Soul Rot seems to be influenced by old school death metal and melodic metal, perhaps even Swedish bands like Necrophobic. How do you balance these two extremes, the guttural blasting chromatic menace of old school death metal, and the more elegant melodic side?
I feel that it's always come naturally to us. That's not to say that its always easy. I also don't really feel that OSDM and more melodic death metal are really extremes; I guess it depends on what exactly you consider old-school or melodic. I think that the techniques used to deliver certain riffs and ideas can change it from brutal to melodic even though the ideas are really very similar. Our music has always had a very strong melodic basis, even if it's over straight blasting and guttural vocals.
What makes a good metal song for you, and how do you write one? Do you start with a riff, lyrics, an idea or something else?
Our writing process usually involves Adam writing a sort of thematic idea that the song is based off. Most to all of the muisic is written, which is what I write vocals over. The song's idea has a lyrical concept, often one word. I take that theme and build an entire concept for the song around that. The lyrics are written following this idea. Often the idea that I have is somewhat different or more complex than the original notion, but it's rooted at the core of the song, and likewise the album. There is always an emotion central to the song's essence.
A good metal song to me is one that is impossible to listen to without having a gut-wrenching reaction to. It has to grab me from the inside: heavy, and dynamic, but always evocative.
The production on Soul Rot is quite clear despite a lot going on during the album. How did you record this one, and did you use any special instrumental techniques to slash out those riffs?
There's really no tricks or thrills, we just focused on getting crushing tones, and building from there. There is really no room for error in what we play, but at the same time, it has to come across as human and alive. We took our time tracking and made sure everything was precise, but not mechanized and sterile.
Can you tell us what you hope for in the future, and what you're working on now?
We hope to be playing some festivals in the near future, and getting the backing to support a tour. Right now we are just trying to promote Soul Rot, which is what we've been working on for quite some time and really put ourselves into. We're hoping Soul Rot will garner the support we need to continue.
Why did you choose old school metal styles over the newer options available? Do you think the fans will penalize you for this choice?
I don't know that we decided consciously to start playing an old death metal style. A lot of the albums that we listen to that are very influential for us, such as Litany, Winds of Creation, M-16, Soul Collector, Gateways to Annihilation, and Serpents of the Light all came out in 2000, or the very late 90s. I suppose that's still a much older style than much of the more modern bands' stuff, but we've never been interested in anything like that. We just play in a way that conveys our message. It seems that old school death metal is the proper medium to express our feelings of nihilism and aggression. As far as the fans, it seems that many have been waiting for an album such as this to come out in recent years; as far as those who don't like the style, there's plenty else to chose from.
I appreciate the effort required by these questions and look forward to the end result.
Once again, thanks for the interview. We're glad there is an interest in what we're doing. We couldn't do it without Sleyja over at Boris Records, please check out the other stuff that he's doing as well and support our rising wave of bands that are putting out killer material.
Tags: death metal, disfigurement, Speed Metal