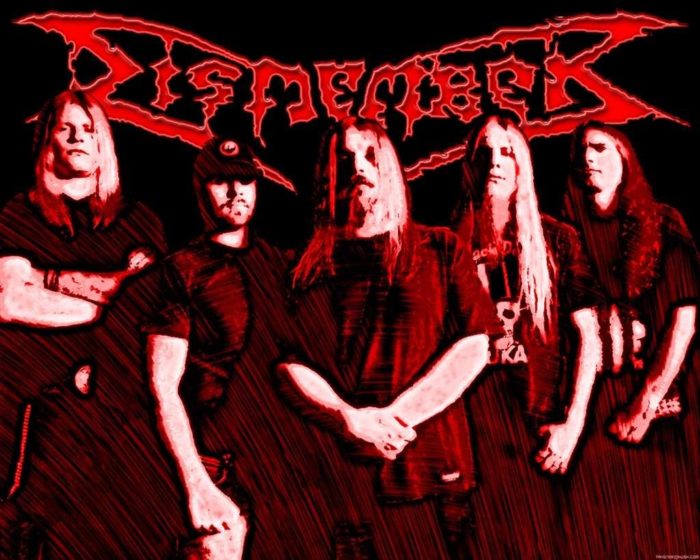 Old school Swedish death metal stalwarts Dismember represented one of those moments where the heavens, Earth, and natural kingdoms align to produce a window into the world beyond the immediate and physical, unleashing possibility through an embrace of realism and a pursuit of quality in life experience.
In that spirit, Like an Everflowing Stream showed us the power of Swedish death metal: transporting us beyond the physical world into a sensation of worlds beyond that were somehow consistent with the gritty, complex life we know that requires extreme solutions.
Dismember re-issued this album along with the more heavy metal second album and EP, but the latter two will be quickly forgotten as they were in the past. The first album belongs in the pantheon of greats, in the canon of metal, where everything since has fallen a bit short.
In any case, the reissue offers newer fans a chance to get off the fungible music flow of streaming services and to purchase some old school media where they can enjoy music made for the sake of living well in mental clarity, instead of this muddled neurotic egotism that is interchangeable.
The label issued the following statement:
Swedish death metal pioneers DISMEMBER are proud to announce the long overdue physical standalone reissues of their expansive discography. The first batch consisting of the first two albums, Like An Everflowing Stream (1991) and Indecent & Obscene (1993), as well as the Pieces EP (1992) will be released on August 25th, 2023, and is available for pre-order today.

The entire audio has been mastered for vinyl by Patrick W. Engel at Temple of Disharmony with the goal to preserve a 'true to the original' sound and contains the more dynamic June '91 master of Like An Ever Flowing Stream on vinyl for the first time! All album layouts were created together with DISMEMBER resulting in a return of the Indecent and Obscene sticker.

etween 1988 and 2011 DISMEMBER earned a notorious reputation as the "Motörhead (version) of death metal", through eight classic albums and furious live shows around the globe. The band was formed by Robert Sennebäck, David Blomqvist, and Fred Estby in Stockholm, Sweden, in 1988 and has long since been regarded as one of the originators of the trademark Swedish death metal sound, next to other pioneering bands such as ENTOMBED, GRAVE, and UNLEASHED. DISMEMBER recorded a couple of self-released demos before their 1990 demo cassette, Reborn In Blasphemy, with Matti Kärki on vocals and ENTOMBED's Nicke Andersson taking over most lead guitar parts, got picked up for a wider release by NUCLEAR BLAST RECORDS. In 1991, their first full-length, Like An Everflowing Stream (Nuclear Blast Records), saw the light of day, which was recorded by Thomas Skogsberg at the now legendary Sunlight Studios, and featured Richard Cabeza (UNANIMATED) on bass. DISMEMBER released their acclaimed sophomore album, Indecent & Obscene, in 1993, which to this day remains their most successful output. Three more albums would follow on NUCLEAR BLAST, Massive Killing Capacity (1995), Death Metal (1997) and Hate Campaign (2000), until the band decided to switch labels. They released two more albums, Where Ironcrosses Grow (2004, Karmageddon Records) and The God That Never Was (2006, Regain) before Fred Estby announced his departure for family reasons in 2007. Their last album, Dismember, followed in 2008 and the band officially broke up in 2011. After an eight-year hiatus, the band's original line-up reunited for a 30th anniversary gig at Scandinavia Death Fest in October 2019, performing together for the first time in over 20 years. Since then, the band has remained active playing festivals and shows all around the globe, and after relaunching their impressive back catalog they will set sights on new material.
Personnel:
Fred Estby (Drums)
David Blomqvist (Guitars)
Robert Sennebäck (Guitars)
Matti Karki (Vocals)
Richard Cabeza (Bass)
Tour Dates
09 – 12.08. – CZ – Fortress Josefov, Brutal Assault
11 – 13.08. – BE – Kortrijk, Alcatraz Festival
07 – 09.09. – PL – Aleksandrów Łódzki, Summer Dying Loud Festival
13.10. – SE – Karlstad, Nöjesfabriken
14.10. – SE – Stockholm, Debaser Strand
23-26.05.2024 – USA – Baltimore, MD, Maryland Death Fest
Tags: death metal, Dismember, Old School Death Metal, Swedish Death Metal