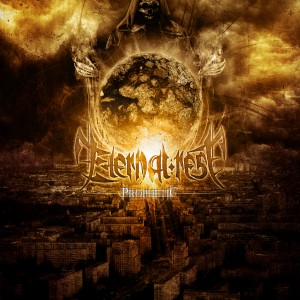 This upcoming death metal band tries to explore the style that Immolation developed on Harnessing Ruin but give it additional forward force with war-metal-styled ripping fast phrasal riffs and battle-style percussion attacking in clusters of quick notes. What distinguishes this band is the inventiveness of its riffs and the ferocity of its attack.
Prophetic as a result carries through the intensity of death metal but imports many additions from both older speed metal, and modern metal. Vocals lead the riffs, giving the music a sense of uniformity interrupted by bursts of activity. Drums tend to blast or make textures out of alternating blasts and slower material. Songs often drop from a frenzy into a mid-paced death metal rhythmic harbor in which the band injects slowly played, resonant melodies.
Eternal Rest presents a strong compositional voice, and in many ways, this is what they work against; their language of songwriting is so clear and their ability to craft riffs so powerful that sometimes it swallows up everything else and thus songs seem like extensions of one another. Many riffs descend from the speed metal technique, like a more aggressive Exhorder or Exodus, but others are straight death metal and often quite inventive. The use of gentler melodies to balance the extended periods of furious blasting breaks up any grip on the sound any particular technique has.
Much like later Immolation, Prophetic shows us a band trying to find a way to merge high-intensity death metal with a mellower, almost doom-influenced melodic influence. Eternal Rest achieve this quite handily and throw out some powerful riffs besides. While the vocals may not be strong enough for traditional death metal, and the frenetic tendency may be too modern metal for some, the promise of this band is in its ability to create a mood on two levels of intensity and support each with the other.
Tags: death metal, eternal rest