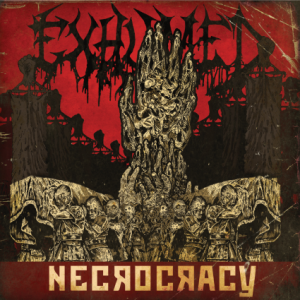 Founded by a group of career metalheads, Exhumed started with a simple mission: make grind, but make it entertaining and participatory like the better heavy metal of the past few generations. While they were initially known as a Carcass clone, that comparison involves the vocals, while the guitar music is itself quite different.
Necrocracy continues the tradition with some very professional songwriting. The technique is pure death metal, grindcore and smatterings of punk and speed metal; under that surface, what lurks is old school heavy metal combined with Swedish-style melodic songwriting (which interestingly was also discernible on the debut).
As part of that professionalism, Exhumed fit each song into a series of gratifications: a good introduction, pounding verses, surging choruses, fireworks for solos and then a transition through a minor key melody into a triumphant return to the verse, plus an optional outro. This formula — adopted in part from glam ballads — propelled speed metal and heavy metal bands to the stratosphere. It's doing something similar for Exhumed.
What makes Necrocracy hold together is that each song is composed of only necessary parts toward achieving this goal, which could be roughly described as half wanting to be a fun grindcore band, and half wanting to be a professional metal band with MTV-ready songs. Much like Amebix recently saw the utility of this format for reaching the slumbering masses, Exhumed use it to inject some death metal into the melange of hard rock, punk, speed metal, grind/death and heavy metal that makes up their songs.
It is probably not wise for old school death metal fans to rush to this album. It has more in common with grindcore and album-oriented stadium heavy metal, since it relies on the verse-chorus and derives much of its effect from application of known songwriting technique instead of straying into odd structures, bizarre twists, and experimental riffs. Its choruses are hooky, its verses catchy and chanty, and the heavy production and technique hides a band that could go toe-to-toe with the big heavy metal bands of the 1980s through 2000s. Their audience is its audience, updated a bit.
Carrying on the tradition of making metal music that pushes past what is socially acceptable, Exhumed return with an onslaught of cynicism about humanity that takes joy in its own dire predictions. Energetic and necrotically enthusiastic, Necrocracy pumps out the energy and the engaging heavy metal tropes in a voice that is all its own, and will serve as a great introduction for many to these genres.
Necrocracy will be released on August 6, 2013 via Relapse Records and can be pre-ordered here. Catch Exhumed on tour:
EXHUMED European Takeover 2013 [remaining dates]:
7/17/2013 Vlamrock – As, Belgium
7/23/2013 Metal Days – Tolmin, Slovenia
7/24/2013 Garage – Munich, Germany
7/25/2013 Eisenwahn – Obersinn, Germany
EXHUMED w/ Dying Fetus, Devourment, Waking The Cadaver
(10/4 – 10/19), Abiotic,Rivers Of Nihil (10/26 – 11/2):
10/04/2013 Mojo 13 – Wilmington, DE
10/05/2013 The Soapbox – Wilmington, NC
10/06/2013 Back Booth – Orlando, FL
10/07/2013 The Orpheum – Tampa, FL
10/09/2013 Fitzgerald's – Houston, TX
10/10/2013 Red 7 – Austin, TX
10/11/2013 Trees – Dallas, TX
10/12/2013 Chameleon Room – Oklahoma City, OK
10/13/2013 Warehouse 21 – Santa Fe, NM
10/14/2013 Rocky Point – Tempe, AZ
10/15/2013 Observatory – Santa Ana, CA
10/16/2013 The Whisky – W. Hollywood, CA
10/17/2013 DNA Lounge – San Francisco, CA
10/18/2013 Branx – Portland, OR
10/19/2013 Studio Seven – Seattle, WA
10/20/2013 Rickshaw Theater – Vancouver, BC
10/22/2013 Republik – Calgary, AB
10/23/2013 Pawn Shop – Edmonton, AB
10/24/2013 Riddell Centre – Regina, SK
10/25/2013 Park Theater – Winnipeg, MB
10/26/2013 Station-4 – St Paul, MN
10/27/2013 Reggie's – Chicago, IL
10/29/2013 Peabodys – Cleveland, OH
10/30/2013 Chance Theater – Poughkeepsie, NY
10/31/2013 Palladium – Worcester, MA
11/01/2013 Gramercy Theater – New York, NY
11/02/2013 Empire – Springfield, VA
Tags: exhumed, Grindcore, Necrocracy